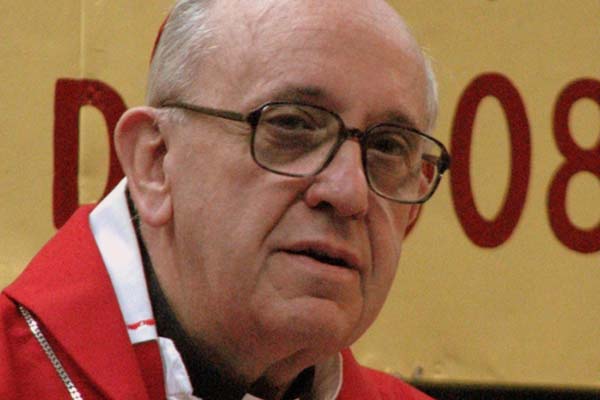 New pope from the 'global South'
U of T expert offers thoughts on the election of Pope Francis
Argentina's Jorge Mario Bergoglio became the first non-European pope in more than 1,200 years on Wednesday as Catholicism bestowed its highest office on a cardinal hailing from the southern hemisphere.
Mark McGowan is a professor of history and religion at the University of Toronto. He shared his reactions with U of T News.
Tell us a bit about Pope Francis...
The new pope has training in chemistry, he's taught literature, he's  a member of the Jesuit order. Francis is of Italian lineage, but he is Argentinian. As Archbishop of Buenos Aires, he distinguished himself by ridding himself of the trappings of wealth: he abandoned what used to be called an 'episcopal palace,' and instead lives in a simple dwelling, cooks his own meals, takes public transit— he got rid of the chauffeured limousine. Bergoglio really is a person who walks the walk of simplicity and humility, which is a very different kind of expectation for a pope. That will be something to watch: to see how he models that kind of lifestyle in the Vatican.
What will you be watching for in the coming days and weeks?
In the next few months, we'll watch to see who he gathers around him, in terms of his immediate staff. That will determine how he will handle what appear to be problems within the Vatican civil service, or the Curia. because he is not a 'curialist,' he is a cardinal who's out there in his diocese. The next thing to watch is how he puts a human face on the church—a pastoral face, as opposed to a professorial one. He's a very smart man but at the same time he follows a pope who was very professorial, and I suspect his style will be entirely different—will be very people-oriented. I think those who've already seen him, even just from the balcony, see this kind of warmth and charisma that's maybe what the church really needs right now in trying times.
What's the global significance of the election of Pope Francis?
The fact that he comes from the global south and that the majority of catholics are living in the global south, be it Africa or Latin America or Asia, is very significant. I think what he now does is he place, more centrally, the issues that pertain to the global church as opposed to those of Europe. When you think about Pope Benedict, he took the name because Benedict was the patron saint of Europe, and he was keen on the re-evangelisation of Europe. Bergoglio comes from the global south and he knows that there are a variety of issues of urgent and pressing necessity with regards to justice and poverty in the global south and you will see these things begin to rise to the fore of his pontificate.