Renovation on the fourth floor of the Faculty of Information features group study hubs (photo by Noreen Ahmed-Ullah)
If you've ever flown first class in an executive pod, then you'll appreciate the creature comforts behind the new study pods at U of T's Faculty of Information.
A semi-enclosed space, comfy chair, movable desk, a foot stool to stretch your legs and your very own desk lamp and electrical outlet – what else could you possibly need?
"It's perfect," said Azel Mulagulova, a first-year master's student in the faculty, which is also known as the iSchool. "There's privacy. It's very comfortable to work in and very efficient in the way it's designed."     
The individual study pods are just part of the upgrades at the Faculty of Information, in which the fourth and fifth floors of the northern part of the Robarts Library complex have been completely redesigned and refurbished.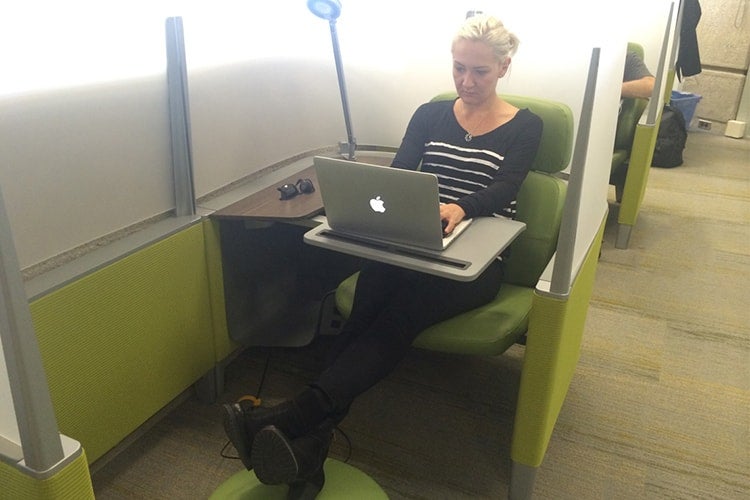 Azel Mulagulova works on her readings in a study pod at the iSchool 
The renovation includes group study spaces, more interactive labs for digital preservation and database research, a soundproof Skype room and an exhibition wall (which will be replaced annually) for students in the Museum Studies program to practice curatorial techniques and designing exhibit spaces.
The faculty includes 681 graduate students in both the Information Studies and Museum Studies programs. While the new spaces will be available 24 hours a day to students in the faculty, they're also open to other students from across the university from 9 a.m. to 7 p.m. 
"The impetus for adding updated smart boards and computers, gathering spaces, classrooms – and an abundance of electrical outlets – was to transform [this space] into a collaborative, experiential and experimental space," says Dean Wendy Duff. "By giving students and professors a diverse range of study spaces: individual study pods, small and large group study rooms, as well as labs and large seminar rooms, they can pursue further excellence in teaching, service, studies and research."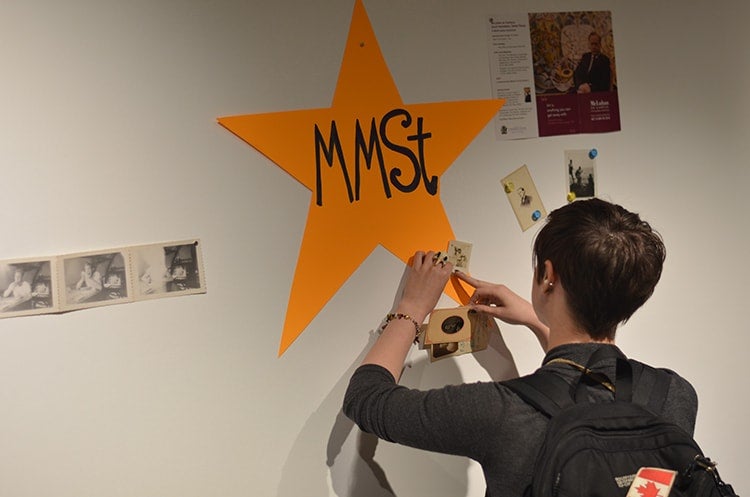 A Museum Studies student works on a display at the exhibition wall (photo by Charlotte Gagnier)
Gone, for the most part, are the days of endless study carrels. Instead, the space is using more open, wider tables that allow students to spread out their books. The tables also have easy-to-access electrical outlets. 
The Semaphore Demo Room on the fourth floor will be a bookable space for events and design activities that focus on emerging technologies. For example, it's been used recently for virtual reality demonstrations.
Both floors have been updated with new seating, more interactive classroom spaces and futuristic-looking group study hubs, each custom-built to tuck into the polygonal shapes in the north-facing windows of the Claude Bissell building, which is part of the Robarts complex.
The seven hubs, which feature their own motion-sensitive lighting, outlets and table space are often filled with people working together on assignments.  
"They're the second most popular spots here after the individual pods," said Kathleen O'Brien, communications and development officer for the faculty. "Students are encouraged to gather and talk about their projects."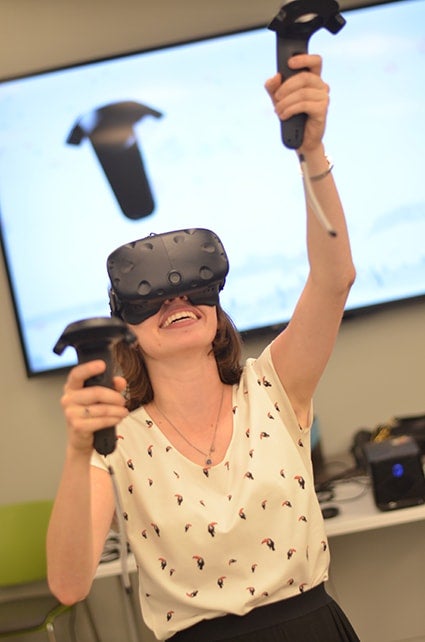 A virtual reality demonstration at the iSchool (photo by Charlotte Gagnier)