New health humanities minor at U of T Scarborough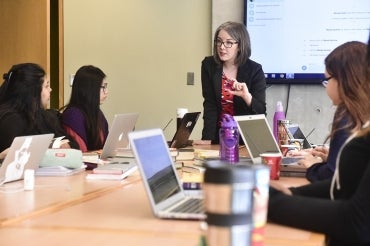 Students at U of T Scarborough now have a new program they can consider – a minor in health humanities – which will be the first of its kind in Canada. This interdisciplinary field explores health, illness and disability through the arts and humanities.
Andrea Charise, an assistant professor of health studies at U of T Scarborough, is the lead developer of the program. She's also the founding director of SCOPE: The Health Humanities Learning Lab, a new arts- and humanities-based health research and education initiative. 
U of T's Chris Garbutt spoke with Charise about the new program.
---
What is health humanities?
Health humanities, or medical humanities as it's also sometimes called, can take a few forms from more theoretical discussions of the representation of illness – like AIDS, cancer, dementia or depression – in film, literature, drama or the visual arts, for example. But the field also involves more applied, hands-on practices such as the use of arts-based health interventions like art therapy or "narrative medicine."
What attracts me to health humanities is how it asks researchers and educators to think about the relationship between the creative imagination of health and illness, and how those ideas get put to work in the "real world."
Why does it matter?
Health humanities allows us to think more clearly, critically and creatively about the individual experience of health and illness. This focus on what it means to be sick or well distinguishes an arts-and humanities-based approach to health from more conventional approaches to health studies. What's important to understand is that this does not mean that the arts and humanities are "better" or more important than biological or physiological knowledge of health. My own background is in clinical epidemiology and geriatrics, and I work closely with colleagues in the Faculty of Medicine.
What health humanities uniquely shows us is that the arts and humanities have something to teach us about the complex lived experience of health and illness. The arts and humanities are really good at helping us investigate and imagine ways into that complexity, which is often profoundly unique from person to person. The effects of health policy or illness experiences are often profoundly personal. If we only focus on the "bigger picture" of health, that individual perspective goes missing. That's why health humanities matters.
Why now?
Health humanities has been around for about 40 years, mostly in medical schools where the arts have been employed to enhance the teaching of clinical skills like compassion and empathy. But the relationship between arts and medicine is an ancient one. Hippocrates, the founder of modern western medicine, famously wrote ars longa, vita brevis, art is long and life is short, in the document we now call the Hippocratic Oath.
What's new is the idea that health humanities has a place outside of medical education as well. It's only in the last 20 years or so that we've seen the growth of health humanities curricula at the non-professional undergraduate level. Currently, there are about 60 such programs across the United States, but UTSC's undergraduate curriculum is the very first of its kind in Canada.  
Are there any courses specific to this minor?
Yes! Introduction to Health Humanities (HLTB50) is the core introductory course, which I designed and first launched in Fall 2014. It serves as an overview of this field, runs every fall and is open to all UTSC students. It's really exciting to be in a classroom with students from neuroscience, human biology, mental health, literature and visual arts (to name only a few). Part of the learning that goes on in this course is how to communicate effectively – and creatively – about health and illness with people trained in very different disciplines. That's something I find really stimulating and rewarding as an educator. For a full list of courses eligible for UTSC's health humanities minor, check out the SCOPE website. As program supervisor, I'm very happy to answer any questions so students can contact me via my website.
What will students learn, and what careers can they pursue?
Conventional health professions are increasingly recognizing the benefits of skills typically supported by the arts and humanities like textual and visual literacy, aesthetic or "close" noticing, tolerance for ambiguity, storytelling and narrative competence. The health humanities minor develops these skills and capabilities, as well as the ability to collaborate with students and future colleagues from radically different disciplines. 
In terms of careers, a health humanities minor will help students chart career opportunities in fields like health communication, community health, as well as basic health professions like medicine, nursing or allied health such as social work or occupational therapy. Health humanities is also a way for students in the arts and humanities to use their knowledge and skills in a more applied setting such as art/drama/music therapy and community health programs.
But health and medicine have a deep history, and this history is influenced by the ongoing legacies of racism, colonialism, sexism and power relationships that emerge from the very fundamentals of language. An arts- and humanities-based education prepares someone to identify and address these issues really well, and health practices, policies and education are in need of people with these knowledge, skills and attitudes.
Why is U of T Scarborough fertile ground for this program?
The fact that this is now home to Canada's first undergraduate minor in health humanities is proof that this is a place that welcomes and encourages truly innovative and interdisciplinary programs. I think what makes UTSC special is the trust the administration places in its junior researchers, the Centre for Teaching and Learning's encouragement of educational innovation and a courageous student body that's willing to come on board – and really co-create – fresh new ways of thinking about the world. My students are constantly engaging our health humanities work with their own lived experiences of race, immigration and other impactful facets of identity.
UTSC