With new documentary, U of T alumna – and former Olympian – explores how women are defined in sport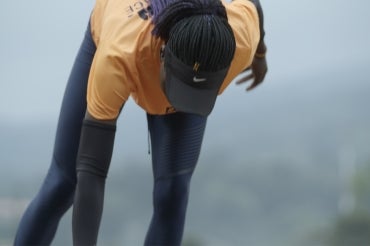 Phyllis Ellis sees a lot of similarities between making a film and succeeding in sport. 
"The hours and hours and hours of preparation. The sort of monomaniacal focus. The idea that you can never give up. Fighting to the finish … There's a total commitment, and also a lot of learning that happens from both successes and failures," says Ellis, an alumna of the University of Toronto's Faculty of Kinesiology & Physical Education.
Ellis represented Canada in the 1984 Olympic Games in Los Angeles, where she played for the Canadian field hockey team, before embarking on a career of filmmaking, acting and producing. Her latest work – Category: Woman – recently screened at the 2022 Hot Docs Canadian International Film Festival. It focuses on four athletes from the Global South who were forced out of competition by regulations that deem women with naturally high androgen levels to have a performance advantage. The International Amateur Athletics Federation (now World Athletics) ruled that in order to compete, these female athletes must medically alter their healthy bodies.
The regulations came at the heels of Caster Semenya bursting onto the world stage in 2009. The South African runner's results were overshadowed by doubt and her personal medical records leaked to international media. 
Ellis says she was drawn to the story after meeting some of the athletes and Payoshni Mitra, an activist who has been advocating on their behalf. 
"The policing of women's bodies in sport is an ongoing issue that continues under the guise of fair play," says Ellis. "I hope viewers of our documentary will walk away from the movie with an understanding that inclusion, prevention of harm, nondiscrimination and primacy of bodily autonomy is what a level playing field actually is."
Ellis says her experience as an Olympian came in handy when she decided to devote herself to making documentaries.
"As a filmmaker, I have always been drawn to social and political issues that centre on the experiences of women," says Ellis, whose feature documentary Toxic Beauty was nominated for the 2021 International Emmys and won best direction and best writing at the Canadian Screen Awards (CSA).
"But I always thought I'd come back to sport in my work in film."
She adds that her experience as an athlete and an Olympian was a formative one.

 "Being an athlete and representing Canada was a wonderful experience in more ways than not. I learned a lot and although I didn't know it at the time, I have carried the good and the tough times forward and I'm thankful for that."
KPE