A natural leader: Remembering U of T student Mohammad Amin Beiruti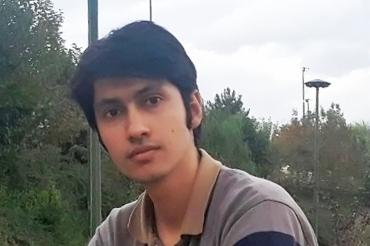 The University of Toronto's department of computer science, in the Faculty of Arts & Science, is remembering two PhD students who lost their lives in the tragic crash of Ukraine International Airlines Flight 752 in Iran on Jan. 8.
"Our community has been devastated by the loss of two of our best and brightest young minds," says Marsha Chechik, the department's interim chair. "My deepest condolences to their families and their friends, members of their academic communities and everyone who knew these incredibly smart and driven, yet generous and caring individuals."
Mohammad Amin Beiruti was among the eight members of the U of T community who died in the crash, which killed all 176 aboard. Fifty-seven Canadians were among the victims. 
Beiruti was born in Iran in 1990. An innovator, with a natural ability for deep thinking, he was keen and focused on his academic goals. Beiruti received his master of science in computer engineering in 2015 from Sharif University of Technology in Tehran. He joined the computer science department at U of T as a PhD student in 2017. His research in systems and networking focused on designing the next generation of networks under the supervision of Professor Yashar Ganjali. 
Beiruti's contributions in this area ranged from theoretical modeling and analysis of existing systems, to design and implementation of new protocols for load migrations, and even deployment and evaluation of his solutions in real systems. He was highly motivated in his research and constantly sought new and interesting problems – which often led to interesting solutions later on. 
Beiruti believed that the more technology improved, the better the world would be – and he wanted to play a role to ease the life of human beings. His goal was to reach the leading edge of science, and he was eager to make contributions and enhancements to technology. 
He generously shared his knowledge with his peers and with undergraduate students as a teaching assistant in computer science at U of T and previously at Sharif University. He also served as a mentor to several undergraduate students at U of T, helping them with research projects. 
Beiruti was a natural leader and a brilliant student, according to those who knew him. He was the executive director for seven different national collegiate programming contests as part of the Asia Regional Association for Computing Machinery-International Programming Contests (ACM-ICPC). He was also the chief of staff of the 2014 Asia Regional ACM-ICPC Contest held in Tehran.
In addition to being hardworking and ambitious, Beiruti was also described as caring and kind. He spoke softly and respectfully and was loved by many friends, a reflection of his inner calm and peace of mind. He was in Iran after his grandmother passed away as he wanted to spend time with his family and console them. 
Beiruti is remembered by his supervisor, his labmates and his academic family as an individual who "cared deeply about the impact of his research and wanted to make the world a better place." 
---
Feeling distressed? Find someone to talk to right now – and if there is an immediate risk, call 911.
Round-the-clock support:

Students can speak to a trained crisis worker at any hour of the day.
U of T My SSP for students: call 1-844-451-9700 or download the app at the Apple App Store or Google Play. Immediate counselling support is available in 35 languages and ongoing support in 146 languages.  
Other 24-7 supports available to students include:
The following services are available to students on all three campuses:
Faculty and staff have access to 24-7 support through:
Arts & Science