The Mysterious Miss Archer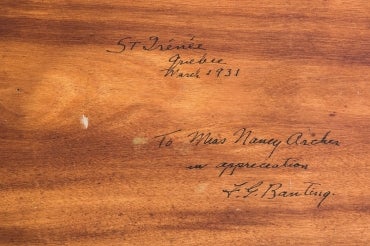 "What makes for a really good mystery? It isn't just an interesting question or sparring with a particularly evil villain. A good mystery is born from the tension that builds as our hero pursues the truth, often against the odds."
So begins "Dial M for Medicine", Dean Trevor Young's introduction to the Summer 2016 issue of the award-winning Faculty of Medicine Magazine, which this issue focuses on medical mysteries. Over the next few weeks, U of T News will reprint some of the stories from that issue. Our second mystery, the Mysterious Miss Archer, is recounted by History of Medicine research coordinator Susan Bélanger.
---
A few years ago, the Banting Research Foundation received an unusual package from an unknown source: three small paintings, two of them addressed to a Miss Nancy Archer. They bore the signature of F.G. Banting.
The discovery was well timed. Canada's oldest biomedical research agency, founded in 1925 to commemorate the discovery of insulin and support promising new investigators, was refreshing its mission in preparation for its 90th anniversary. Yet there were many mysteries to resolve before the foundation could claim this prize.
Were the paintings authentic? The evidence was good: style, dates, subjects all fit with Banting's known works and his painting expeditions with friend and artistic mentor A.Y. Jackson of the Group of Seven. Official verdict: Yes!
Other mysteries remained. Who were the previous owners? Above all, who was Nancy Archer?
The foundation's new Executive Director Ramona Rea took up the case. Three years of dead ends ensued. Then finally, success! A single reference in the city directory identified Nancy Archer as Banting's maid in 1931. The famous scientist was well known for giving his artwork away freely as gifts of appreciation. This was where the trail ended in July 2015.
After the mystery was publicized in a front-page Globe and Mail story, a woman in England identified Nancy as her grandfather's great-aunt. She had sailed to Canada in 1928 along with her mother and younger sister Betty to visit a third sister, Marjorie, then married to a Herbert Brown and living in Winnipeg. The family, including Marjorie's two sons, returned to the UK during the 1930s. The paintings passed from Nancy, who never married, to Betty. When she died, a distant relative sent the works to the Banting Foundation.
Most details of Nancy's life remain unknown. Yet according to one tantalizing piece of family history, she went on to spend many years with the London Metropolitan Police, known to crime drama fans worldwide as "The Met." Women began entering the force during World War I, and full-fledged "Women Police Constables" were introduced in 1923. Perhaps Miss Archer went on to join their ranks.