On the move: U of T e-scooter startup launches expansion during COVID-19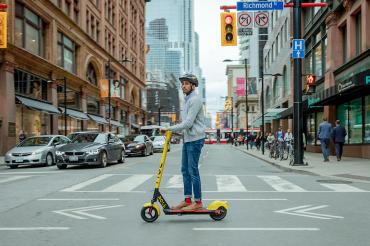 Many businesses have balked at expanding their operations during the pandemic, but the founders of University of Toronto startup Roll Scooters spotted a rare opportunity to grow.
The startup, co-founded last year by U of T Scarborough alumnus Richard Cao and undegraduate student Arda Erturk, recently rolled out the service in two new cities: Calgary and Ottawa.
And they plan to add more cities next year.
"We're hoping next year cities like Vancouver and Toronto will follow suit as people look for transit options where they can practise safe social distancing," says Erturk, who serves as the startup's chief communications officer.  
The pair met as undergrads while organizing an Earth Day event at U of T Scarborough and began talking about the potential for e-scooters in Canada. In March 2019, they visited The Hub, U of T Scarborough's entrepreneurial incubator, and began working with its director, Gray Graffam. 
Electric scooters, known as e-scooters, are battery-powered scooters that have exploded across Europe and the U.S. in recent years. Users are able to find, unlock and rent the scooters through mobile phone apps. In Roll's case, the service is "dockless," meaning customers can ride the scooters wherever they want and leave them there after they're done.
Cao and Erturk formed a team of six employees who helped launched the website, code the app and investigate potential Canadian launch cities. Cao also leveraged manufacturing connections in China to get the scooters built.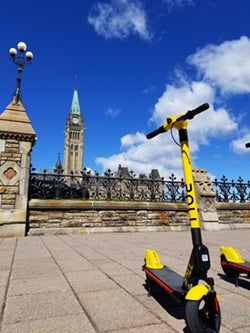 After a successful trial in Kelowna, B.C. last year, Roll expanded into Calgary in May with 500 scooters and, more recently, in Ottawa, where it offers 80 scooters.
"Trying to operate and expand our business during COVID-19 has had its own unique set of challenges, but it's also presented opportunities. People are recognizing micromobility as a safe and reliable transit option," says Erturk.
He cites the Calgary launch as an example.
"We saw a lot of recreational use, so people just trying them out for the first time, but we also saw a trend that people were taking shorter trips, and more trips in the evening. This means they were commuting back home from work, which was great to see."    
Launching during COVID-19 also meant introducing new cleaning procedures, including sanitizing scooters twice per day, and encouraging customers to sanitize their hands before and after use.
In Canada the e-scooter industry remains very much in its infancy, mostly due to initial safety concerns.
"We've made the platform of our scooters wider and heavier than most U.S. companies, which makes it more stable. Our wheels are also larger to help prevent them from getting caught in curbs or uneven street surfaces," says Erturk.  
He adds there are some unique challenges that come with operating in Canada – namely the weather. Roll can usually operate from March or April until November, depending on local bylaws. During the down time in the winter months, Erturk says they're able to focus on making software and hardware improvements.
Roll plans on looking for more opportunities to expand into other Canadian markets, particularly in Toronto, which is set to launch a pilot project for e-scooters in 2021. Meanwhile, the company will soon be selling their retail scooter models through Kickstarter and their online store. 
Erturk says with many municipalities around the world looking at ways to divert more cars off busy downtown city streets, there is opportunity for growth in bicycle, e-bike and e-scooter rental businesses in the near future. He's also been encouraged by the welcome Roll has received from local business improvement areas, which are pleased that potential customers have greater access to small businesses.       
"E-scooters, and micromobility in general, offer a great opportunity for cities," Erturk says. "People living in cities are demanding safe, clean, and reliable modes of transportation beyond cars. I think this goes hand-in-hand with creating more livable cities."
UTSC