More than stamps on a passport: why U of T students should study, research abroad
New senior director of U of T's Centre for International Experience shares her global vision for students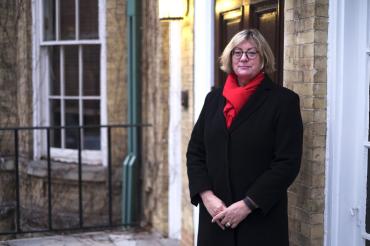 University of Toronto students can spend part of their summer in Prague, Vienna and Budapest, learning about the transformation of Central Europe.
Or, they can take a special ecology and conservation course that takes them to the Andes highlands, the Amazon and the Galápagos Islands to study local flora and fauna.
For physics students, they have the option to complete a course credit in Switzerland, studying with U of T professors at the research centre CERN – home to the Large Hadron Collider, the world's largest and most powerful particle accelerator.
Learning abroad is a journey that teaches resourcefulness, resilience and adaptability, said Katherine Beaumont, U of T's new senior director, global learning opportunities and international student success. 
"It's about understanding a different place and space," she said. "It's about building a network beyond your current geographic area. It's about building a skill set of communications and problem-solving in a place where the rules are different, but you may not recognize those differences immediately."
There are plenty of ways to experience the world while at U of T, but many students don't learn about the full range of these opportunities until too late in their degree. Beaumont wants to change that in her first year at the Centre for International Experience.
She's working closely with Professor Joseph Wong, associate vice-president and vice-provost, international experience, to design a searchable database of global opportunities for students at U of T. The directory would help students uncover what's possible at U of T and make informed choices.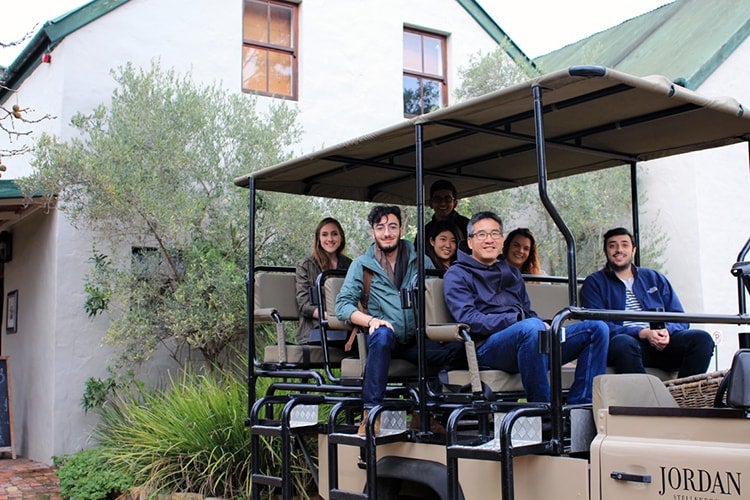 Professor Joseph Wong (front row, left) with students, including Kim Stead (back row, left), in South Africa (photo by Kourosh Houshmand)
Wong, who backpacked across China in his university years in the early 1990s, has taken his own students to Brazil, India and South Africa for research on poverty and the reach of social services in the global south.
"Students abroad are confronted with intellectual challenges, personal challenges, emotional challenges and so on," Wong said. "For them to experience these and then come back and continue to deal with them is extraordinary."
One obstacle preventing some students from learning abroad is cost. Beamont and Wong said they are looking for ways to reduce the burden on students. 
Although it can be expensive to travel, there are also ways of learning about the world and other cultures without having to buy a plane ticket. Peer mentorship, for example, can help students receive a global education closer to home, Beaumont said.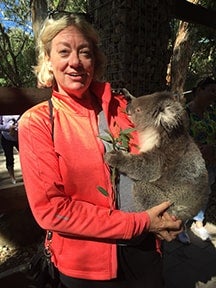 U of T has students from 165 countries who learn from one another whenever they work together. In today's highly globalized world, knowing to how to excel in a multinational environment is a sought-out skill, she said.
Beaumont comes to U of T after years of travelling the world for work. Her career in international education and student development has taken her to more than a dozen countries from Australia to Saudi Arabia. 
Originally from Manitoba, she spent part of her youth in Saudi Arabia where her family moved for work. She studied education at McGill University before moving to the other side of the country to work for the University of British Columbia where she eventually oversaw a 10-fold increase in learning abroad engagement over 10 years.
At the University of Melbourne, she managed a staff of 90 who helped students make the most of their university years, in part by supporting their learning abroad. In her spare time, she says, she went sea kayaking in Tasmania, snorkelled the Great Barrier Reef and hugged at least one koala.
Her tips for students learning abroad? Meet people, build a community and explore new opportunities.
"Consider what you hope to learn in the world and let us help you figure out how and where to do just that," she said. "U of T offers you a global portal – on the three campuses and around the globe."
Every year, CIE also runs a contest for the best photograph taken during a studying abroad or an international exchange at U of T. This year, students have until Feb. 19 to submit photos taken during an exchange or study abroad program. Prizes will be given for first place in each category.
UTC