Molly Shoichet on the importance of creativity, imagination in research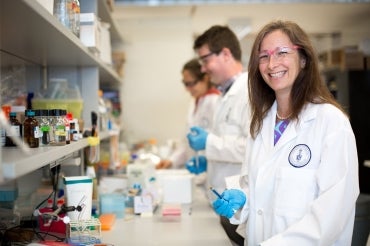 Three top scholars – an astrophysicist, an Indigenous legal rights expert and a biomedical engineer – will talk about the importance of creativity and imagination in the pursuit of world-changing research at a special anniversary event tonight for one of the most prestigious awards in Canada.
All three Killam Prize winners will speak at Innis Town Hall Theatre. Tickets are free and are available by registering here.
The event, hosted by the Canada Council for the Arts and moderated by Paul Kennedy, host of CBC Radio's Ideas, features:
John Borrows, Canada Research Chair in Indigenous Law at the University of Victoria Faculty of Law and former professor in the Faculty of Law at the University of Toronto
Victoria Kaspi, Canada Research Chair in Observational Astrophysics and director of the McGill Space Institute, McGill University 
Molly Shoichet, Ontario's chief scientist, Canada Research Chair in Tissue Engineering and professor in U of T's Faculty of Applied Science & Engineering's department of chemical engineering and applied chemistry and the Institute for Biomaterials & Biomedical Engineering.
To get an idea of what the evening may hold, U of T News caught up with Shoichet, a globally recognized leader in stem cell transplantation and regenerative medicine, ahead of her talk.
---
Why is creativity and imagination important in your research?
We're trying to solve problems that no one has been able to solve. If you want to try and solve a really big problem, you have to take a different approach from what other people have done – that requires creativity and imagination.
For example, we're trying to get the brain to regenerate. We know the brain has the capacity to do this but no one's really been able to figure out how to do that after a traumatic injury like a stroke. So how can we get the brain to repair itself? What molecules can we deliver to it or what cells can we transplant to get the brain to repair itself after a stroke?
I've heard there's been about a thousand failed clinical trials in strokes. That's a lot of really smart people not being successful. If we try to do the same thing, we're just going to continue to fail.
What impact is your work and your field having on the world?
I look at research as the core to invention, innovation and commercialization. If we don't do that research, we're not going to have those inventions, the innovation, the commercialization, and you're not going to have impact on human health.
Have we impacted human health so far? No. But that is a major driver for what we do and a major driver for the creativity we talked about before.
In our lab, we use innovation in chemistry and engineering to solve problems and answer questions in biology and medicine. We have invented new materials, we have licensed those materials to companies, or used our inventions as the founding technology to start companies, and this is an active part of what we do.
Recently we started a company that focuses on post-surgical pain. We want to use some of our inventions to better manage pain for these patients. It's a very exciting time to take that invention and that commercial opportunity to make a difference in people's quality of life.
Have you met your fellow panellists before? What are you hoping to hear from them?
I know both of them. Vicky [Victoria Kaspi], I've known for years. I don't know where I first met her but we've been on panels together before. What I love and what I'm looking forward to hearing from her is  how a better understanding of the universe can help us better understand who we are.
John [Borrows] and I both worked together at the Killam Prize last year. I had the opportunity to meet him at the Killam event. He has such a different perspective on knowledge and how knowledge can be used to affect people's lives – actually, among the three of us, he has probably had the biggest impact on people's lives looking at Indigenous rights and Indigenous law. [His work is] very much on the ground.
What did winning the Killam last year mean to you?
I would say it's Canada's biggest prize, certainly in engineering, and perhaps the biggest in science or among the biggest. It's always humbling when you look at the previous winners and realize you have the support of your peers.
I think [the prize] is really a reflection of the fantastic people that I've had the opportunity to work with and continue to have the opportunity to work with – the students, the graduate students in the lab, the post-doctoral fellows, even the undergraduate students who come to our labs.
And then of course there's our collaborators. What I love about being at the University of Toronto is just the opportunity to be challenged and to collaborate and to partner with brilliant people and to think outside of the box and to think in a multidisciplinary way.
Since winning the Killam, you've been named Ontario's chief scientist. What has changed for you?
What's changed with being chief scientist is . . . it's a lot. It's just a huge opportunity to give back to Ontario and to Canada. I've gained so much from living here.
[The chief scientist has] a really broad mandate but it's very energizing. It's this idea of opening up a culture of science or enhancing the culture of science in Ontario. In government, can we enhance the culture of science? Can we take advantage of scientific methodology to make better decisions? Outside of government, can we do more to engage with the public and restore public trust in science?
And then [there's] also looking at Ontario's research agenda and making sure that we really are doing our best.
I have to say that I didn't have a good understanding of government before I got here. I've been here for two months now and it's fantastic to learn about all the great work that people in government are doing.
I also still have my lab at U of T, which is really important to me. I think we all realized it was important for the chief scientist to still be a scientist.
Any thoughts on the recent federal budget and the boost in funding for fundamental research? Does this mean it's a good time to be a scientist in Canada?
I really do applaud the federal government for investing in science. It was really needed.
We know our future is dependent on what people call the innovation economy or the knowledge-based economy. Natural resources are obviously a huge driver of our economy in Canada but we know the world is changing and we need to invest in research so that we are on the leading edge and we in Canada are inventing that future.

Hopefully, as chief scientist we can do something similar in Ontario to continue to invest in research and enhance that.
Any final thoughts you'd like to add?
The Killam Foundation and the Canada Council for the Arts – they're really a jewel.
I've served on their committees before and have an enormous amount of respect for the way they run the process. I know that it's a very rigorous process.
I think what we need to do more of in Canada is celebrate science and celebrate discovery and encourage curiosity. If we can get more young people pursuing careers in the STEM fields, then our future will be bright. So the Killam is just one of those bright stars.
UTC