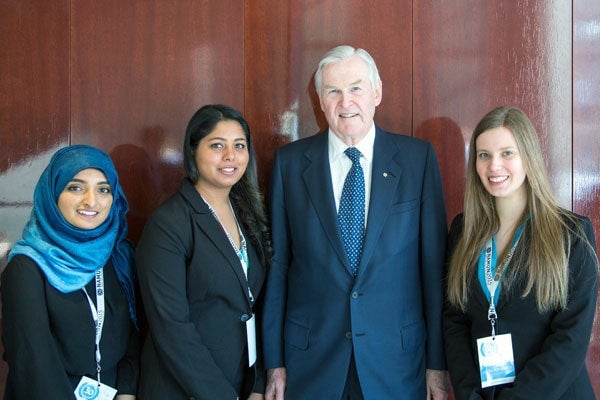 Model United Nations conference draws students from around the world
Chancellor Michael Wilson addresses 30th annual North American event
As a former federal finance minister and Canadian Ambassador to the United States, U of T Chancellor Michael Wilson is used to giving advice to governments.
But he turned the tables at the opening of the 30 annual North American Model United Nations (NAMUN) conference on Thursday when he asked the assembled students to give him advice on two major international issues – the rise of ISIS and the conflict in Ukraine.
Wilson asked about 200 students gathered at the Isabel Bader Theatre to imagine that he was Prime Minister Stephen Harper or U.S. President Barack Obama and that they were their policy advisers. The advice from students was articulate, insightful and dynamic.
The Chancellor outlined some conflicting "solutions" to the violence perpetrated by ISIS and told the students: "Where will we draw the line? What degree of 'success' on the part of ISIS is tolerable, at least in terms of global security?"
Obama has been continually pressed "to put boots on the ground," the Chancellor said. But the President's request for formal authorization from Congress raises many questions. "We simply cannot know that something more than limited ground combat operations won't be necessary at some point, or something even greater than that."
The conference, which was started by a group of U of T students in 1985, is a four-day event this year and attracted young people from five provinces, as well as U.S. states including California, Utah, Pennsylvania, Michigan, New York and Illinois.
Students from Indonesia are here for the first time and those from India are here for a second time.
But despite the diversity of students, the response to military action against ISIS (also known as ISIL or Islamic State) was virtually universal: diplomacy, not military intervention, is the best route to take.
Some of the responses included: "A military solution is simply not feasible; the west has been propagating, inadvertently, the rise of extreme Islamism." Another student said western intervention has led to the "destabilization" of regimes in the Middle East and another said the Middle East "is spiralling into its own world war."
Wilson agreed that "there are no easy answers to this complex problem" and that he heard the students conclude that a domestic solution is the best one, and if there has to be "boots on the ground" they should be accompanied by regional boots on the ground.
Another complex problem is the situation in Ukraine. Wilson, speaking as Prime Minister Harper, said "you will have noticed that Canada's prime minister has been one of the strongest political leaders speaking out against Russia. Some have criticized me for personalizing my comments and in that way demonizing President [Vladimir] Putin."
The Chancellor said "we are in a serious predicament. Is there still a way to bring him [Putin] back into a reasonable relationship with western Europe? What are the roles that the leaders of Canada, the United States and other countries should play?"
Students agreed with Wilson that German Chancellor Angela Merkel, who has met with Putin more than 30 times, should be supported in her role as mediator, and that there should be some consideration given to a demilitarized zone in Ukraine, similar to the one between North and South Korea.
Wilson had wanted the students to give advice on NAFTA and a bigger role for political leaders on its impact, but ran out of time. The students will also discuss the use of drones and depleting oil resources during the conference.