From Mississauga to Massachusetts: Sonic 'Futurity Island' art installation hits the road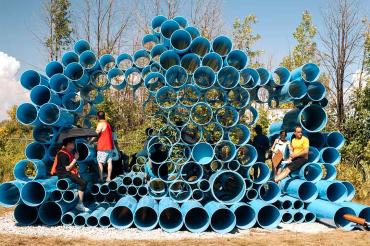 What does it take to move an island? Lots of planning, a big truck and plenty of patience.
"Futurity Island," a towering art installation built from blue water pipes, is being moved from Mississauga to its new home at the Massachusetts Institute of Technology (MIT) in Cambridge, Mass. where it will be reassembled on site next to the Charles River.
Created by MIT-based artists Gediminas & Nomeda Urbonas, "Futurity Island" was a showcase feature of The Work of Wind: Air, Land, Sea, 10-day contemporary outdoor art festival exploring climate change, environmental crisis and resilience that was curated by Christine Shaw, the director of the University of Toronto Mississauga's Blackwood Gallery.
Installed next to Clean Harbours Canada, the pile of municipal water pipes broadcast an ambient sonic creation inspired by swamp creatures and environmental contamination.
"This is not just a sculpture," says Shaw, who is also an assistant professor, teaching stream, at U of T Mississauga's department of visual studies. "It's a transmission device. There's a sense that it's meant to be on the move, or that similar 'Futurity Islands' could be formed."
It's no small feat to move the intsallation, which was presented by the Blackwood Gallery in partnership with the MIT Program in Art, Culture and Technology. Plans to relocate the sculpture, which is constructed from 20,000 lbs. of municipal water pipe donated by The Work of Wind sponsor IPAC Services Corp., have been in the works since December 2018. That's just a few months after The Work of Wind closed and "Futurity Island" was packed away into shipping containers stored on the site of another festival sponsor, Musket Transport Inc.
Over the past week, Blackwood Gallery project co-ordinator Fraser McCallum has been working with the Musket Transport team to re-pack the pipes into a single tractor-trailer container. "It's really just figuring out how to fit it all in and keep the pipes organized so it can be reassembled in exactly the same way," says McCallum, who will accompany the piece on its cross-border trip.
Shaw will attend the opening celebrations on Sept. 6 and  Sept. 7, where she will deliver a talk about the
The Work of Wind
 and "Futurity Island" alongside the artists and 
Etienne Turpin
, editor of the 
"The Work of Wind" book series
. Chilean artist and "Futurity Island" collaborator Nicole L'Huillier will contribute a live performance of the sculpture's "Amphibian Songs" experience.
"Sending the work to MIT enables the Blackwood Gallery to think about different ways to tour an exhibition, which is standard practice for museums and galleries," Shaw says.
"I love the thought of 'Futurity' on the move. I would love to see 'Futurity Island' travelling from site to site, to different localities, inspiring more thinking about the environmental conditions of each place."
UTM