'A mindset that needs to change': U of T researcher promotes gender equality on the global stage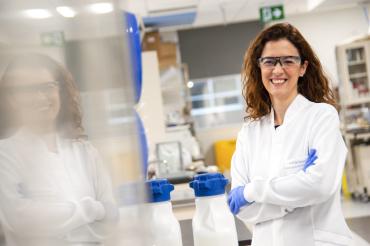 Grace De Souza, an associate professor in the University of Toronto's Faculty of Dentistry, wants to raise awareness about the impact of gender-based discrimination on the careers of female scientists, which she says is ubiquitous.
Even the language used in reference letters can lead to bias against women, says De Souza, who adds that her eyes were opened when she attended a U of T workshop on anti-discrimination and unconscious bias in grant reviews.
That led De Souza to get involved with the Women in Science Network, a subgroup of the International Association of Dental Research (IADR), a global academic research association with over 10,000 members worldwide.
"There is a mindset that needs to change. The least we can do is open up a conversation," says De Souza, who was elected vice-president of the network in January and is now holding those conversations on a world stage.
The Women in Science Network formed in 2011 after a review conducted by the IADR showed that, despite gains, women in science continue to face barriers to equal pay, tenure, and grant success. They also receive significantly fewer major recognitions. Now boasting over 300 active members from institutions across North America and internationally, the network organizes events throughout the year that bring greater awareness to gender barriers and propose strategies to dismantle them.
Leadership is one such barrier. "Historically, we may have seen an increase of women in dentistry, in academia, but not in leadership roles," says De Souza, who adds that the situation may be starting to change in part due to network members' efforts to improve equal gender representation.
Current and past presidents of the IADR are women, for instance, marking an important new trend in the organization's 100-year history. Only 10 women have ever been elected to its leadership, with the first taking office in 1981 and the second being elected in 1999. At the upcoming centennial meeting of the IADR in March, the network will host a mentorship event, with the goal of helping more women step into leadership positions. 
A large part of the network's mandate is to organize events that prompt dialogue on issues of gender. They run a successful symposia series, for example, that deals with topics ranging from harassment in academic institutions to the importance of scientific rigour, and published a special issue of the IADR's Advances in Dental Research this past November.
Recognition platforms are another means to improve gender equality, according to De Souza. Awards are handed out by the Women in Science Network at the IADR's annual meetings, and they have developed a program to fund research projects that promote better representation of female scientists.
But while these interventions are important for dentistry's largest academic research organization, they shouldn't stop there, says De Souza. "We are always looking for initiatives to improve the conversation," she says, and those conversations should continue at the members' home institutions, as well.
At the end of her tenure as vice president in 2021, De Souza will step into the role of president of the Women in Science Network.
Dentistry