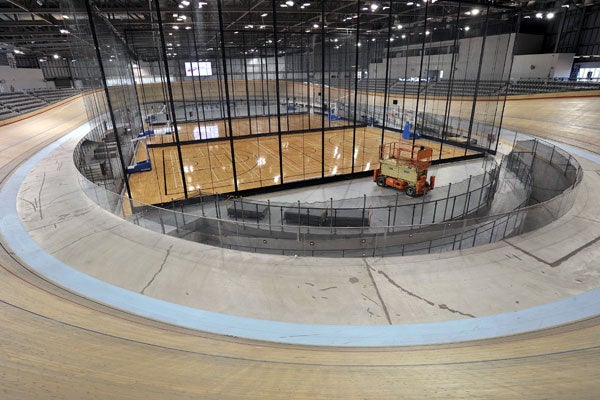 From Milton's velodrome to Toronto's West Don Lands: using the Pan Am/Parapan Am Games to build a legacy
Some projects are new, large-scale and dazzling – the Milton Cisco Velodrome and the CIBC Pan Am/Parapan Am Aquatic Centre and Field House at the University of Toronto Scarborough.
Others feature improvements to existing facilities – a new shooting range at Innisfil's trap and skeet club, upgrades to Caledon's publicly-owned equestrian park and new, wheelchair-accessible tennis courts at the University of Toronto Scarborough Tennis Centre.
But whether you're talking about a new bridge to the rowing facility in St. Catharines or new buildings and spectator seating at the Welland Pan Am Flatwater Centre, the Toronto 2015 Pan Am/Parapan Am Games are changing the built landscape in Ontario, even before the Games begin. 
"Pretty much every permanent venue that's getting built is something that the communities surrounding them really needed in their final state," says Mark Sterling, director of the Master of Urban Design program at the John H. Daniels Faculty of Architecture, Landscape, and Design, on planning.
Large-scale events such as the Olympics or the Pan Am/Parapan Am Games are sometimes seen as expensive sinkholes that siphon resources from more pressing social and economic problems. But can they be good for their host cities and countries?
It depends entirely, says Sterling, on the planning.
For the past 15 years, Sterling has been working in various capacities as a consultant to the City of Toronto and to Waterfront Toronto on the redevelopment of the Central Waterfront, the Port Lands and the West Don Lands, former industrial lands south and east of Toronto's financial district along Lake Ontario. 
(Photo at right of West Don Lands by Spacing Magazine via Flickr.)
There had been public sector interest in redeveloping the West Don Lands since the 1980s, but various plans were stymied by problems of soil contamination and the fact that the area is on a flood plain. Eventually, in the mid-2000s, momentum gathered behind a plan, and Waterfront Toronto kicked off a process to pre-plan what was envisioned as an 80-acre mixed use site that would ultimately contain 6,000 residential units – many of them affordable – businesses, retail and 23 acres of parkland. (Read about the U of T Law alumna who devoted decades to the revitalization of the West Don Lands.)
"I got involved as part of a team doing what's called a public realm master plan," says Sterling, who served as urban design lead on the project. "We were designing the streets and most of the parks in detail. My role was to work with the engineers and landscape architects to make sure that as we were planning the detailed design of the streets and blocks and open space of the area, we were integrating the thinking about the way the buildings would frame those spaces.
"Then the Pan Am games showed up."
By the time the West Don Lands were selected as the site of the Pan Am athletes' village, the plan for the neighbourhood had already made its way through municipal approvals processes. Construction was ready to begin – and it was expected to take 15 to 20 years to complete.
But, Sterling recounts, "When Pan Am came along, all of a sudden there was an impetus to say, well, maybe we could build most of the buildings now. The buildings required for the Pan Am village were all built according to the plan that was already in place."
In other words, he says, the Games were a catalyst for a project that was already in the works. 
"In a normal development cycle, we would have expected one building to be built every two to three years. So this really kick-started the whole thing. It kick-started affordable housing provision as well because there was quite a strong mandate in that area to provide affordable housing."
But the built legacy of the Games isn't just in the West Don Lands. They will take place at 32 venues in 16 municipalities within a 5,300 square kilometre footprint – ten are newly built and 15 are existing facilities that have been upgraded.
(At right, students try out the climbing facilities at UTSC; photo by Ken Jones.)
Heather Irwin, a Pan Am spokesperson, says that the venues will provide Canada's best athletes to access world-class training facilities at home. They will also, she says, serve the communities in which they're located, communities as far flung as Haliburton and Niagara Falls.
"Community use and sport legacy is baked into their design," she says. "It's not an afterthought."
For example, says Irwin, the Cisco Milton Velodrome "is the only velodrome of its kind in Canada, and only the third in North America that meets top international standards." 
The Ontario Cycling Association and the Milton Cycling Academy both plan to make the facility their home bases after the Games. 
The velodrome was also built to be a community recreational centre, with three multi-use courts, a walking track, fitness centre, community bicycle storage and a retail bike and repair shop.
That the Pan Am venues will have a useful legacy after the Games is something U of T's Sterling attributes to – once again – good planning. Population in southern Ontario is growing, and provincial plans call for intensification. Because of this, he says, most communities had public projects they wanted to undertake, and the Pan Am bid allowed them to leverage the planning that was already underway. 
If Toronto is an example of deriving positive benefits out of a major event like the Pan Am Games, there are other cases that resulted in less than happy endings for the host city. Athens, for example, which hosted the 2004 Olympics, is littered with decaying, abandoned venues.
And Sterling was invited recently to attend a workshop in Lima, Peru, host of the 2019 Pan Am Games, given by a group of planners and architects. 
"They were concerned that they were either going to get a lot of temporary facilities that would just disappear or, given that decision making was going to have to happen quickly, they might get the wrong kind of legacy. They don't have any legacy projects waiting in the wings like we did."
A city should only take on these events like Pan Am, says Sterling, "if you can use them for something you already know you want to do. Some of the failed Olympics have amounted to a big party with a lot of expensive concrete stuff left over. The positive ones are the ones where they've actually made a difference in their cities.
"The legacy question is a big one. There's no reason to do this otherwise."