Mending the gap: U of T's Molly Shoichet joins team developing new treatments for spinal cord injuries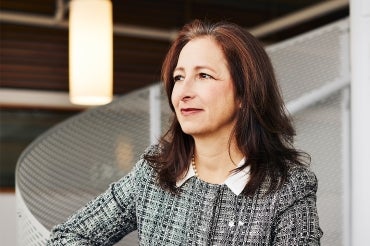 Spinal cord injuries can be devastating – and there are currently few options to reverse the effects, which can include paralysis, chronic pain and loss of bladder control.
But an international team of researchers, including the University of Toronto's Molly Shoichet, hopes to change that. 
"Over the past few years, we've made a lot of progress in tissue engineering, drug delivery and regenerative medicine," says Shoichet, a University Professor in the department of chemical engineering and applied chemistry in the Faculty of Applied Science & Engineering, the Institute of Biomedical Engineering and the Donnelly Centre for Cellular and Biomolecular Research. 
"With this ambitious project, we bring world leading experts together to try to do something that no one else has been able to do: promote repair and regeneration in the injured spinal cord." 
Shoichet is a co-principal investigator with Mend the Gap, an international collaboration of more than 30 researchers, engineers, scientists, surgeons and social scientists from Canada, the United States, Europe and Australia. The collaboration this week received $24 million from Canada's New Frontiers in Research Fund to advance their work. 
The team takes its name from the fact that only a small gap, just a few centimetres long, is responsible for blocking the nerve impulses that normally flow through the spinal cord. Bridging that gap requires collaboration from some of the world's top experts in a wide range of fields. 
Shoichet is known internationally for her work on hydrogels – biocompatible materials that can help facilitate tissue repair. Hydrogels can function as scaffolds, enhancing or augmenting natural processes that serve to repair damaged tissue. 
Hydrogels can also serve as controlled-release mechanisms for drugs that aid healing, or to protect stem cells that are being injected into the body by keeping them alive and healthy while they integrate into damaged tissues. 
Another important line of research involves dealing with the glial scar that forms in the wake of a spinal cord injury. In the short term, this protective shield of cells and biochemicals prevents further injury in the damaged nerve, but in the long term it can serve as a barrier to nerve repair. 
Shoichet and her team bring their expertise in hydrogels and local delivery strategies to deliver innovative biomolecules locally and directly to the injured spinal cord. For example, she re-engineered an enzyme to selectively degrade some of the biomolecules that make up the glial scar. This redesigned enzyme is both more stable and more active than the wild type.
By breaking through the glial scar with this new delivery strategy, the enzyme can enable other therapies – from advanced drugs to stem cells – to further promote tissue regeneration and repair. 
"The environment in the injured spinal cord is a very complicated place," says Shoichet. "There are a whole range of natural processes at work – some of which we want to enhance, others of which we need to find ways to circumvent. I am very excited to be part of this multidisciplinary team, which has the breadth and depth of expertise that we need to make a real difference when it comes to treating spinal cord injury."  
Shoichet is the only person to be elected a fellow of all three of Canada's national academies and is a foreign member of the U.S. National Academy of Engineering and a fellow of the Royal Society of London. She was the 2020 recipient of the Gerhard Herzberg Canada Gold Medal, Canada's highest honour for science and engineering research. She is also a member of the Order of Ontario and an Officer of the Order of Canada. 
Engineering