In memoriam: University Professor Emeritus Michael Bliss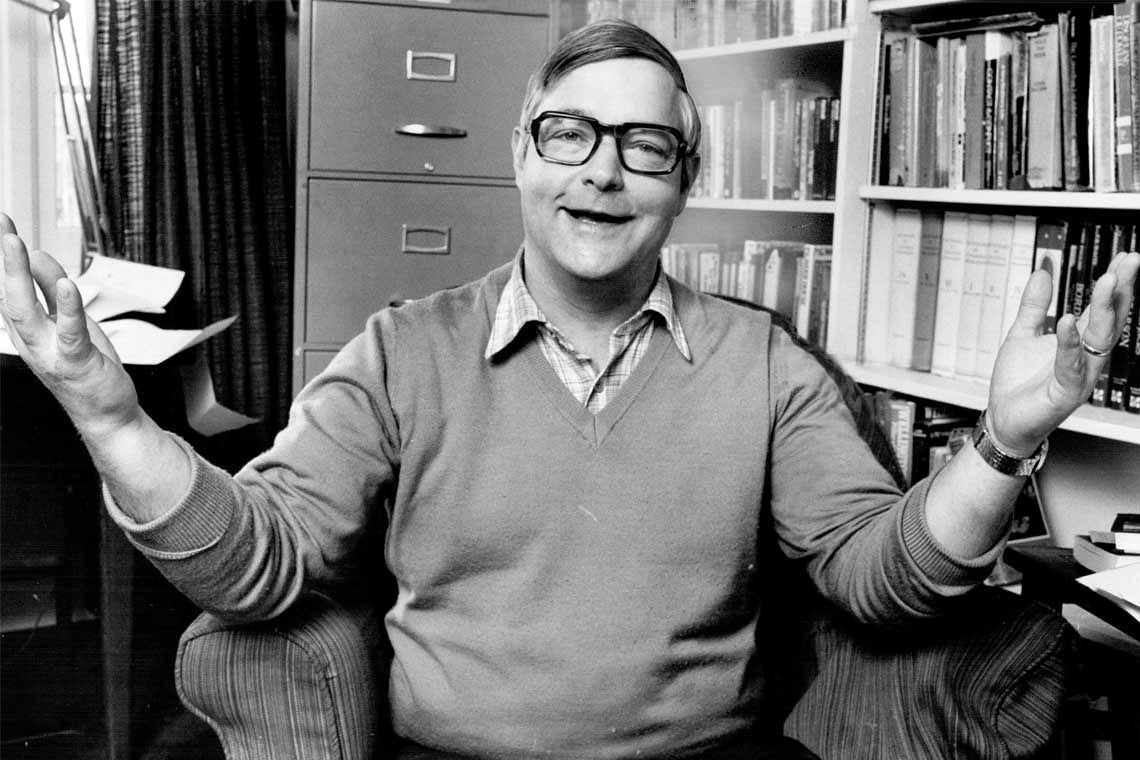 The University of Toronto's Michael Bliss, "one of Canada's most prominent public intellectuals" and a University Professor Emeritus, died yesterday. He was 76.
The renowned historian was the award-winning author of 14 books on business, politics and medicine for both scholarly and popular audiences, including a book on the history of insulin. 
"He was a lovely man," said Faculty of Medicine Professor Edward Shorter, who met Bliss in 1967 at U of T and was his colleague for 50 years. "His passing will be mourned by many friends and acutely by me.
"He was one of Canada's most prominent public intellectuals." 
Bliss entered University College at U of T in 1958, receiving his BA, MA and PhD from the university before joining the Faculty of Arts & Science in the department of history, where his career spanned 38 years. He later moved to the Faculty of Medicine, where Susan Bélanger said, "We were greatly honoured," to have him as a colleague. 
"We are all deeply saddened to hear of his passing," Bélanger said.
He earned U of T's highest honour, the rank of University Professor – a distinction conferred upon less than two percent of tenured faculty – and was a Fellow of the Royal Society of Canada and a member of the Canadian Medical Hall of Fame. 
"What always really impressed me was Michael's commitment to also being a public intellectual," Professor Nick Terpstra, chair of the department of history, told The Toronto Star.
"He was committed to being a historian. He was committed to research and writing . . . , but one of the reasons why his books were so popular was he was committed to being a Canadian who spoke to other Canadians.
"He thought that was one of his obligations as a historian, to speak to a broader public."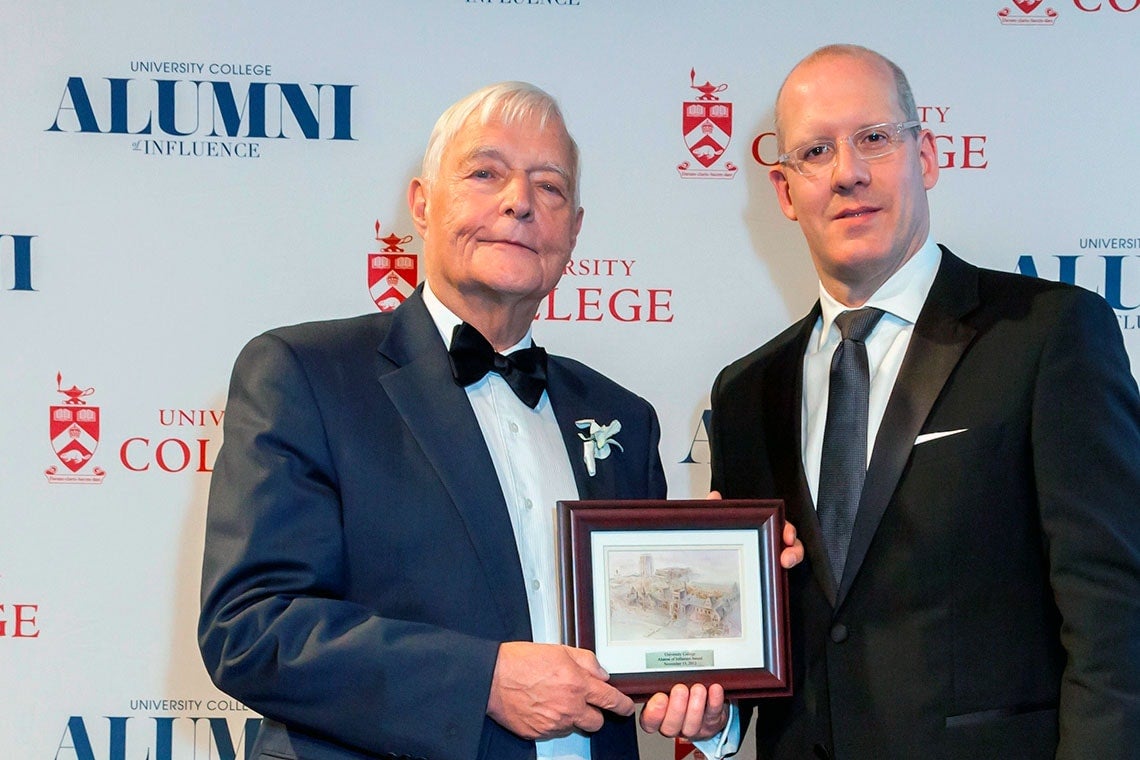 (From left: Michael Bliss in 2012 with Professor Donald Ainslie, principal of University College)
Perhaps best known for his book, The Discovery of Insulin, Bliss also published biographies of two Canadians, Sir Frederick Banting and the famous physician Sir William Osler. He also wrote the Governor General's Award–nominated Plague: A Story of Smallpox in Montreal.  In 2005, he published a biography of the American neurosurgeon, Harvey Cushing, which galvanized his place as an internationally-known historian.
"He revived the genre of medical biographies with these massive, impressive books," said Shorter. "It was a genre that really had been on its way out, replaced by social histories, until he moved back into the picture." 
Earlier in his career, Bliss wrote several business books including a major biography of Sir Joseph Flavelle, A Canadian Millionaire: the Life and Business Times of Sir Joseph Flavelle and a first history of business in Canada, Northern Enterprise. 
"Intellectually, the only word for him is brave – he ventured where others feared to tread," said U of T historian, Professor Robert Bothwell.
"Where most academic historians stick to narrow fields, Mike moved from one to another. He can lay claim to having invented several, at least in Canada (Medical history being the most notable). He trod on many toes in his life, usually for the right reasons."
Bothwell says Bliss was one of the U of T figures who was known to embrace the public side of being a professor, connecting with the world at large.
"If you asked people who was a U of T historian at that time, they would say, 'Bliss,'" said Bothwell.
Canadians will also remember Bliss for his many columns in The Globe and Mail and National Post, addressing current affairs topics and issues of national unity and governance. 
"He was a beautiful writer and his columns were incisive. They got right to the heart of the question and had something wise to say about it, and there aren't a lot of columnists who can do that," said Shorter.
In 2011, Dundurn Press published Bliss's memoir, Writing History: A Professor's Life. 
"It encompasses social history, family tragedy, a critical insider's view of university life, Canadian national politics and above all, a rare glimpse into the craftsmanship that goes into the research and writing of history in our time," the publisher wrote. "Whether writing about pigs and millionaires, the discovery of insulin, sleazy Canadian politicians or the founders of modern medicine and brain surgery, Michael Bliss is noted for the clarity of his prose, the honesty of his opinions, and the breadth of his literary interests."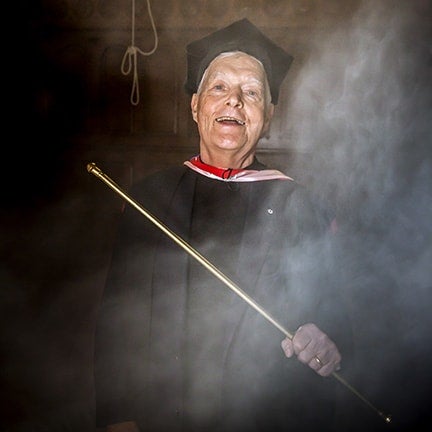 Professor Donald Ainslie, principal of University College, said Bliss was often seen at various events and functions, including the annual Harry Potter movie night with his grandchildren in tow.
(Image at right courtesy of Professor Ainslie)
Bliss, who received his BA from University College in 1962, gave a talk for his fellow alumni at the college in January.
The UC Alumni Salon event, Suicide and Sour Graps: New Light on the Discovery of Insulin, drew on discoveries at U of T's Thomas Fisher Rare Book Library. The Fisher Library is home to the manuscripts for Bliss's books; his papers and diaries are housed at the U of T Archives.
Among the many awards and accolades Bliss received was the Order of Canada. He was made a Member of The Order of Canada in 1998 and was promoted to Officer in 2013.
As news of his death spread on Thursday evening, Canadians across the country took to Twitter to mourn his loss. 
UTC