In Memoriam: University Professor Emerita Ursula Franklin
"There's a lot that needs to be done but it's up to the powerful, not the powerless. It's the obligation of the powerful to be civilized."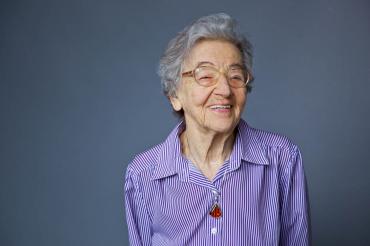 The world is mourning University Professor Emerita Ursula Franklin, one of Canada's most accomplished scientists and educators and one of its most renowned feminists and peace activists.
Franklin, who died at the age of 94, was born in Germany and educated in Berlin. After surviving the Holocaust, she came to the University of Toronto as a postdoctoral student in 1949. Following 15 years as a senior scientist with the Ontario Research Foundation – where her research on strontium-90 in baby teeth was instrumental in achieving a moratorium on atmospheric nuclear weapons testing – she rejoined U of T in 1967 as the first female professor of what is now known as materials science and engineering.
"Throughout her life and career, University Professor Ursula Franklin made remarkable contributions to the U of T Engineering community, the engineering profession and the world," said Cristina Amon, dean of the Faculty of Applied Science & Engineering. "Her pioneering spirit and inspirational role model will be greatly missed, and I know that her extraordinary legacy will continue to inspire future generations of engineers."
U of T President Meric Gertler also paid tribute to Franklin, saying, "Ursula Franklin was a U of T and global pioneer -- as a scientist and educator, as an activist, and as a woman. While we mourn her passing, we also celebrate her brilliant legacy of accomplishment and influence. We are very proud and grateful to count her among the most distinguished leaders in the history of the University of Toronto."
Franklin pioneered the field of archaeometry, applying modern materials science to the dating of archaeological artefacts. In 1984, Franklin became the first woman to receive the title of University Professor, the highest academic rank at U of T. She delivered the Massey Lectures in 1989 and holds more than 40 honorary doctorates. In recognition of her humanitarian work, Franklin received the United Nations Association's Pearson Peace Medal in 2002.
She was also a  resident and senior fellow at Massey College. Hugh Segal, the Master of Massey College, described her as "one of Canada's and the world's most important interdisciplinary scholars. With a background in the sciences, engineering and physics, a strong scholarly engagement and achievement in philosophy and remarkable lifelong advocacy for peace, humanism, and the human priorities for technology, Dr Franklin's work will live on for centuries to come. Her presence at Massey, and her mentoring of Junior Fellows, was always of huge importance."
In honour of Franklin, the University of Toronto flag will be flown at half-mast across the three campuses on Tuesday, as well as at Massey College. There is no public funeral planned. 
U of T News reporter Romi Levine spoke with Karen Suurtamm, an archivist at University of Toronto Archives & Records Management Services. Suurtamm, who assisted Ursula Franklin in archiving her records, notes that the records are available to researchers (go to http://utarms.library.utoronto.ca/dr-ursula-franklin%E2%80%99s-archival-papers-now-open-researchers for more information.
---
On working with Franklin
About 18 months ago we got in touch with [Franklin] to talk about acquiring the rest of her collection. In 1996, she donated a lot of her materials that she accumulated up until then. So we wanted to complete the collection.
I met with her several times and then worked with her assistant to pack up her records that were at Massey College and in her home and in a storage facility.
And then I met with her to talk about her life and what kinds of materials she had and what was important to her.
On Franklin's legacy
She's a remarkable woman. What I find so fascinating about her even just in reading through her materials – her correspondence and papers – she was involved in so many things. She was so accomplished as a physicist and engineer, a scientist, and then she extended that into her work into social responsibility as a scientist.
On top of that she's a Quaker and pacifist and a feminist and an active member of Voice of Women (now the Canadian Voice of Women for Peace). So she's doing all this stuff on top of being a mother as well.
As she's juggling all of this, she has this amazing clarity of purpose and clarity of thought. She never really seemed frazzled, she always seemed to know what she was doing and why and what was important to focus on. That's what really stood out to me about her and what really inspired me.
On fighting for women
A woman in engineering at that time – you can imagine – it's not the most welcoming climate.
I think for her she has such a focus and vision that she just carried on. She always fought for women in science. You see in her correspondence she's always trying to leverage other women and promote other women – the people she was mentoring. Once she became more well-known and everybody was contacting her to give her awards or honorary degrees or have her speak she would always try to push them toward other people she was mentoring that were up and coming to promote other women in the field. She was very outspoken about that as well – making sure there's a real place for women.
On the scope of the collection
It's about 150 boxes and that includes textual records – handwritten and typewritten correspondence and articles. It includes photographs, posters, artifacts - there's about 150 tape recordings, audio cassette recordings of her talk.
That's preserved here in the U of T archives and it's open and available to researchers who want to access it. 
---