In Memoriam: John H. Daniels (1926 - 2022)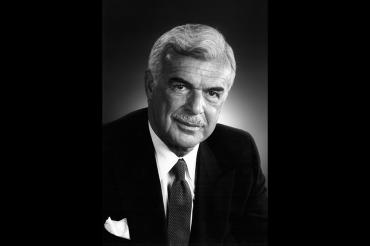 The University of Toronto community is mourning John H. Daniels, the visionary architect, real estate developer and philanthropist who passed away on Oct. 22, 2022 at age 96.
A U of T alumnus who earned a bachelor's degree in architecture in 1950 and received an honorary degree in 2011, Daniels' lifelong generosity helped Toronto's students and citizens alike – he built the iconic Toronto Eaton Centre, set in motion groundbreaking projects to make housing more affordable and catalyzed a game-changing revolution in Canadian architecture education.
Daniels and his wife Myrna Daniels have given more than $30 million to U of T. These gifts helped the John H. Daniels Faculty of Architecture, Landscape, and Design to build a new, innovative foundation in undergraduate education, raise the ceiling of scholarship with a PhD program, amalgamate U of T's programs in visual studies and forestry, quadruple enrolment, raise its global profile and create a new home in the award-winning Daniels Building.
"John H. Daniels was a vital member of the University of Toronto family," says U of T President Meric Gertler. "A celebrated innovator in urban development, John was guided by a strong social conscience rooted in his own experience as an immigrant to this country.
"John and Myrna's incredible generosity propelled the University to become a major international hub for architecture and design, both through transforming the spectacular Daniels Building and through their unstinting support for talented undergraduate and graduate students. We will miss him greatly. I offer sincere condolences to Myrna, to his colleagues at The Daniels Corporation, and to his and Myrna's families."
John H. Daniels rose to success through championing accessibility and removing barriers to home ownership
Daniels was born in Poland and immigrated to Canada in 1939 when he was 12 years old. He saw his new country as a refuge, a welcoming place of opportunity and a beacon of diversity. As a high school valedictorian in 1944, he wrote: "Canada will be a home for many millions of peoples and many different races and creeds. Let us realize we are all Canadians and pride ourselves with more community consciousness. We shall put away all our selfish desires and work together to establish a model country for all the world." These ideals were to inform all his later career as an advocate for equality and a champion of Canada.
In 1949, while a student at U of T's faculty of architecture, Daniels made his first foray into real estate development by founding Modern Age Construction. Though intended as a summer building project to help raise some tuition money, the project showed the young entrepreneur his way forward. He went on to become CEO of the Cadillac Fairview Development Corporation, where he helped build Toronto's Eaton Centre and the Erin Mills community in Mississauga.
In 1983, Daniels left Cadillac Fairview to start The Daniels Corporation, a company that would quickly become synonymous with vibrant communities, affordable housing, social infrastructure and architectural innovation. Responsible for countless Canadian residential development projects, The Daniels Corporation also worked closely with government to develop thousands of non-profit rental units and founded the FirstHome communities to lower market barriers for first-time homebuyers.
The company was also instrumental in revitalizing the Regent Park neighbourhood, transforming it from a failed public housing estate to a vital, growing community at the centre of Toronto. John and Myrna were also early investors in the Toronto International Film Festival, supporting the iconic and fully accessible Bell Lightbox Theatre.
Through three major gifts to U of T, John H. Daniels created countless opportunities for architecture and design students
John Daniels' personal success inspired him to give back to his alma mater. In 2008, he and his wife Myrna made a generous $14-million gift to the John H. Daniels Faculty of Architecture, Landscape, and Design, ensuring that gifted students would have access to critical financial aid. The John and Myrna Daniels Scholars endowment has provided 287 individual awards to 128 students so far, with a preference to those who may be the first in their family to pursue a post-secondary education. "Education is the foundation of so much of what I have been able to accomplish," he told the Globe and Mail at the time.
Just five years later, the couple gave a further $10 million to build a remarkable new home for the Daniels Faculty in the Daniels Building at 1 Spadina Crescent. The project revitalized a landmark 19th-century site, combining with the heritage building to create 155,000 square feet of inspiring studio spaces, an innovative fabrication lab, a green roof laboratory, lecture halls and exhibition galleries, and an expansive atrium.
The Daniels Building has been written about widely, garnered critical praise and won 30 local and international prizes and awards – a matter of great pride to Daniels. This record of distinction, along with the Daniels Faculty's growing reputation and stellar faculty, has attracted exceptional students to the school's undergraduate, professional and PhD programs. These include architecture, landscape architecture, urban design, art/visual studies and, more recently, forestry.
Many of those students received generous scholarship support, always at the heart of the couple's giving. In 2018, an additional $6-million gift from their foundation created the endowed John and Myrna Daniels Foundation Opportunity Awards.
John H. Daniels was a visionary who helped build a better future
"John Daniels leaves behind an incredible legacy," says Juan Du, dean of the Daniels Faculty. "In addition to establishing one of the most influential and civic-minded companies in Canada, responsible for landmark projects in Toronto's city core and beyond, he has contributed through his vision and generosity to the education of generations of architects, landscape architects, artists and scientists at the Faculty. His insistence on excellence and his support for advanced education will continue to inspire all of us for years to come."
"John was a 'city-builder' long before the phrase became popular," adds Richard Sommer, former dean of the Daniels Faculty and Director of the Global Cities Institute. "He had a humility that could belie the sharpness of his intellect, his uncompromising will to excel, and his array of accomplishments. We will miss him, but take solace in remembering what a long and inspiring life he led."
"In a way, John Daniels never left his alma mater," says David Palmer, U of T's vice-president, advancement. "His giving at U of T was strongly tied to a desire for future generations of students to enjoy the education he had, to make Canada a global leader, and to share in his vision for sustainable, innovative architecture that is accessible to all. For that, we will be forever grateful." 
Listen to John H. Daniels' speech to graduating students at the 2011 U of T convocation.
DUA