In memoriam: Donald 'Digger' Gorman, beloved U of T Earth sciences professor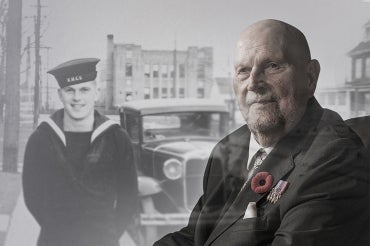 One of those special bright stars. Extremely knowledgeable – the original Google before Google was invented. A remarkable colleague and friend. The perfect gentleman.
Those are just some of the ways friends and colleagues described Donald "Digger" Gorman, who died earlier this year at the age of 98. Before he retired, Gorman had taught in the the University of Toronto's department of Earth sciences (then Geology) in the Faculty of Arts & Science for more than 40 years.
"Professor Gorman was a truly remarkable colleague and friend," remembers Jeff Fawcett, emeritus professor in the department of Earth sciences.
"His impact on students as a teacher, mentor and friend set a standard that many would try to emulate but none could match. He was interested in students as people, especially if they showed any interest in minerals, mineral exploration and geology. He opened doors for them in terms of summer and permanent employment.
"He was friendly, relaxed, approachable and would always make time to hear their views."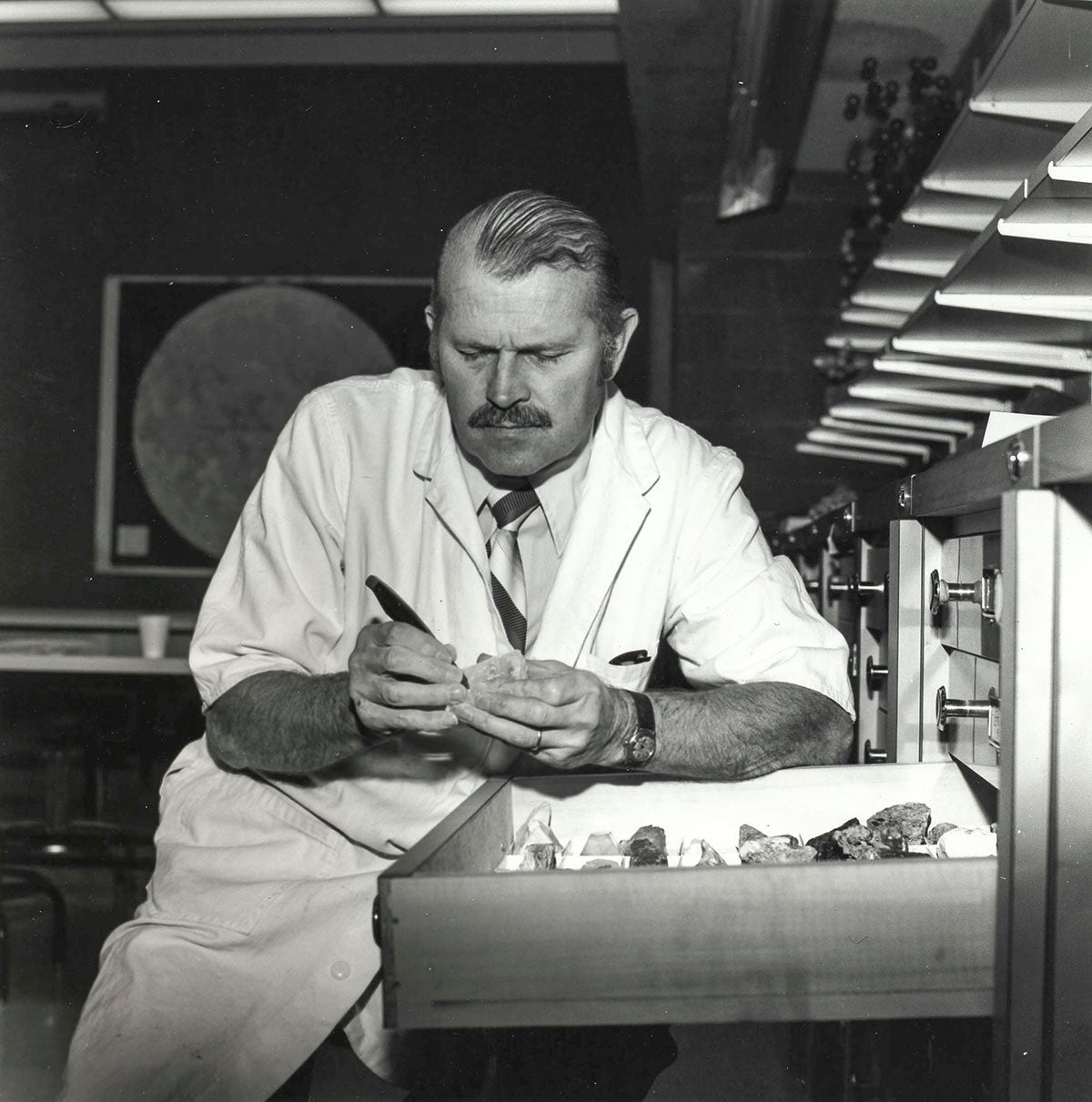 Born in Fredericton, N.B in 1922, Gorman earned a bachelor of science degree at the University of New Brunswick in 1947 before studying economic geology as a Beaverbrook Scholar at the Royal School of Mines in London, England from 1948 to 1949 – a degree that was interrupted briefly by his service in the Royal Canadian Navy during the Second World War. He'd become enthralled by minerals at UNB and arrived in Toronto with a $500 scholarship cheque and two letters of recommendation from the school's professors.
"When I got up here, I had my eyes wide open as to just how advanced U of T was," Gorman recalled a few years ago. On the advice of U of T's world-renowned mineralogy professor, Martin Peacock and others, Gorman took six undergraduate courses to ensure he was up to speed.
"I guess I did, shall I say, so well in the undergraduate courses that Professor Peacock said it wouldn't be necessary for me to take a master's degree," Gorman recalled. "He wouldn't hold me up and put me directly into the PhD program. That started me out in 1948 as a full-fledged graduate student under the world-renowned Professor Peacock."
He earned his PhD in 1957 from U of T, where he would teach mineralogy for 41 years.
He will be remembered for setting students up for their geoscience careers with the skills to recognize the important common minerals – as well as the less common ones, says John Gittins, U of T emeritus professor who enjoyed a 60-year friendship with Gorman.
"His approach was that it was all very well to send back a mineral you could not identify in the field for identification with a million dollars' worth of instrumentation, but if it was chalcopyrite that you had confused with pyrite, the error might have cost your company a mine and you could expect to be drawing unemployment insurance soon," Gittins says. "He stressed the practical needs of a mining exploration geologist. Decades of our graduates have taken with them that skill."
It wasn't just these practical lessons that set him apart, but also his listening skills and desire to help students excel.
"Digger was a great listener and it is one of the many traits students remember and loved him for. His door was never closed when he was in the department," Gittins recalls. "His time was yours for as long as was needed. A comforting arm around the shoulder sent many a student back to facing whatever had brought them to see him."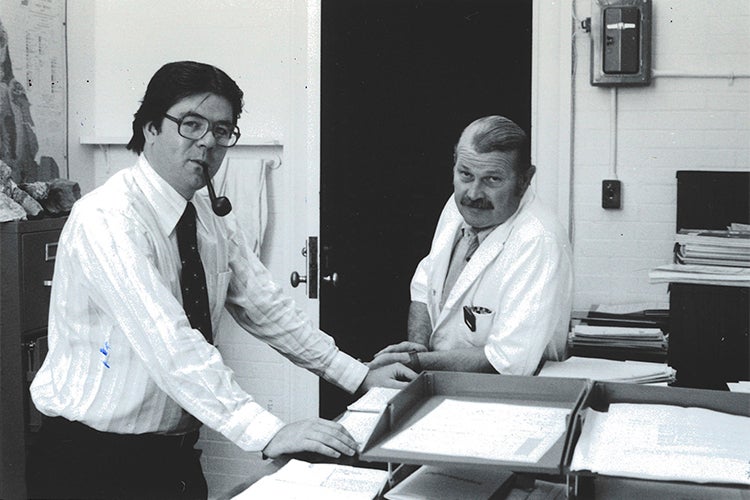 Earth sciences Professor Ed Spooner (left( with Donald Gorman (right).
Beyond U of T, Gorman was a popular lecturer at the Royal Ontario Museum and the Walker Mineralogical Club, the oldest mineral club in Canada, which named him its honourary president in 1981. In 2009, he was inducted into the Canadian Mining Hall of Fame after being nominated by his long-time friend and colleague Fawcett.
In 1981, the International Mineralogical Association approved the name "Gormanite" for a newly discovered mineral. In 2004, he was included on U of T's list of Great Teachers from the Past, a select group of 96 former faculty members that includes only one other Earth scientist.
Gorman's impact on students and the mining field will continue through the D.H. Gorman Explorers Fund Graduate Scholarship. Created in 2009 by alumnus Keith Barron to honour his beloved former professor, the scholarship provides undergraduate and graduate Earth sciences students with much-needed funding so they can focus on their studies and continue their research. 
"I am so very pleased and delighted that students have benefitted from the scholarship, and have been able to support their studies and remain in Earth sciences," says Barron, who received his bachelor of science in Earth sciences in 1985 and established the Gorman scholarship in 2009. "Digger's legacy is alive and well." 
Predeceased by his wife Reta, Gorman a proud father of five children and is fondly remembered by his 10 grandchildren and 11 great-grandchildren.
Arts & Science