Members of U of T Mississauga Model UN club head to New York for youth assembly at United Nations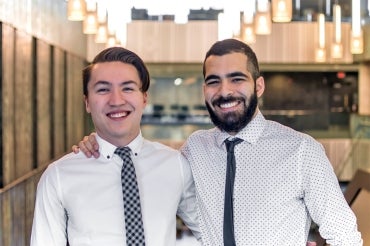 It's off to the United Nations this August for members of the University of Toronto Mississauga's Model UN club, thanks to their success in competition.
The club, which started about five years ago as part of the debating club, now stands on its own. At two competitions members in the last academic year, the members collected five awards for writing country/issue profiles, three individual honours for debating and persuasive skills, and an award for the competition's best small delegation.
"It's our best season yet," says Graeme Littlemore, the club's vice-president.
Given that success, members of the club's executive are heading off to a youth assembly at UN headquarters in New York City from Aug. 10 to 13. The assembly's aim is to "foster youth action for sustainable development." Participants from around the world attend workshops focused on both issues and skills, learning how to have an impact in their own communities. It's also a chance to meet people who work at various UN missions globally and get a real sense of how they bring about change.
"It should be an exciting experience," says Littlemore. "We plan to bring the information back to campus and teach what we've learned to our own members, so it will be invaluable."
Littlemore, a fourth-year student with a double major in criminology and political science, joined the Model UN club in his first year at U of T Mississauga and believes wholeheartedly in its benefits.
"I was shy and reticent and usually sat in the back of the room," says Littlemore. "Being part of the club really teaches you to get out of your shell and take on a leadership role."
The Model UN club is based on the parent organization that brings delegates from countries worldwide together to discuss and debate world issues and offer solutions acceptable to the majority of members. At the club level, students study policy and adopt the viewpoints of various countries, practising writing briefs and debating these topics with fellow members in preparation for Model UN competitions. Club co-founder and former president, Philip Power, serves as the club's adviser.
"We take on different roles each week so we learn more about the goals and perspectives of other countries," says Littlemore. "It takes you outside of yourself.
"It's great for people who want to be more globally informed and develop speaking skills."
There are Model UN competitions held worldwide throughout the academic year. At these competitions, each student represents a country and is responsible for submitting a profile of that nation, detailing its stance on the issue. During the event, students meet in committees and attempt to persuade fellow members that the resulting resolutions reflect their country's views.
"A lot of research goes into it," says Littlemore.
This year, the U of T Mississauga club participated in two competitions: one at Queen's University and the North America-wide competition, held this year on U of T's downtown Toronto campus.
"It's a major fall-winter conference and delegates come from all over the world: the United States, South America and Africa, for example," says Littlemore. "Our delegation had 12 people."
The club has 40 dedicated members who attend weekly meetings, and others who aren't as regular. Two members of the club's executive are in charge of training, creating scenarios based on current events for members to tackle. For example, they might explore solutions to the current refugee crisis in Europe, working toward passing a resolution.
This coming school year, the club intends to host its first-ever Model UN competition at U of T Mississauga. Club president Kayvan Aflaki, a fourth-year student majoring in biology for health science, believes that the organization's trip to the UN this summer will be conducive to successfully hosting a conference on campus.
"Our organization has been ranked among the top 75 Model UN teams in North America," says Aflaki. "I think with our burgeoning success at competitions across Canada, we've proven that we have the talent and expertise to finally host clubs from around the world on our campus. 
"Hopefully, our trip this summer will give us the insight we need into making our own conference something meaningful and significant."
UTM