Melissa Sariffodeen, who graduates from U of T this fall, recognized for teaching Canadians to code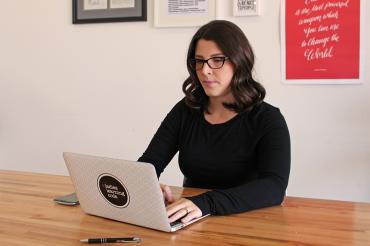 Melissa Sariffodeen, who will graduate from the University of Toronto with a master's in education degree this fall, is a celebrated digital literacy advocate and the co-founder and CEO of Canada Learning Code – and was recently named one of Canada's Top 40 Under 40.
The list compiled by consulting firm Caldwell is considered one of the country's most coveted awards for young business leaders, recognizing more than 800 Canadians since being founded in 1995.
Sariffodeen studied educational leadership and policy at U of T's Ontario Institute for Studies in Education (OISE). Writer Perry King recently spoke to her about her latest honour, her time at OISE and her work in coding education.
---
How does it feel to be named one of Canada's Top 40 Under 40? 
It's such an unbelievable honour to be recognized alongside so many incredible leaders that I admire. It's also such important recognition for our work at Canada Learning Code. The award, along with our work, would not be possible without the incredible team that I work alongside every day at Canada Learning Code. They are all truly leaders in their communities, working to create a better, more inclusive future for all. I'm so proud our work could receive this attention and national spotlight.
How did Canada Learning Code come to be and what are its goals?
We started out in 2011 as Ladies Learning Code – a collective of women who wanted to help teach others to code because we wanted to learn ourselves and wanted a space that was explicitly welcoming for those who identify as women. We weren't the only ones and our work gained so much momentum with our first workshop. We had workshops that would sell out in minutes as people recognized just how critical learning technical skills are. We began to offer workshops in more and more cities across Canada, including for youth and teachers.
In 2017, we officially evolved to Canada Learning Code and set a bold 10-year goal to create 10 million meaningful learning experiences for people in Canada. We believe that computer science and coding are foundational skills that are critical for everyone to have an understanding of – just like English or math.
I taught myself to code when I was 11 but never pursued it beyond personal projects, like building websites, and I really wanted to pick up those skills again. I've always attributed much of my willingness to try new things as well as my confidence in building and solving problems to my early experiences in coding. I am thankful that we can help empower so many people across Canada with similar experiences through our work.
Why did you choose to study at OISE? How has it helped you professionally?
As we started to focus more and more on youth through our work, I wanted to build my knowledge of formal education and education policy. I wanted to gain a better foundation to work collaboratively across stakeholders to drive meaningful and sustainable change. Studying at OISE has been incredible. Every course, professor and classroom of peers has opened my eyes to new questions, new perspectives and a new appreciation for the incredible role educators in this country play.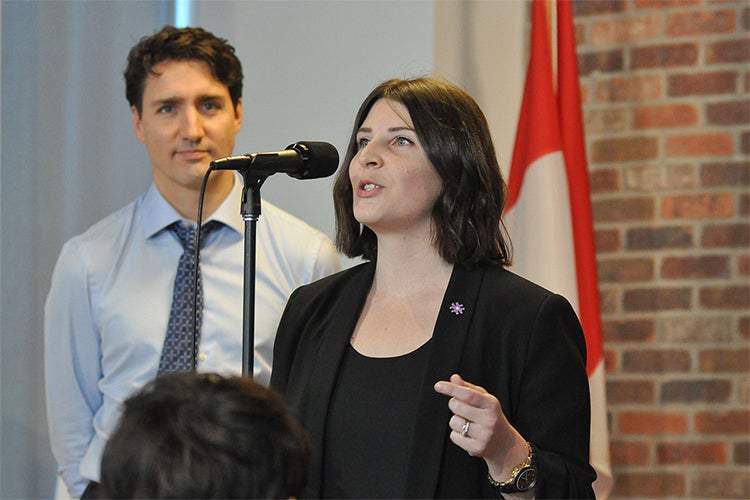 Sariffodeen says Canada Learning to Code believes that computer science and coding are foundational skills that are critical for everyone to learn – just like English or math (photo by Cynthia Munster)
What was the in-person, on-campus experience like for you? What stands out?
It's always fun to be on campus. The floors at OISE are always filled with so much energy – people in study groups, people catching up or shuffling to class. I was a part-time student and didn't always take advantage of all the social and study spaces, but I always appreciated how welcoming everyone is and how easy it was to strike up a conversation.
How has the pandemic affected your OISE experience?
It's been interesting. I've taken 3.5 courses online – one transitioned in March partway through. I was so impressed with how quickly professors pivoted to support us online and how high quality those offerings were. While I missed being on campus (I think it's just so magical), I appreciated the extra time the pandemic offered me to spend on my studies. I was able to take courses over the summer which I haven't before.
What was your favourite course? What did you learn?
Indigenous Knowledge: Implications for Education with [Assistant] Professor Jennifer Wemigwans was absolutely my favourite course. I learned and unlearned so much about different notions of knowledge, different approaches to learning and how much we can learn from Indigenous ways of being. It's shifted my approach and perspective on learning in so many ways.
How did a summer term help strengthen your skill set and your connection to OISE? 
The summer term is condensed, which I thought might be a challenge due to pace. But it proved to be an awesome opportunity to immerse myself in courses more and keep the readings and research front and centre compared to the longer fall/winter terms, which were interspersed with other courses and my day-to-day job. It was really fun and an opportunity to dive deep for a more concentrated period of time.
What's next for you?
I just finished my MEd and will attend [virtual] convocation this November. I have applied to continue my studies next fall in a flex-time PhD program here at OISE. I've also been volunteering to support one of my past professor's online courses as a speaker in order to stay connected to the community and support students starting their master's during this time. I definitely don't feel like my time at OISE is over and I have so much more I want to explore, learn and share. 
OISE