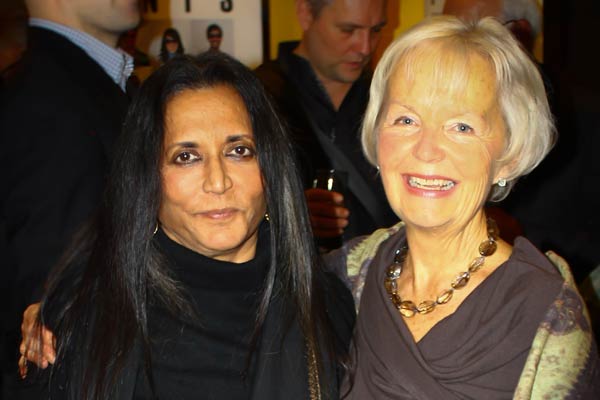 Mehta offers insights into newest film
Addresses full house at Innis College
Shooting the film Midnight's Children pushed her physically like no other film has, director Deepa Mehta  said of the film that tells the story of India's independence from British colonial rule.
The Oscar-nominated director and screenwriter spoke to an intimate audience recently at Innis College Town Hall about her recent film, adapted from the best-selling Salman Rushdie novel.
"It was a bigger film because it has 60 year of India's history so design was very important, cinematography and costume was very important," said Mehta, after showing the audience a clip from the film.   "It took time and energy. I had a very fabulous team so that made a difference. Normally a film for me takes about 30 days to film. This film took 69.
"So it was really a lot of time and energy. When I knew we had the money together and we were actually going to shoot, two months prior to that I joined the Jewish Community Centre (JCC), because it is like a marathon.  You have to prepare physically, it's really important to be in good shapeWe shot in Sri Lanka and it was 42 degrees every day!"
During the question and answer period, Mehta was asked what unexpected challenges she faced during the filming of the movie.
"About two weeks into the shoot, we got to the location where were supposed to shoot and we were told that the Sri Lankan government had taken back their permission to let us film in Sri Lanka. That was a surprise! There we were, a crew of 125 people actors from all over the world, and we thought, ' What are we  going to do?' " I was shocked, thinking Oh here we go again. It was nerve- wracking.
"We got in touch with the president and two days later, the president said to go ahead and shoot.  Turned out there was pressure by the Iranian government on the Sri Lankan government not to allow a Salman Rushdie novel to be shot in Sri Lanka."
Mehta said every day on the set was "a small miracle" with 64 locations, 20 actors, kids who were four years old, adults who were 70 and thousands of extras at any given time.
"There were elephants and other people; the whole thing was amazing. I never felt so alive.  Every day I would get up and say thank you, JCC. I couldn't believe it!"
Mehta also talked to the audience about her relationship with Salman Rushdie and his role in the process of making the film. He wrote the screenplay but had did not have any influence over the final look of the film.
"Salman and I are good friends. To this day we look at each other and are surprised we still like each other. He was always there, in spirit. I'd send him strange messages in the middle of the night and he would say, 'Deepa go to sleep. The text message you sent me makes no sense!'  He's got a great sense of humour, he's one of the most accessible and warm people I know."
Mehta started in the film business as a young girl while her father was a film distributer in India.
"I made a promise to myself:; I would never have anything to do with film. It was an insane life. But sure enough after I graduated I found myself helping people who had made documentaries for the Indian government. I was their gopher, I would get them coffee.
They gave me an opportunity to do sound for film, and then I started doing camera work.  I made my own first documentary on how wheat grows. It was really a challenge! I thought how wonderful , I could use my imagination."
Her imagination has brought her great acclaim, success that had led her to receive an honorary degree from the University of Toronto Nov. 7.