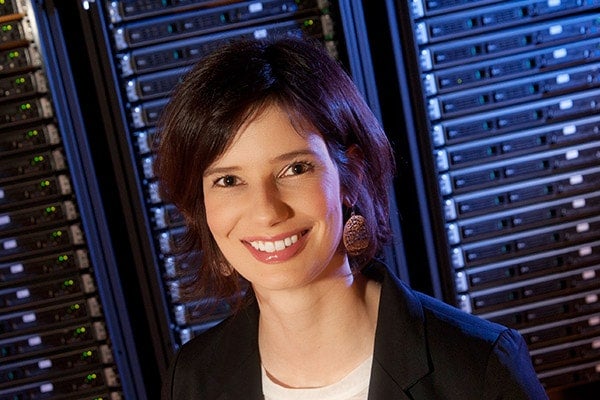 Meet U of T's five newest Sloan Fellows
They're known for their path-breaking work in computers, mathematical sciences and chemistry – now these five University of Toronto researchers comprise half of Canada's Sloan Research Fellows for 2013.
Bianca Schroeder, assistant professor of computer science; Ruslan Salakhutdinov, assistant professor of statistics; Robert Young, assistant professor of mathematics; Dwight Seferos, assistant professor of chemistry; and Vinod Vaikuntanathan, assistant professor of computer science will receive the two-year, $50,000 awards.
"I've always been attracted to mathematics," said Vaikuntanathan (pictured left), an expert in modern cryptography. "I get to design and use beautiful mathematical techniques to solve interesting, real-world problems related to privacy and security. I design new types of encryption systems that allow us to not just store and transmit encrypted data, but perform sophisticated processing on it (while the data stays encrypted)."
A non-profit institution based in New York, the Alfred P. Sloan Foundation makes grants in support of original research and education in science, technology, engineering, mathematics and economic performance. This research has important implications for society, said Vaikuntanathan.
"We live in a world where a vast majority of our personal information - highly confidential data such as financial and medical records, e-mails, and indeed, our entire digital self - is now stored and processed by third party cloud services such as Amazon S3, Microsoft Azure, Google Drive, Dropbox and numerous others," he said. "Protecting this new electronic information world is paramount to the success and stability of modern society."
For Seferos, carbon neutral energy is the key challenge facing the world today.His lab prepares polymers that can be used as the semiconducting component of a solar cell.
"In order for solar (a carbon neutral energy source) to be be adopted by the global community, the cost must be lower," said Seferos (pictured left). "Current solar cells use silicon or inorganic thin films. Polymers or plastics have the potential to be a less expensive alternative."
The polymers can also be potentially used for printable electronics, displays, light sources and power supplies, said Seferos.
"I was drawn to chemistry and polymer science because I get to build new molecules that I hypothesize will have useful high-tech properties," Seferos said. "But I would say that being a scientist in general is an outstanding profession. You get to test hypothesis and discover new knowledge.
"It is always fun to come to work."
For Schroeder, Salakhutdinov and Young, coming to work means heading to U of T Scarborough's Department of Computer & Mathematical Sciences (CMS).
"It's almost unprecedented," said David Fleet, CMS chair. "For a relatively small department to be recognized with three Sloan fellowships in one year is an outstanding accomplishment."
CMS has been able to recruit excellent young researchers largely because of U of T's strong reputation in mathematics and computer science, said Fleet.
"We're able to attract some of the world's top talent when we hire."
Schroeder's groundbreaking studies are helping companies understand the reliability of massive, internet-scale systems; her work is closely followed by companies such as Google.
"One of my big goals is to gain a better understanding of how things break and why," she said.
She recently found that that computers work just as well at higher temperatures than generally thought and recommended operators reduce air conditioning to save money and prevent carbon emissions.
Salakhutdinov (pictured left) focuses on machine learning—one of the most exciting, high-impact areas of computer science. He is building techniques that allow computers to make sense of vast amounts of data.
Google, Microsoft, IBM and Netflix all use deep models pioneered by Salakhutdinov to develop better image retrieval systems and improve speech recognition.
"I'm trying to build intelligent systems that can find interesting structures in big data sets," he said.
Young (seen in the video below) conducts research that explores different aspects of geometry and geometric group theory.
His collaborations and findings have had impact in a number of fields including medicine; he recently partnered with a theoretical biologist to construct a model for wave propagation in the heart.
 
"On behalf of the University of Toronto research community, congratulations to these professors and thanks to the Sloan Foundation for these marvellous awards to some of our rising stars," said Professor Peter Lewis, U of T's associate vice-president (research and innovation).  "These awards are vital in enabling researchers and scholars who are emerging leaders in their fields to further their careers and the contributions they can make to society."