Meet the U of T alum named Best Teacher in the World
Maggie MacDonnell is using sport to save lives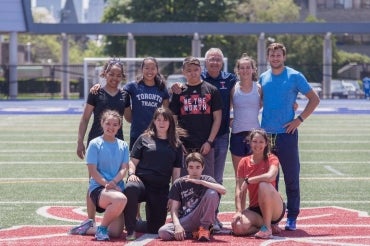 When news broke that Canadian Maggie MacDonnell beat 20,000 applicants from around the world to win the 2017 Global Teacher Prize, it made the whole country proud. 
And it made the University of Toronto's Faculty of Kinesiology & Physical Education particularly proud: MacDonnell did her graduate studies at KPE, focusing her research on sport for development.
After defending her thesis, which dealt with basketball as a medium of female empowerment in Tanzania, MacDonnell applied for a teaching job in Salluit, Que. The province's second-most northern community, Salluit has a population of 1,450 and is only accessible by air. 
The stark conditions have led to very high rates of teacher turnover, with many leaving their posts midway through the school year. But MacDonnell has taught there for seven years.  
Like many Northern communities facing isolation and limited resources, Salluit has been hard hit by what some are calling a suicide crisis. In 2015 alone, six young men between the ages of 18 and 25 killed themselves. MacDonnell promised herself she would never attend another funeral for any of her students. 
So she started the Salluit Run Club.
"There are a lot of really big issues that young people in the North have to tackle, from the housing crisis to food insecurity. The food costs are extraordinarily high and the Inuit are the most food insecure Indigenous group in any developed country," MacDonnell says.
"Running has helped these young people return to school [if they had dropped out] just through the social capital that they built with their teammates and peers. Some of them improved their sleep habits, many quit smoking cigarettes, reduced their dependency on drugs or alcohol, or adopted a drug- and alcohol-free lifestyle, and now they are the ones sharing messages of hope to other young people and asking them to persevere through the tough times that they face."
To compete in a half marathon in Hawaii, seven of the Inuit youth runners fundraised and trained over eight months – even through the tough Arctic winter, when temperatures fall to -40 C.
MacDonnell and her husband filmed a documentary about it.
"As the documentary follows them to Hawaii you see them cross the finish line, you see some of them grab podium placements. But the real story is that they've all run so many marathons before even getting to the start line, because they've overcome so many social challenges that are the result of intergenerational traumas and colonial legacies in their communities," MacDonnell says.
After seeing the film, MacDonnell's school board asked her to do a tour of five villages in the region. She agreed and brought along the runners, who did presentations.
"We showed the film, we took the youth out on a run after school and we tried to identify the leaders in each school who could help initiate a running club if it was of interest to them. In the end, two more communities started their running clubs," MacDonnell says.
The film was screened at the Canadian Sport Film Festival, which this year featured 23 films focusing on Indigenous issues within sport. It was a response to a call from the Truth and Reconciliation Report to use sport and physical activity as a tool to promote wellness, reconciliation and healing. Those who were able to attend also joined MacDonnell on a visit to her alma mater, where they toured the Goldring Centre for High Performance Sport and the Varsity Centre, and met with the Varsity Blues track and field head coach Carl Georgevski and a few of his athletes.
(Below, Deseray Cumberbatch from Inukjuak demonstrates the Alaskan high kick to Varsity Blues track & field athlete Kayla Greenburg)
In an impromptu cultural exchange, the Varsity Blues showed the visitors how to do high jumps, triple jumps and pole vault jumps, while their guests from the North demonstrated a few Indigenous games, including the one-foot high kick, Alaskan high kick and an endurance-testing horizontal feat known as the airplane.
(Below: Cumberbatch demonstrates the one-foot high kick)
"I came to U of T with a huge heart and passion for sport as a tool for youth and community development, but my professors – Bruce Kidd, Margaret MacNeill and Peter Donnelly – gave me the critical and analytical skills that I needed to build sport based programs that are truly inclusive, compassionate and empowering," says MacDonnell. 
"That isn't just assumed from a sport program. You've really got to ensure that you are working not for or at or to, but with the community in all aspects."
MacDonnell is planning to use her $1 million teaching award to create a non-profit that focuses on kayaking or qajaqing (pronounced hayacking). 
"I want to use the funding to create a program that will engage youth in physical activity but also environmental preservation," MacDonnel says.
MacDonnell and her runners have since returned to Nunavik, emboldened by the response their movie received in Toronto.
"Running isn't going to solve the root problems of the dramatic social inequities that exist in the North. This is going to take a huge effort from across the political, public, business, private sector of Canada and we will all be better for it if we can all make those commitments," MacDonnell says. 
"But, running is a tool of resilience and I am so proud and humbled to be able to work with these incredibly resilient young people." 
(Below: Cumberbatch demonstrates the high kick)
KPE