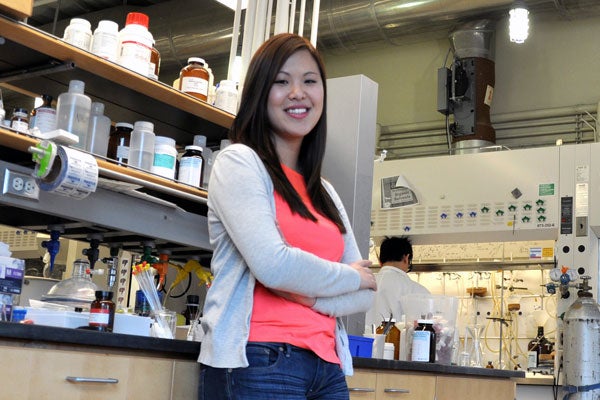 Meet the TA named to Forbes' 30 under 30 list
"The study of science has led humankind to incredible technological and social advancements," says PhD candidate Christine Le
It was a natural childhood curiosity about the world around her – sparked by Bill Nye the Science Guy, The Magic School Bus and Popular Mechanics for Kids – that got Christine Le interested in pursuing a career in science. Now, the PhD candidate in organic chemistry at the University of Toronto has been named to Forbes' Top 30 Under 30 list in the science and health category.
She's been cited as a rising star by Forbes for her research on designing more efficient and environmentally-friendly methods to create molecules that are mainly used by pharmaceutical drug and chemical manufacturing industries.
"The ability to design a new process to synthesize interesting and previously unknown molecules is what fascinated me the most about organic chemistry, and the potential use of these molecules as life-saving drugs is what encouraged me to pursue graduate studies," Le says.
Le's doctoral research is timely: chemical industries are adopting greener techniques to reduce the amount of hazardous waste they produce, using fewer of the earth's resources and decreasing pollution. Developing catalytic reactions falls into one of the 12 principles of green chemistry (a road map for chemists to implement), since catalysts are able to speed up chemical processes without being consumed themselves. When catalytic reactions are implemented on an industrial scale, the catalyst can be used in small amounts and can be recycled afterwards, therefore limiting chemical waste. One reaction Le's been working on, for example, provides an efficient route to an anti-cancer drug candidate.
After studying and researching different areas of chemistry during her undergraduate degree, she developed a passion for organic chemistry, both in the classroom and in the lab. When not doing her research, Le is a TA and private tutor. She is also active in the Chemistry Teaching Fellows Program, where she helped Professor Barb Morra develop a new tutorial approach for a second-year course that uses concept mapping as a tool for solving complex problems, enabling students to recognize key connections in the lecture material rather than just taking notes. Le hopes to inspire students, like a high school chemistry teacher did for her, to get engaged and enthused about science.
"The most effective way to encourage students is to show them that science is relevant to our everyday lives and that the study of science has led humankind to incredible technological and social advancements," she says. "We need to first improve societal attitudes towards science and eliminate common misconceptions, such as 'all chemicals are hazardous to human health, while all natural substances are safe.' The best way to promote science, technology, engineering and mathematics is to engage students at a young age, whether it's through conducting interactive lab experiments or connecting scientific topics to the newest technologies."
In the future, Le hopes to pursue a career in academia after a postdoctoral fellowship in a different area of chemistry that could provide her with skills to develop a unique and innovative research program. The Forbes accolade is a definite sign that she's on the right track.
"I am incredibly honoured to be named to the list. I'm so excited and feel so privileged to be associated with a group of talented individuals who are influencing the world in their own unique disciplines," she says. "I am looking forward to meeting everyone and potentially sparking future collaborations at the Under 30 Summit this October in Philadelphia. This has been a great motivation to keep working towards my goals."
Jessica Lewis is a writer with the Faculty of Arts & Science at the University of Toronto.