Meet six women who are among U of T Engineering's 'grads to watch' in 2022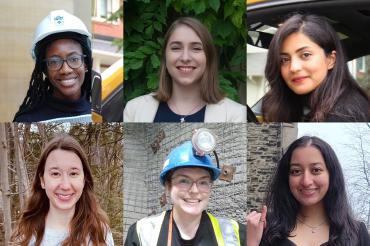 As they cross the stage at Convocation Hall, graduates from the University of Toronto's Faculty of Applied Science & Engineering are marking the end of one journey and the beginning of another.
Having enriched the U of T community as undergraduate and graduate students, they now join a global network of U of T Engineering alumni who working to address pressing challenges around the world and inspire the next generation.
Here are six inspiring women from the Faculty of Applied & Engineering annual Grads to Watch list – each selected by their home departments and institutes.
---
Valerie Ajayi 
Bachelor's degree in mechanical engineering, plus professional experience year co-op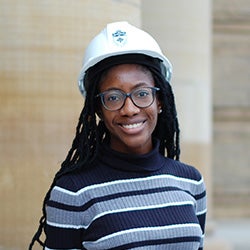 Between working part-time and commuting two hours each way from just outside of Brampton, Ajayi found it difficult in her first year to participate in U of T Engineering life, especially on weekends. But she did not let that challenge stand in her way for long.
"There are so many opportunities across a campus as large as St. George and a community as passionate as Skule," she says, referring to the U of T Engineering community's affectionate name for itself. "I wanted to take advantage of it as best as I could."
Ajayi eventually found a place closer to campus and joined the Skule orientation committee, becoming its vice-chair of finance. She placed first in her categories in both the CUBE Biomedical Engineering Competition, as well as the U of T Engineering Kompetitions (UTEK). Her experience representing Skule at the Ontario Engineering Competition inspired her to lead UTEK the following year as its director. She currently serves as vice-president, finance of the U of T Engineering Society.
"It's been great to have the chance to work with so many incredible students as we navigate what has been an uncertain and challenging time for all," she says. "I'm very proud of the projects we were able to advance this year."
Thanks to the Professional Experience Year Co-op Program, Ajayi is graduating with work experience at Bombardier and Comtek Advanced Structures. She plans to pursue a master's degree focused on the solid mechanics of new materials, with applications in safety and sustainable production of composites for automotive and aerospace components.
"I have learned so much about leadership, discipline and passion through my extracurricular involvements," says Ajayi. "I am certain that these will help me succeed in my future endeavours."
Sayeh Bayat 
PhD in biomedical engineering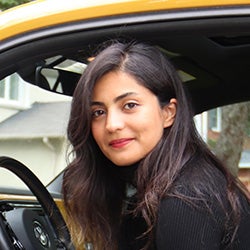 In her thesis, Bayat aimed to develop "digital biomarkers" that can predict or explain neurodegeneration. For example, in one study she gathered mobility data from smartphones or other wearable devices to compare how older people – some with dementia and accompanied by family members – moved about their communities. The modes of transportation included by transit, bicycle, walking and by car.
"Using machine learning, we showed that there may be very subtle changes in driving behaviours that can be indicative of the earliest signs of Alzheimer's disease," she says.
Outside of her research, Bayat served as a student leader. As president of the TRI-KITE Executive Trainee Committee, she launched a Three Minute Thesis competition, created a peer mentorship program and supported her fellow students in topics such as job applications and financial literacy. She also served as co-chair of both the 2021 Toronto Biomedical Engineering Conference and of ILead: Grad, an organization within the Troost Institute for Leadership Education in Engineering.
"One of my proudest contributions is when we started to use our platform in ILead: Grad to host bi-weekly graduate conversation circles, which we called Caffeinated Grad Talks," she says. "We wanted to offer students a safe and confidential space where they can talk about the stressors in graduate school and life."
Bayat's contribution to neurodegeneration research has already landed her a faculty position at the University of Calgary, where she is continuing the development of models and algorithms that leverage embedded technologies to monitor brain-related behaviours.
"I think this is where the future is headed," she says. "My time at U of T has taught me the importance of working collectively and collaboratively; that in order to push the boundaries of science and innovation, we must engage end-users and stakeholders, share knowledge and achieve impact."
Laura Berneaga 
Master's degree in mechanical engineering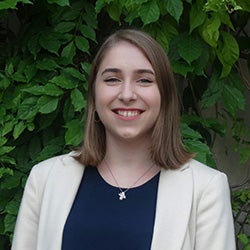 Berneaga works on problems at the intersection of engineering and humanity.
Her thesis revolves around the manufacturing of ventilators – one of the earliest health-care bottlenecks exposed by the COVID-19 pandemic.
"We focused on the controller since it is the most complex component, responsible for all the major decisions the ventilator makes," she says.
"Today, the code for the controller is highly dependent on the specific hardware components. We created a framework for an open-source design – one that could be adopted by manufacturers anywhere in the world, helping them quickly scale up in a crisis."
An experienced student leader, Berneaga served as the president of the U of T Engineering Society during her undergraduate degree and as president of the Graduate Engineering Council of Students during her master's degree.
"Both roles presented me with opportunities to advocate for better experiences for the students, and it was extremely rewarding to see initiatives I pushed for come to life," she says.
"But I equally valued my involvement in projects such as Fr!osh Week and Skule Nite. I've always believed that you shouldn't have to choose between the technical aspects of engineering and the more artistic and creative parts of your personality."
This summer, Berneaga moved to Germany to take up an internship at Helmholtz-Zentrum Berlin. She is designing and implementing improvements to a highly sensitive X-ray spectroscopy machine, a piece of analytical equipment used across a wide range of disciplines.
Berneaga says that two big lessons she took from U of T Engineering were to never be afraid to follow your passion, and to take initiative for the things you want to achieve.
"It's easy to go with the flow, but it's so much more rewarding to take charge and pursue the things you want, the way you want them."
Julia Bincik 
Bachelor's degree in materials science and engineering, plus professional experience year co-op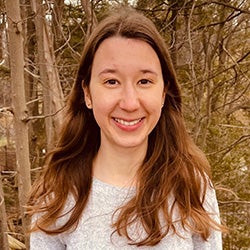 Bincik's passion is environmental sustainability, and she is graduating with a feeling of confidence in her ability to have an impact in her chosen field.
"I feel well-equipped to make a positive difference," she says.
Bincik credits the TrackOne program, which she did in the first year of her undergraduate studies, for sparking her interest in materials science engineering as a way to explore green technologies.
A highlight from her academic career was co-authoring an article on microplastics for the Society of Plastics Engineers Newsletter, which won first place at the University of Toronto Engineers Without Borders Green Plastics Article Competition.
Outside of class, Bincik volunteered as a counsellor for U of T's Da Vinci Engineering Enrichment Program as well as the U of T Engineering Academy, UTEA. She also participated in ecological conservation research in Honduras with U.K. biodiversity and climate research organization Operation Wallacea.
"There have been numerous times where I felt pushed to my limits with the demands of school and life," says Bincik. "But I am glad this journey hasn't been easy. I view challenges as opportunities, and I have tried to use difficult situations to build my resilience and better understand the importance of taking care of myself, looking out for others, and showing kindness and gratitude no matter what the circumstances."
After graduation, Bincik will be working as a junior R&D Scientist at e-Zinc, a Toronto-based company that has developed electrochemical technology for storing energy in zinc metal. The company is one of the 2022 Global Cleantech 100.
"I am excited to return to the e-Zinc team, where I completed my PEY co-op, to continue work on the development of the air cathode component of the zinc-air battery."
Marie-Eve Caron 
Master's degree in civil and mineral engineering
Caron describes her two years as a civil and mineral engineering student as a roller-coaster ride.
"It had its highs and lows," she says. "But I am grateful for the support I had from those around me, including my thesis supervisor and members of the department."
While many of her classes and projects were completed remotely, Caron was still able to immerse herself in the social life of her department through the CivMin Graduate Students Association (CivMinGSA), where she served as vice-president, social.
"We not only had good times during our events, but we were able to connect and share in the unique challenges of graduate studies," she says.
She credits her CivMinGSA experiences, along with her studies, for allowing her communications skills to flourish and helping boost her self-confidence.
In the spring, Caron began her professional career at Agnico Eagle's LaRonde Mine in Quebec, where she previously worked during her thesis project. As a ground control engineer-in-training, she is responsible for following up daily on the stability of underground excavations.
"High-stress conditions and seismicity are among the challenges we deal with," she says. "My master's degree under the supervision of Professor John Hadjigeorgiou has prepared me for this role."
Caron's thesis focused on data collection for rockburst investigations. It involved collecting all available design, implementation, monitoring and performance data to construct a timeline for each rockburst, which involves a sudden rupture or collapse of highly stressed rock in a mine.
"I have learned a lot in my field of study, and I now feel confident that I have established strong basis to strive in my career," she says. "But I still have much to learn, and I am enthusiastic about it."
Saanjali Maharaj 
Bachelor's degree in engineering science, plus professional experience year co-op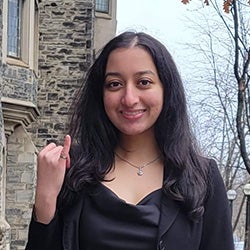 "My experience at U of T has been a time of discovery," says Maharaj. "I learned so much about engineering design, innovations in the industry and working as part of a team."
The time was also a period of self-discovery for Maharaj, as her various internships, courses and research experiences helped her find out what she is passionate about, charting the course of her career.
In 2019, Maharaj had "the amazing opportunity" to be an intern at the NASA Ames Research Center's department of rotorcraft aeromechanics.
"I was the thermal lead in developing a drone to help mitigate the prevalent California wildfires," she says. "Following that experience, I was a thermal-mechanical engineering intern at Intel Corporation."
A significant achievement from her PEY Co-op at Intel was leading the research for a novel cooling technology that resulted in the submission of a patent application.
Maharaj has held leadership positions in co-curricular activities, including as rocketry division aerodynamics lead on the University of Toronto Aerospace Team (UTAT) and marketing director for the University of Toronto West Indian Students' Association (WISA).
This summer, Maharaj is working on an asteroid mining project in collaboration with MDA. She is also looking forward to starting her master's studies this fall at the U of T Institute for Aerospace Studies, where she will be supervised by Professor Prasanth Nair.
Ultimately, she hopes to make a positive contribution to the advancement of sustainable aviation.
"Sustainability is a passion of mine due in part to my Caribbean Island origins," she says. "Trinidad and Tobago's dependence on the aviation industry to maintain international connections fuels my desire to mitigate the industry's environmental impact."
Engineering