Meet Nathalie Des Rosiers, Massey College's next principal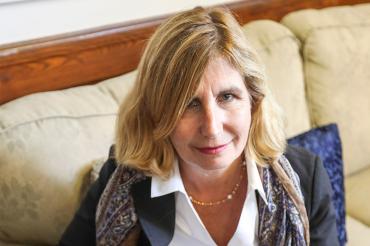 For Nathalie Des Rosiers, the next principal of Massey College, one of the college's key roles is to nurture ethical leaders who understand the inequalities of society and strive for social justice.

Des Rosiers will become the sixth head of Massey on Aug. 1, succeeding Hugh Segal, who is retiring on June 30 after a five-year term. (Massey's leader was known as "master" until 2018, when the title was changed to "principal.")

Des Rosiers is a former law professor, has served as general counsel for the Canadian Civil Liberties Association, and was a dean of the Faculty of Law at the University of Ottawa. Since 2016 she has been a Liberal member of the Ontario legislature for the riding of Ottawa-Vanier, and she's used that position to push for stronger human rights in the province. 

Des Rosiers will be giving up her seat in the legislature in the coming months to take the job at Massey, which she described in an interview as a  "jewel in the Canadian academic and intellectual landscape." She sees Massey as producing "ethical leaders who will operate in all spheres of life: the private sector, non-profits, the academic sector and the public sector. This is an important role and we want to equip them with skills, emotions, intellectual connections and depth."

Massey College is a graduate students' residential community affiliated with, but independent of, the University of Toronto. It has 60 resident and 85 non-resident junior fellows, who are full-time graduate students at U of T.  But the Massey community also includes senior fellows who are prominent academics and members of the Quadrangle Society – leaders in business, arts, politics, philanthropy and community service.

Those links to the world outside of academia are crucial in keeping Massey's junior fellows grounded in the real world, Des Rosiers said. "People in academia often suffer from the difficulty of opening the door from the ivory tower and connecting to the outside world. Massey is an expert at that connection, and fosters it, and should continue to do that. It is extremely important in this day and age."
While forging those links and ensuring that junior fellows contribute fully to the community and the world, Massey must continue to keep social justice in mind, Des Rosiers insists.    

"The concept of ethical leadership requires a deep understanding of the systemic inequalities of our society. [We must look for]  answers, not only from the political side, but from the economic side, and the science side."
The mission of Massey is to nurture learning for the public good, and act in the public good, she said. "I think it was always understood that Massey should see itself in the forefront of a social justice vision, and an enlightened way of looking at the world in all its complexity." 

While she promises to support all the academic studies and projects undertaken by junior fellows, she said she will be particularly interested in scholarship that is "inspired by social justice action" and which may have an impact on "some of the systematic issues in our society." 

Outgoing Principal Hugh Segal describes Des Rosiers as "an accomplished academic leader, experienced former Dean of Law, renowned scholar, and articulate advocate for fairness, civil liberties, inclusion and academic excellence in both official languages. Her time as principal will be of immense and compelling benefit to Massey College, the University of Toronto and the broader community they both serve." 
U of T President Meric Gertler congratulated Des Rosiers. "Massey College is a vital Canadian institution and a prominent part of the wider University of Toronto community," he said. "Nathalie Des Rosiers is well suited to lead the college forward, as an accomplished scholar with an impressive record of leadership in the academy, in her profession and in public service."

Des Rosiers said she has given a number of talks at Massey over the years, and it was in February, after delivering a speech at the college, that she was approached about applying for the job as principal. "I was intrigued by what we all like about Massey — its interdisciplinary work, its support for the future of ideas, and creating good leaders for Ontario and for Canada." 
Still, she said she enjoys politics and feels it is a worthwhile pursuit, so "I've lost a little bit of sleep over this decision." 

Des Rosiers said she is a strong supporter of Massey's journalism fellowship program, which each year brings a group of Canadian and international journalists to the college for a year of academic study and interaction. "I think journalism is essential to Massey because it traditionally has been the bridge between people in active life, and the world of ideas. Journalism itself is a function for the public good which we should support."

Overall, Des Rosiers said, "my goal is to enhance the national reputation of Massey, and its international connections, ensuring that we support our junior fellows so that they feel empowered in their vision of themselves and their own projects."

In the short term, Des Rosiers said she wants to meet all of Massey's senior fellows and as many Quadranglers as possible, then talk to junior fellows when they return in the fall. As a fully bilingual francophone she'd also like to see some more French on the Massey College website, and a continued effort to draw French-speaking fellows and scholars to the college.
Over the longer term, she said she would like to expand Massey's already significant outreach to the Indigenous community, perhaps by creating an elder-in-residence program.
 
UTC