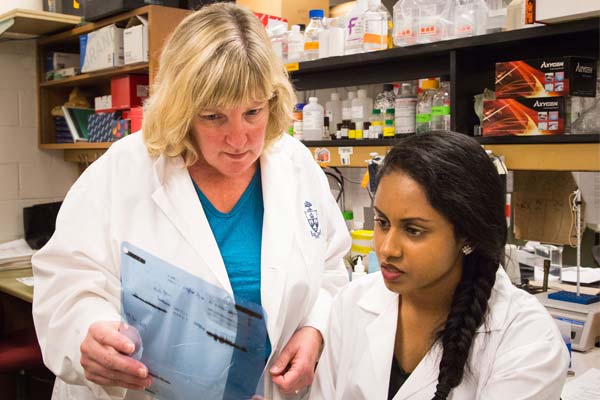 Meet Michelle Bendeck, bringing collaborative research to life with U of T's new biomedical hub at MaRS
Two heads are better than one. It's an old proverb that still rings true – especially when it comes to science, says Michelle Bendeck, a professor with U of T's department of laboratory medicine and pathobiology.
Bendeck's research collaborations extend beyond her department, across the country and around the world.
Soon, she'll have even more opportunities to partner with other scientists for her vascular biology research on home turf. Her lab is one of several that will move to the MaRS West Tower at the corner of College Street and University Avenue.
"Several of the groups moving in focus on bioengineering. They've developed all sorts of cell and tissue model systems to study the strength and mechanical responses of tissues in the disease process," says Bendeck, who belongs to the
Ted Rogers Centre for Heart Research
(TRCHR). "This move will allow us to work closely with them so we can all benefit from one another's findings and expertise."
Bendeck and her lab focus on a disease called atherosclerosis – a hardening of the arteries that is the primary cause of heart attacks. She says she is most interested in determining how smooth muscle cells in vessel walls interact with the matrix proteins that surround them, and how signaling between cells and matrix contributes to hardening of the arteries.
(Read more: understanding U of T's expanded partnership with MaRS)
Graduate students researching in the MaRS West Tower will also benefit from new opportunities to network with their colleagues in other labs and scientific disciplines.
"I'm definitely looking forward to working with other students from various labs, to have their input on my project, to inspire novel thinking and hopefully develop therapeutics for cardiovascular diseases," says Amanda Mohabeer, a Master's student in Bendeck's lab. She studies the effect of a matrix protein called type VIII collagen on vessel stiffening.
In addition to her research with Bendeck, Mohabeer collaborates with Professors Scott Heximer and Steffen-Sebastian Bolz in the Department of Physiology as well as Professor Craig Simmons from the Institute of Biomaterials and Biomedical Engineering. Heximer, Bolz and Simmons will also be moving into the TRCHR in the MaRS West Tower. 
"This move represents a new trend in the way science is conducted at the University of Toronto," says Bendeck. "It's really important to bring together large multidisciplinary groups to do research based on a common scientific theme, and the Ted Rogers Centre includes basic scientists and clinician-scientists from Sick Kids and Toronto General Hospital. Coming together like this, working in an environment that fosters communication will make a real difference."
Researchers at
Medicine by Design
work to discover new therapies based on the design and manufacture of molecules, cells, tissues and organs that can help treat degenerative diseases. CCRM's research aims to find ways to use stem cells, biomaterials and molecules to repair, regenerate or replace diseased cells, tissues and organs.
"Collaboration is critical," says Bendeck. "In this day and age, no one project can be accomplished by a single scientist or by a single graduate student."