Meet four of U of T's latest global affairs and public policy grads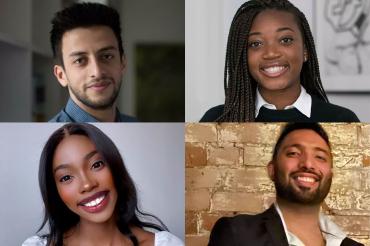 Graduates from the University of Toronto's Munk School of Global Affairs & Public Policy celebrated their convocation last week – a milestone as they look toward future careers on the international stage.
The Munk School spoke with four new graduates about what they learned in their programs and how they plan to draw on their experiences at U of T as they prepare for further education and new roles in the global policy space.
---
Joaquin Espinosa Alarcón
Up next: Research with the Citizen Lab
Joaquin Espinosa Alarcón's journey to the Munk School's Master of Global Affairs (MGA) program had many stops along the way.
Born in Quito, Ecuador, Espinosa Alarcón immigrated to the U.S. after finishing high school. He completed a bachelor's degree in economics and political science at Bates College in Lewiston, ME, before moving to Washington, D.C. and working at the World Bank under the advisor on sexual orientation and gender identity as a point of contact for Latin American countries.
"I didn't plan on doing this. But because I have been an immigrant since I was 18, I know there are geographic limitations or legal constraints as to what you can do. That experience, and my job at the World Bank, helped me realize that I am interested in global affairs," he says.
Espinosa Alarcón's interest in 2SLGBTQIA+ rights and gender identity informed his time in the MGA program, where he was the director of Spectrum, a student-led initiative that helps with the professional and career development of LGBTQ+ students and their allies.
This summer, Espinosa Alarcón will collaborate with the Citizen Lab team to produce a report on transgender rights, which will be presented in Costa Rica.
 — Molly Gosewich
Sara Duodu
Up next: A career focused on environmental sustainability
In starting her Master of Global Affairs program at the Munk School, Sara Duodu knew she wanted to make an impact – during her studies and beyond.
She credits a combination of her coursework, capstone project and leadership in student-led initiatives – including serving as co-editor of student publication Global Conversations, director of activities for the Munk School Black Students Association and coordinator for the school's career exploration series – for her goal to pursue a post-graduation role focused on sustainability and innovation.
Working on her capstone project, which involved developing and presenting recommendations for a more inclusive strategy to Sustainable Development Technology Canada, underscored Duodu's interest in making ESG (Environmental, Social and Governance) a key component of her future career.
"I think there's a lot of room for working in the sustainability space and actually trying to have an impact there," she says.
 — Claire Porter Robbins
Hilda-Matilda Idegwu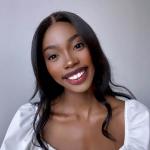 Up next: Taking part in the federal Recruitment of Policy Leaders program
At 16, Hilda-Matilda Idegwu came to the Munk School's Global Ideas Institute (GII) aspiring to change the world. After moving to Canada from the U.K. 11 years ago and growing up in a priority neighbourhood in Toronto, she became interested in community advocacy.
After receiving a bachelor's degree in international development studies from York University, Idegwu started the Diaspora Learning Centre, which provides affordable tutoring and mentorship to Black children and youth.
Founding the organization gave her the confidence to apply to the Munk School, where she has kept busy as president of the Munk School Black Students Association, handling internal relations and operations for the Public Good Initiative, contributing to the Public Policy and Governance Review and participating in the Munk School's Anti-Racism Working Group.
Now the Master of Public Policy graduate is one of only a handful of people selected from thousands of applicants for Canada's Recruitment of Policy Leaders program, which trains participants for a career in the federal public service.
Idegwu advises fellow graduates to remember the potential impact of their work.
"It's important to remember that we do end up changing many lives," she says. "We have to remember to serve people with all we have, and that what we have to offer is so valuable." 
 — Adrienne Harry
Vedant Puthran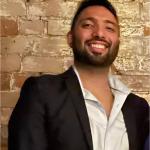 Up next: Working as an analyst with the RCMP
Initially intending to become a lawyer, Vedant Puthran attended U of T's Faculty of Arts & Science for his undergraduate degree in criminology with a focus on criminal justice policy before joining the Munk School.
"For me, a career in policy seemed like the better fit for my goal of helping the public, rather than pursuing a career in law," says Puthran, a Master of Public Policy graduate whose studies at the Munk School centred around immigration.
During his two years at the Munk School, Puthran won public policy case competitions, participated in a networking trip to Ottawa and landed an internship with the RCMP, where he hopes to keep working as an analyst after graduation.
"My top advice for students and graduates is to take advantage of available resources and seek out opportunities on your own," he says.
 — Molly Gosewich
Munk School