Meet four future lawyers and leaders from U of T's Faculty of Law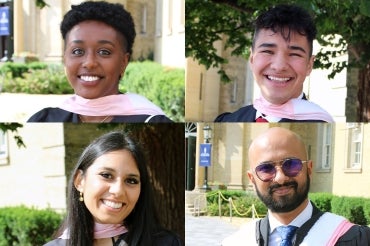 Graduates of the juris doctor (JD) program at the University of Toronto's Faculty of Law recently crossed the stage at Convocation Hall.
In total, 231 new JDs comprise the latest cohort of future lawyers and leaders – and join the ranks of an accomplished global network of U of T Law alumni.
U of T's Faculty of Law asked four JDs from this year's graduating class to reflect on their time at law school and what they learned.
---
Meaza Damte (JD 2023)
Class of 2023 Valedictorian
University of Toronto Student Leadership Award
John Willis Award for Leadership and Gina Caldarelli Memorial Prize for Spirit
What's next?
Articling at McCarthy Tétrault LLP
Looking back, I chose to study law because I understood the power that the law holds in our society. Becoming a lawyer was the logical next step to harness that power and use it to uplift marginalized communities and vulnerable populations.
It's surprising just how rigid the law can be in the face of systemic injustice. Crafting creative legal arguments can be difficult within the confines of precedent. The ever-present, and frankly flawed, 'reasonable person' standard was created by straight white men with immense privilege. The rigidity built into our legal system is intentional.
When I started law school, I viewed the law as a tool to create social change. Three years later, my perspective on the law has shifted: I still believe the law can be a tool for social change, but it needs to be wielded in creative and sometimes disruptive ways. The adversarial common law system is not the only way forward.
Long-term, I want to find a way to combine my passion for advocacy with my love for community and kinship. Becoming a lawyer is a great privilege – and I am hopeful that I can use that privilege to make positive change in the lives of as many people as possible.
Tomas Jirousek (JD 2023)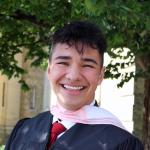 University of Toronto Student Leadership Award
Senior editor, Indigenous Law Journal
Co-president, Indigenous Law Students' Association (ILSA)
U of T Varsity Blues Rowing
What's next?
Clerkship, Court of Appeal for Ontario
I was inspired to study law by my grandparents. They weren't lawyers, but they never stopped helping people. My maternal grandma worked as a nurse at the Indian Hospital in our community, the Kainai First Nation.
My paternal grandfather was a school principal at a remote First Nations community a few hours north of Whitehorse. My paternal grandpa isn't an Indigenous person, instead coming to Canada with his family from the Czech Republic, but that never stopped him from dedicating his career to supporting Indigenous youth in the Yukon.
While I'm the first person in my family to go to law school, I'm most definitely not the first to dedicate myself towards supporting Indigenous communities. For me, the law is just a platform to advance the same principles of equity and kindness that my grandparents worked towards.
I want to continue using the law to help marginalized communities. Law school has shown me that you can promote equity through an incredible number of avenues. Whether through volunteering at community legal clinics, or working at an Indigenous law firm, I feel being a small part of Indigenous communities' ultimate success is the best goal I could aspire to.
Nik Khakhar (JD 2023)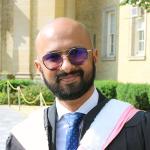 Caseworker, Innocence Canada
Blog editor, Criminal Law Students' Association (CLSA)
Founder and co-organizer of the inaugural U of T Faculty of Law Students' Research Symposium
What's next?
Articling at Public Prosecution Service of Canada (PPSC)
I am constantly inspired by the amount of interdisciplinary learning that comes with legal studies and practice. In law school, you have the benefit of learning from diverse peers and professors who all come in with different experiences and understandings of justice. In legal practice, interdisciplinary collaborations are not only encouraged but necessary.
You learn so much every day in this profession, and the learning experiences teach you humility, compassion, and open-mindedness – all of which are necessary for good character.
As I get more practical experience at the federal Crown, I hope to synthesize my passion for academia with my enthusiasm in legal practice through seeking opportunities to participate in criminal law policy reform, and hopefully, will someday have the privilege of teaching our next generation of law students as an adjunct professor.
Sabrina Macklai (JD/Master of Information 2023)
Editor-in-Chief (2020-2022), Ultra Vires
Co-founder & co-president of the Legal Innovation & Technology Group (LIT)
What's next?
Clerkship, Federal Court of Canada
I chose to study law out of a desire to understand the tension underlying intellectual property (IP) law regimes. In particular, I came to law school hoping to determine if a balance could be struck between protecting creators' rights and promoting innovation.
My interest in this area stems from my undergraduate and graduate training. I was introduced to IP law while working as a student in an analytical chemistry lab at McMaster University. It was there that I learned why patents were an important asset for inventors. Later, during my master's at U of T's Faculty of Information, I studied the history of IP and the way it has been used to hinder access to information. Struck by these conflicting views, I entered law school eager to find answers.
This August, I will be heading to Ottawa to clerk for Justice Russel W. Zinn at the Federal Court of Canada. I am excited to get a behind-the-scenes look at how judges make decisions and hopefully participate in some exciting patent trials!
Long-term, I wish to practise intellectual property law and hope to eventually contribute to the scholarship in this area.
Law