Meet five U of T women who are on list of 'Engineering Graduates To Watch'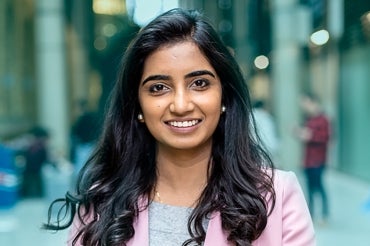 As more than 1,400 graduating students in the Faculty of Applied Science & Engineering have convocation ceremonies Tuesday, Tyler Irving profiles five women who demonstrate the engineering values of creativity, innovation and global impact.
The five are from a list of 15 U of T Engineering Grads To Watch 2018, and were selected by their home departments and institutes. Read the full list here. 
---
Natalia Mykhaylova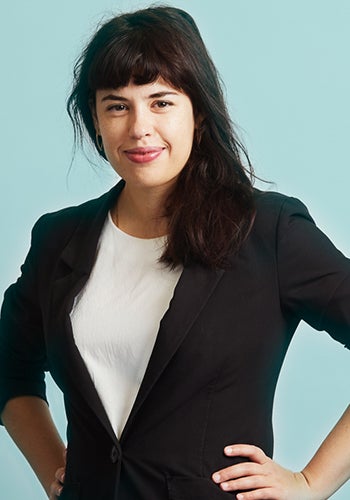 Mykhaylova, who is graduating with a PhD, is passionate about protecting the air we breathe.
Her thesis, working with Greg Evans, a professor in the department of chemical engineering and applied chemistry, focused on the development of low-cost, portable detectors that can quickly report the levels of common air pollutants, such as ozone, nitric oxides, fine particulate matter and volatile organic compounds. These devices were used during Toronto's 2015 Pan Am Games to monitor Air Quality Health Index (AQHI), and the information they record can help people reduce the negative impacts of air pollution on health.
During her PhD, Mykhaylova founded two startups. Cleanopy, which was supported by The Entrepreneurship Hatchery, centred on a portable air purification device designed to protect young children from air pollution. WeavAir, developed through NEXT Canada, is developing technology that could be integrated into current HVAC systems to save energy, improve indoor air quality and reduce costs. WeavAir will create both the advanced sensors and the software – including artificial intelligence algorithms – needed to analyze the data, predict outcomes and adjust operation modes appropriately.
For these achievements and others, Mykhaylova was named one of 2017's Top 30 Under 30 in Sustainability by Corporate Knights magazine.
"My desire to make change happen is what helped overcome the learning curve and start a PhD project in a field very different from that of my undergraduate studies," says Mykhaylova. "The experiences I had at the University of Toronto have helped me learn, practise and develop effective leadership skills, which have served me well and continue to do so in my current projects."
Kimberley Cota
A deep-seated curiosity drove Cota to choose U of T's Engineering Science program, where she majored in energy systems.
"I'm a person who always like to ask 'why,' and dig to the bottom of an issue until I fully understand it," she says. "Engineering Science helped me learn how to learn, and how to master lots of new technical information in a short time frame."
After her first year, Cota spent the summer at the National University of Singapore, working with Professor Ho Ghim Wei on photocatalysts for solar hydrogen production. The following summer, she interned for Kaley Walker, a professor in U of T's department of physics, helping to control the flight of a balloon-borne instrument to study atmospheric composition. She then completed a four-month placement as a technical support specialist intern at GE Grid Solutions, before embarking on a 12-month Professional Experience Year Co-op program position in Cupertino, Calif., as part of Apple's iPhone Hardware System Integration Team.
Cota also found time to contribute to the Human Powered Vehicles Design Team and Women in Science and Engineering (WISE) U of T chapter, and to mentor younger students through NSight, the  engineering science student mentorship program.
Cota's undergraduate thesis, supervised by Peter Lehn, a professor in the department of electrical and computer engineering, focused on wireless charging for electric vehicles (EVs), an area she hopes to continue researching in the future.
"I think my unique background, which combines research in both large- and small-scale electrical power systems, could be valuable for helping progress the EV industry," she says. "I want to work in industry first, but I plan to pursue a master's degree down the road."
Amanda Fleury
Fleury, who is graduating with a PhD, conducted research that was supervised by Tom Chau, a professor in the Instiute of Biomaterials and Biomedical Engineering, at the Holland Bloorview Kids Rehabilitation Hospital. The research focused on textile-based sensors that can be used for rehabilitation. Fleury developed a wearable headband that detects when a person blinks, and software that can distinguish between intentional versus involuntary blinks. These tools can provide a means of communication for people who otherwise have none.
"During my PhD I learned a lot about collaboration," says Fleury. "I worked directly with a Toronto-based company, Myant Inc., to design and build the textile electrode headband that I tested with end users. I got to see firsthand what technology development looks like at a relatively young company and create a prototype that I'm really proud of."
Fleury also spent part of her PhD in Ethiopia teaching biomedical engineering at Jimma University through an internship opportunity with the American International Health Alliance (AIHA) and Rice University. A student team she supervised designed a medical record-keeping system for their local hospital, which won a university-wide design competition.
Fleury is now spending four months on an Endeavour Research Fellowship at Flinders University in Adelaide, Australia, working on projects related to wearable sensing.
"The next step for me is to find a position doing research and technology development, preferably at a company in the wearable technology space," she says. "I'd like to work at a company that values creativity, and that allows me to keep learning every day."
Katie Gwozdecky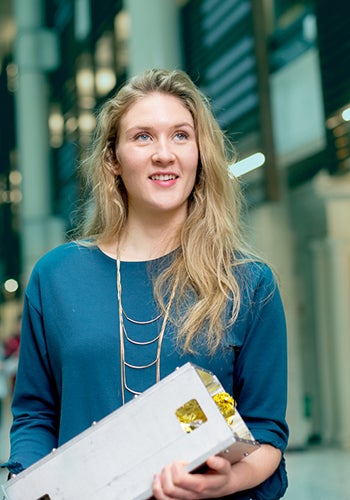 Gwozdecky's passion for extraterrestrial exploration led her to join the University of Toronto Aerospace Team (UTAT) on her very first day at U of T Engineering. Eventually, she became the director of UTAT's space systems division, focusing on the development cubesats – low-cost, modular satellites about the size of a loaf of bread. The division's HERON and the HERON MK II were designed to conduct biological experiments in microgravity.
Following her third year, Gwozdecky took a PEY Co-op position at Synaptive Medical, a company that creates medical devices, including robotic digital microscopes based on technology originally designed for the Canadarm2.
"As with my UTAT experience, my PEY Co-op job showed me that having a meaningful team to learn from and work is as important as whatever product or industry you find yourself in," she says. "I'll work almost anywhere as long as the team shares my values."
Following graduation, Gwozdecky has lined up a summer placement at Sinclair Interplanetary, which produces components for micro- and nanosatellites. She will begin her master's degree in September at the University of Toronto Institute for Aerospace Studies Space Flight Lab (UTIAS-SFL) in space systems engineering.
"The balance of skills I've learned – including leadership and team-building – will enable me to contribute to expanding humanity's reach beyond our planet," she says.
Chandini Chandrabalan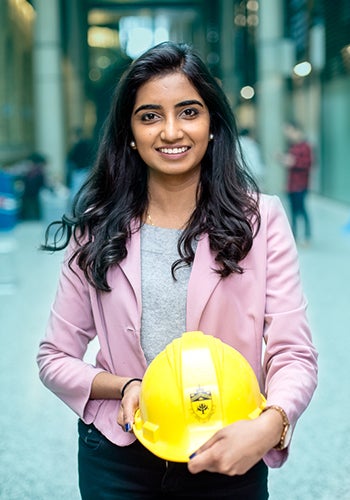 "U of T Engineering has helped me define who I am as an individual and as a professional," says Chandrabalan. "It helped to spark my interest and catalyze my passion for the work I do, and motivated me to work hard to achieve my goals."
Chandrabalan's three research placements all revolved around energy. She worked with Faculty of Applied Science & Engineering professors Nazir Kherani on indium-tin oxide solar films, Deepa Kundur on machine learning methods for analyzing smart meter data, and Reza Iravani on a robot that is used to test large power generators. She also completed a 12-month PEY Co-op position at Hydro One Networks, where she participated in a cybersecurity audit, and a four-month placement at Bruce Power, where she worked on a switchyard replacement project.
Chandrabalan served as a high school outreach ambassador within the U of T chapter of Women in Science and Engineering  and was a student ambassador for The Edward S. Rogers Department of Electrical & Computer Engineering.
"Some of my most memorable experiences have been interacting with prospective students during open houses, presentations and Q&A panels," she says.
After convocation, Chandrabalan will take up a position with Clear Blue Technologies, a company that designs solar-driven off-grid energy solutions, including providing street lighting and powering cellphone towers and hotspots. The company has projects in places ranging from Toronto's Bloor West Village to rural Rwanda.
"I'm looking forward to having a platform where I can apply the engineering skills I've attained to help communities that don't have reliable electricity and provide a sustainable alternative form of power," she says.
Engineering