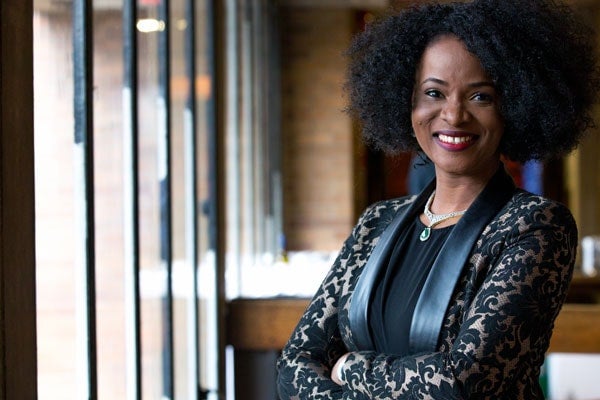 Meet Chizoba Imoka: OISE student driven by a different vision of education
"My immediate goal is to set up a teachers' training college in Nigeria, based on a framework of inclusion, social justice and African-centered education"
In 2006, 19-year-old Chizoba Imoka, then a student at the University of Alberta, founded Unveiling Africa, an organization that provides a platform for African youth to participate in democratic nation building through civic engagement, political advocacy and community service.
Ten years later, Imoka is a PhD student at the University of Toronto's Ontario Institute for Studies in Education (OISE) and a junior fellow at Massey College. She still leads the foundation and is just as passionate about youth engagement and educational change in Africa.
Last month, former Governor-General (and University of Toronto alumna) Adrienne Clarkson presented Imoka with Massey College's highest honour – the Clarkson Laureate in Public Service. Imoka was given the award both for her work with Unveiling Africa and for raising awareness about the importance of diversity at Massey College.
U of T News writer Terry Lavender sat down with Imoka to discuss Unveiling Africa, her views on African education and her vision of a more equitable world.
You grew up in Nigeria and moved to Grand Prairie, Alberta when you were just 16. Three years later, while at the University of Alberta, you started Unveiling Africa. How did that come about?
When I first arrived at Grand Prairie Regional College, some of the questions I received were startling. Students and other community members found my hair strange and often referred to my African clothing as a 'costume'. They wondered if I lived with elephants at home and how the hungry children in Africa were doing. There were other Nigerian students at the college with similar experiences. So I started thinking: how can we engage the community so that students like us don't get asked such questions? This led to us organizing the first ever-African show of its kind in the city. It showcased our culture in a way that did not exoticize us but instead led to meaningful engagement about Africans and the continent. The success of the show kept me energized and curious.
Two years later at U of A, it became clear to me that changing the way Africans were perceived was beyond what an African show could do. These perceptions were rooted in a toxic mix of racist relations, a history of 'civilizing' and 'saving' Africans, and the belief that Africans are 'primitive' and helpless. Ironically, I learnt more about my history and the social issues on the continent as an undergrad in Alberta than I did in high school in Nigeria. I set up Unveiling Africa to counter these perceptions while providing a platform for African youth in diaspora to contribute to the continent's development.
What brought you to OISE?
In 2010, I moved back to Nigeria to enlist Nigerian teenagers in Unveiling Africa's numerous leadership projects. In engaging with them, I soon found out that the education system was exam-oriented/teacher-centered and, as a result, did not equip them with the skills that they would require to transform their passion and interest into social change projects.
It also became clear that the curriculum was Eurocentric and disconnected from Nigeria's history, the lived experiences of Nigerians and the socio-political context. Disturbingly, the education scene was dominated by NGOs and bilateral/multilateral agencies. Even though English was a foreign language and is disconnected from indigenous social and economic systems, these organizations equated education to mastery in Math and English.
What was needed was an alternative approach that ensured a culturally relevant curriculum, promoted social justice and was geared towards developing the next generation of Nigerian leaders. So, coming to OISE was about getting the skills that I would need to influence the educational change discourse in Nigeria and, eventually, Africa.
Why is it important to revamp the African education system?
Africa needs a new generation of leaders to spearhead its democratic transformation. For this to happen, the education system must become African-centered while being reflective of the immediate socio-political-economic context and responsive to the aspirations of the diverse African communities. Such an education system will naturally develop young people that are passionate and skilled to run the affairs of the continent. It will also contribute to ending Africa's intellectual dependence on Western knowledge systems, and help restore cognitive justice for those who have gone through an education system that does not reflect their history and everyday experiences.
What are your future plans?
Upon completion of my doctorate, my immediate goal is to set up a teachers' training college in Nigeria, based on a framework of inclusion, social justice and African-centered education. This college will train teachers who, in turn, will develop the next generation of leaders. A second initiative will be to set up a model K-12 school that will have its foundation in the same framework. I am hoping that it will be adopted and scaled up through the African public education systems. I strongly believe such initiatives could contribute to changing the vision of education in/for Africa.
What about Canada's role?
The issues of inclusion and exclusion aren't just for Nigeria and Africa. Culturally relevant education is a problem in Canada as well. The recent report of the Truth and Reconciliation Commission outlined some of these issues, and I'm really looking forward to seeing how this journey towards justice and equity will take place in Canada. I think it will be a good model for countries like Nigeria and other parts of the world that are also multicultural and have a long history of exclusion and systemic injustice.