Bathsheba Everdene and more iconic Thomas Hardy characters at U of T's Fisher Library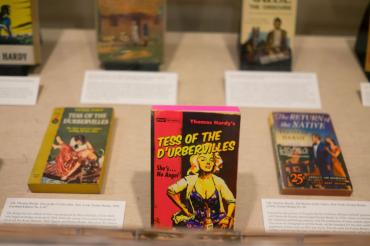 Thomas Hardy's fictional region of Wessex can now be explored at U of T with 170 items, including Hardy's original manuscripts, first editions, annotated books, letters and photographs.
The Thomas Fisher Rare Book Library is celebrating one of the most important writers in the history of English literature with an exhibition called "Moments of vision: the life and work of Thomas Hardy."
The exhibition is thanks to a generous donation from University Professor Emeritus of English Michael Millgate of the Faculty of Arts & Science, who studied Hardy for nearly 50 years. He donated his massive collection out of a desire to share his love of Hardy with the U of T community, and his respect for the Fisher library.
"Professor Millgate has a long association with the University of Toronto," curator Debbie Dearlove says. "He spent most of his academic life working on Hardy, and wrote what is considered by many people as the definitive biography on Hardy. He wants this collection to be used as a research collection by other researchers and students."
Dearlove volunteered to work on the exhibition with U of T's Deborah Whiteman, head of rare books and special collections at Fisher Library.
"It is an extraordinary collection," Dearlove says.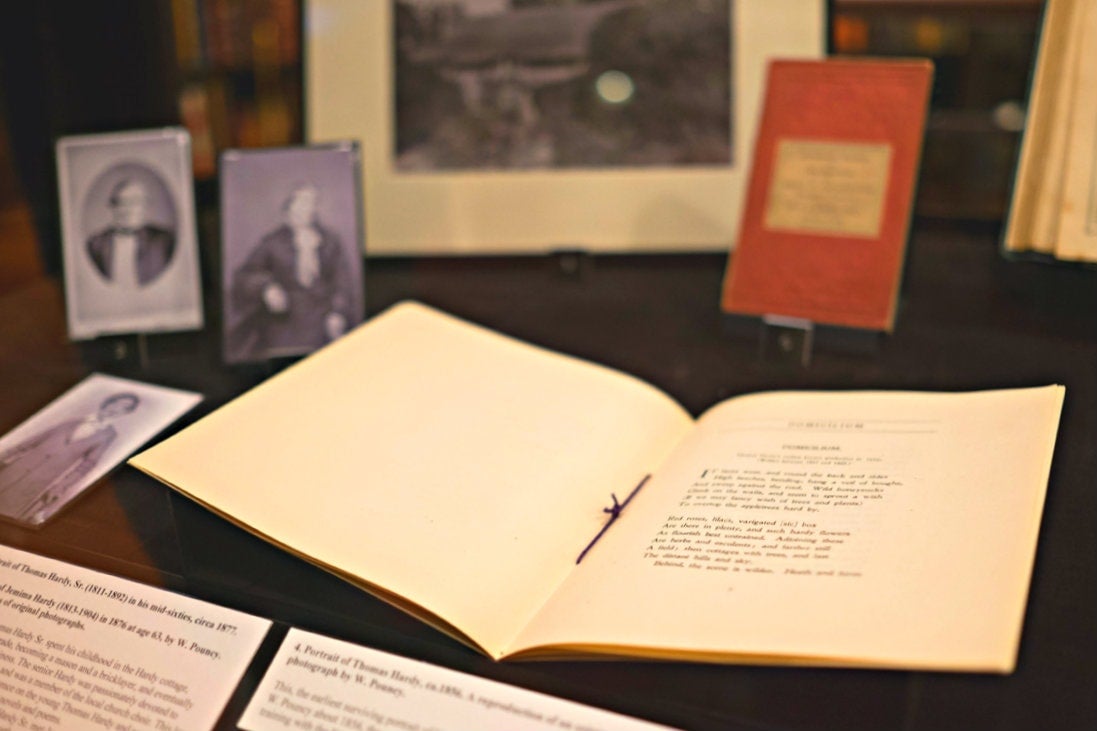 Hardy's poetry on display (photo by Veronica Zaretski)
The exhibition, which runs until Feb. 24, is illuminating for the general public, researchers and even the librarians themselves.
"Before seeing the exhibition I didn't realize just what a prominent poet Hardy was," says John Shoesmith, outreach librarian at Fisher Library. "The exhibition really sheds a light on his poetry. It's a great learning experience in general."
One case is named "Don't Judge a Book by its Cover" for its vibrant and kitschy book covers of Hardy classics.
"There's an art cover of Marilyn Monroe for an edition of Tess," Dearlove says.
Another case reveals the nature of Hardy's relationships with his first and second wives with letters and photographs, as well as books written by that his wives.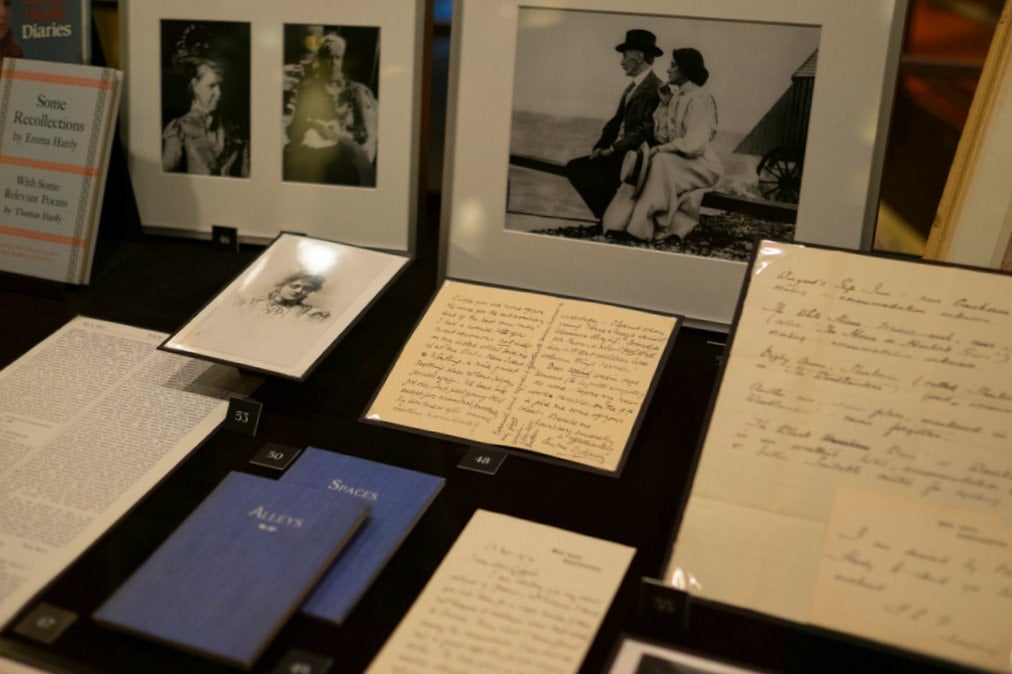 Letters, photographs and materials on Emma Hardy (photo by Veronica Zaretski)  
Those curious can learn about the preoccupations of Hardy and his contemporaries through correspondence between Hardy and writers such as Siegfrid Sassoon or Arthur Symons.
There are also plenty of first editions of iconic novels like Far from the Madding Crowd and Tess of the d'Urbervilles, as well as not so well-known pieces like Desperate Remedies.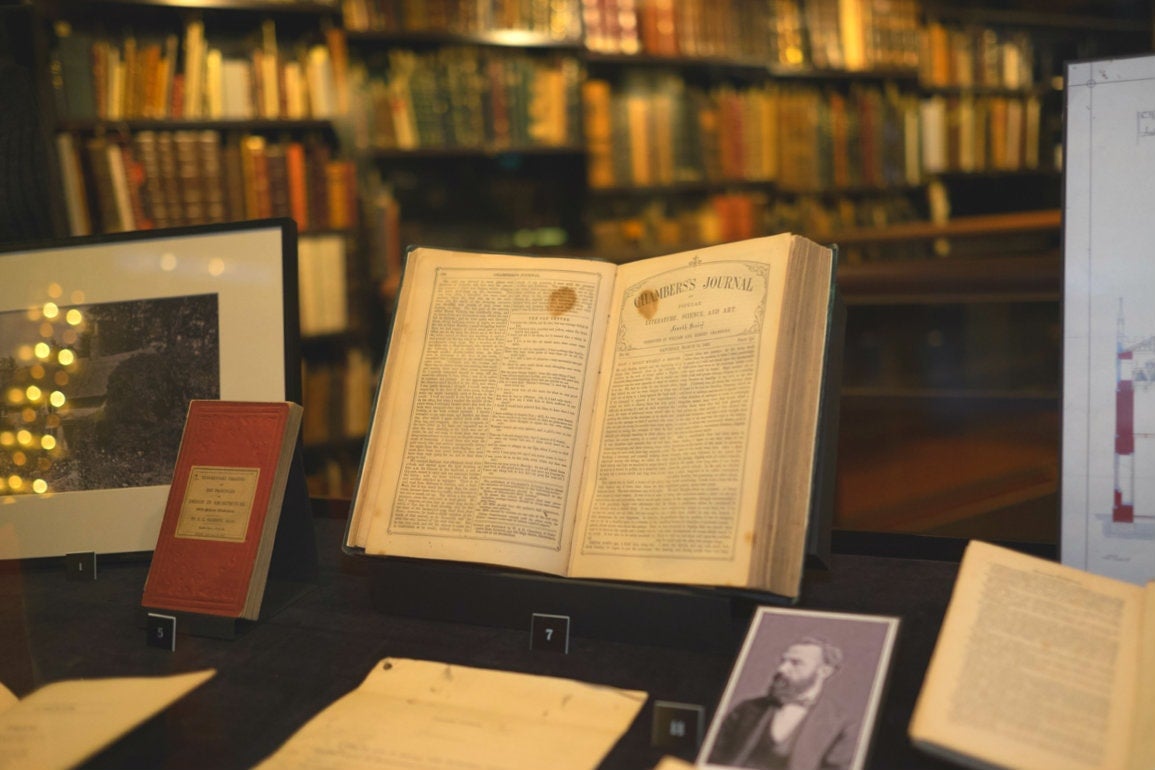 A first edition of Hardy's How I Built Myself a House and other materials. 
"This collection could only be put together by someone who is not just a serious book collector but also a serious Hardy scholar," says Dearlove.
All of Millgate's working papers are stored in the Fisher Library, says Dearlove, making this collection of Hardy materials the largest one yet.
"We very much wanted Hardy's voice so whenever we could, we quoted from him," says Dearlove, adding that she and Whiteman relied heavily on Millgate's research to curate the collection.  
To prepare the extensive collection for a wide audience, Dearlove says that she worked with Whiteman to come up with a framework based on the content and Millgate's research.
"Hardy's career nicely divides," says Dearlove. "He really stopped writing fiction at a certain point, and started writing poetry."

Outreach Librarian John Shoesmith next to a case in the Moments of Vision exhibit (photo by Veronica Zaretski)
Fisher Library holds 700,000 books and more than 400,000 linear metres of manuscript materials, hosting three exhibitions a year.
"That's the joy of this library for a lot of people – we have a lot of treasures," says Shoesmith, who has worked at the Fisher Library for a decade.
Past exhibitions have covered broad areas of study such as the cultural revolution of China, Shakespeare and Canada's war aviators.
"Next year we're having two exhibitions," Shoesmith says. "We are looking at a Canadiana collection to mark 150 years of Canada, and we are looking at 500 years of the reformation."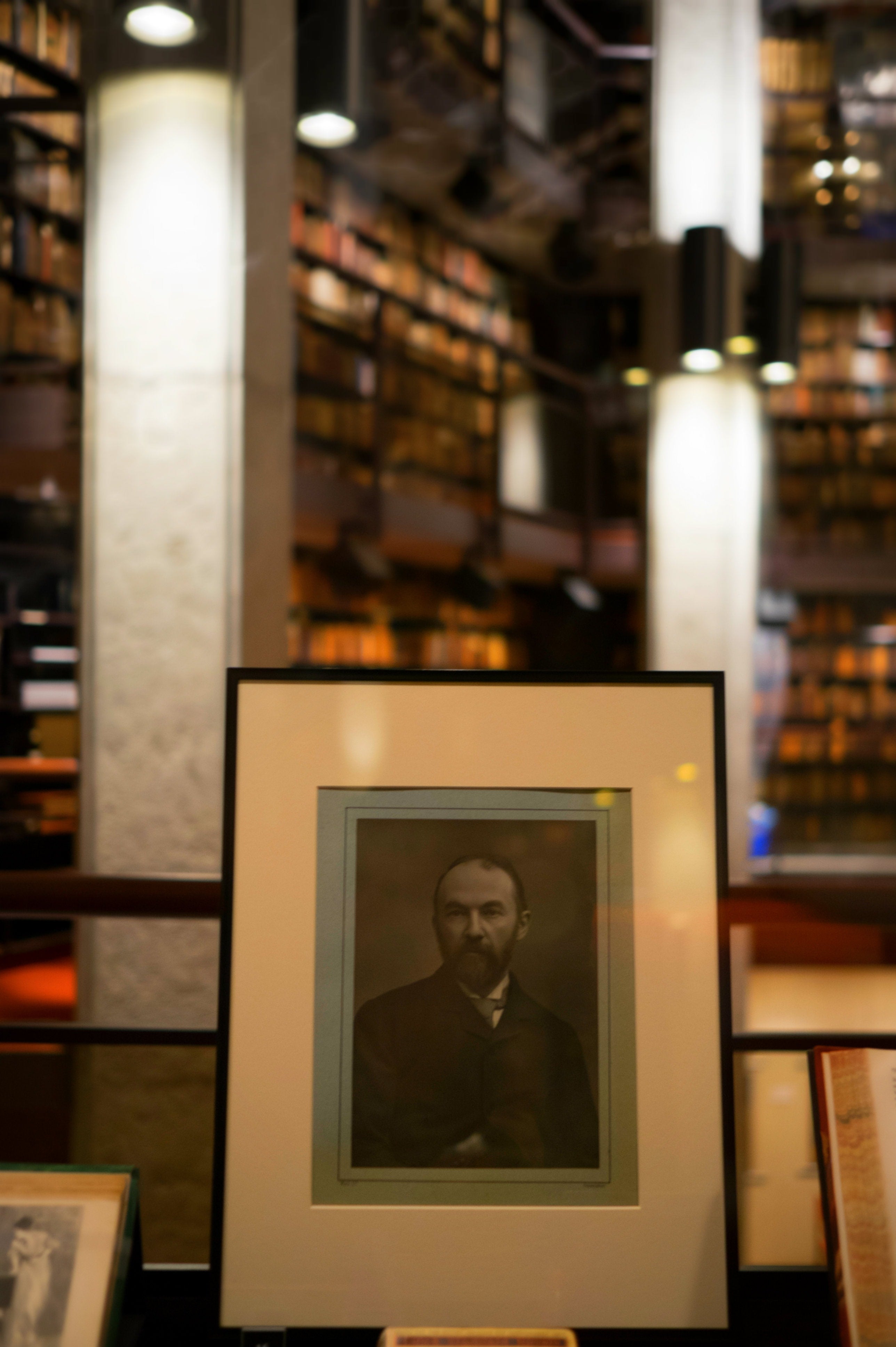 Photograph of Thomas Hardy in the collection (photo by Veronica Zaretski)
UTC