Meet Andrew Thomson, U of T's new chief of government relations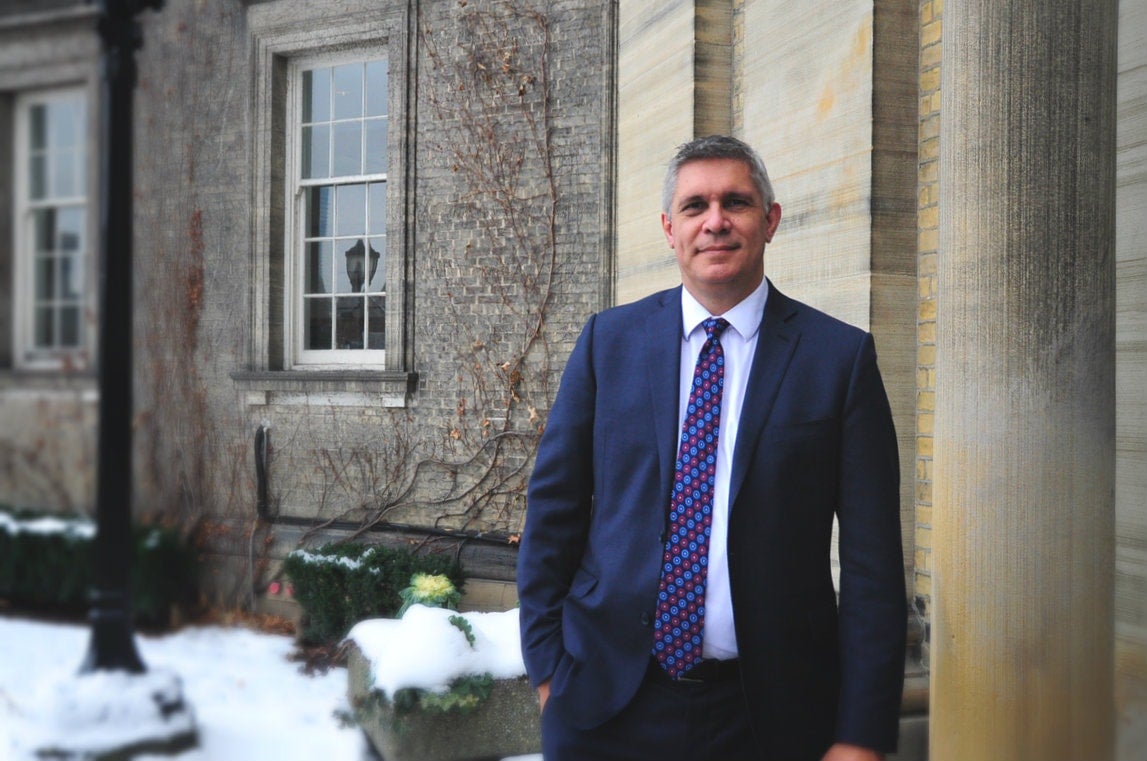 "It's an exciting time to be at U of T," says Andrew Thomson, who was recently appointed to the newly created role of chief of government relations at U of T. "There is tremendous potential for our research and innovation agendas to change the shape of Canada for the better – socially, culturally, and economically."  
Thomson has spent more than 20 years in corporate and public sector leadership, notably as an elected member of the legislative assembly of Saskatchewan. There he served in various senior cabinet portfolios, including as minister of finance, learning, public safety and energy. 
As he brings his extensive experience to U of T, Thomson says he hopes to add value to the U of T community and to improve educational access and opportunities at the university. 
He spoke to U of T News about his priorities in 2017, the important role universities play in shaping policy and U of T's impact on Toronto and Canada.  
---
The role of chief of government relations is a new role at U of T. Can you share what you hope to bring to this position?
This role provides an opportunity for us to focus more strategically on relationships between the university and government.  It should help us identify new avenues of funding and investment. It should also allow us to find new ways to engage the broader community in understanding the priorities and needs of our students, faculty and researchers.  
Indeed, two of the key challenges the president has given me relate to expanding our engagement with Ottawa and deepening our connections as part of the GTA community.  I am hopeful that through broader engagement, I can help the various leadership teams across our three campuses to secure even better recognition and funding for the work they are currently undertaking. 
How do you view the relationship between universities, and in particular U of T, to various levels of government?
At the heart of every world-class university is a strong belief in research and scholarship, teaching and learning.  We are no exception. 
I think governments here generally understand and support those efforts. However, I do worry that the relationship is becoming more transactional. 
We are seeing this in a tendency for governments to budget for education as a cost rather than an investment.  We need to work on changing that mentality by better articulating how investments in research, scholarship, placements, and programs together drive better outcomes for our communities and our economy.  
With the end of 2016 fast approaching, can you share some of your hopes and goals for this position in 2017? 
There are three priorities I have set out for 2017.  
First, is to continue building on the excellent work done in the area of institutional research and relations.  The ability to demonstrate our successes through the data is key to ensuring our rankings, reputation and funding are reflective of  U of T's true capabilities. 
Second, I am looking to strengthen our advocacy with the three levels of government. This will include highlighting issues around granting council and research funding support, advancing differentiation and innovation strategies, pursuing affordability and access issues and looking for new opportunities for government investments in capital development.  
Finally, I am keen to undertake more direct outreach with the community. Through this, I hope we can foster better opportunities for faculty and students to be more actively involved in creating and telling the U of T story in a way that reflects our real impact on Toronto today.
Your career in leadership is extensive. What do you hope to bring from past experiences like your service in the legislative assembly of Saskatchewan? 
My career has been built almost entirely around issues of economic and human capital development.  I've been fortunate to have helped create government policy, served in elected office and worked with agencies across the developed and developing world while in the private sector.  This has provided me with a good opportunity to see many of the same issues from the business, government and institutional perspective.  
Certainly, it was a very real privilege to have served in cabinet, on Treasury Board, as a universities minister and minister of finance. I think it helped me gain a pretty good understanding of what matters most and what motivates decision-makers on budget and big policy issues. I also believe that living and working overseas – seeing how other countries and institutions tackle these issues – has allowed me a much broader perspective in looking at new models and approaches to tackling old problems.