Medical students collect personal protective gear for front line health-care workers, donate through U of T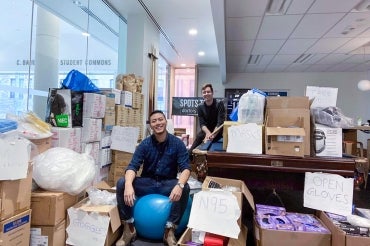 Yezarni Wynn, a medical student at the University of Toronto, is just months away from starting his residency. In the meantime, he doesn't plan to sit on the sidelines of the COVID-19 crisis while health-care workers put their own lives at risk to treat the sick. 
On Twitter and Instagram, Wynn saw his friends in residency posting about how they were limited to "one or two masks" and only a few pairs of gloves for the duration of a 12-hour shift.
"Seeing that circulated on social media kind of scared me because it was a lot of my friends and colleagues who were putting themselves at risk in order to see patients potentially with COVID-19," Wynn says. 
Meanwhile, Thulasie Manokaran, a third-year medical student at Western University, had been reading harrowing news reports out of Italy and other parts of Europe where doctors and nurses have gotten sick and died because they lacked equipment to protect themselves on the job. 
Acting separately, the pair saw an opportunity to help and soon found each other through Twitter. They put their heads together to launch a collection drive to amass gloves, masks, hand sanitizer and other urgently needed supplies for health-care workers in hospitals and long-term care homes.
Next, Wynn, Manokaran and the rest of their team, which consists of students from other Ontario universities – Calvin Diep, Sophia Duong and Mia Kibel, all at U of T, and Ali Goodbaum and Rida Tul-Zahra, both from the University of Ottawa – recruited volunteers to canvas businesses across the Greater Toronto Area for donations of essential supplies. They called dentists, tattoo parlours, veterinary clinics and salons, eventually collecting about 83,600 pairs of gloves in unopened boxes, 2,700 surgical masks and hundreds of N95 respirators, a type of mask designed to block almost all airborne particles.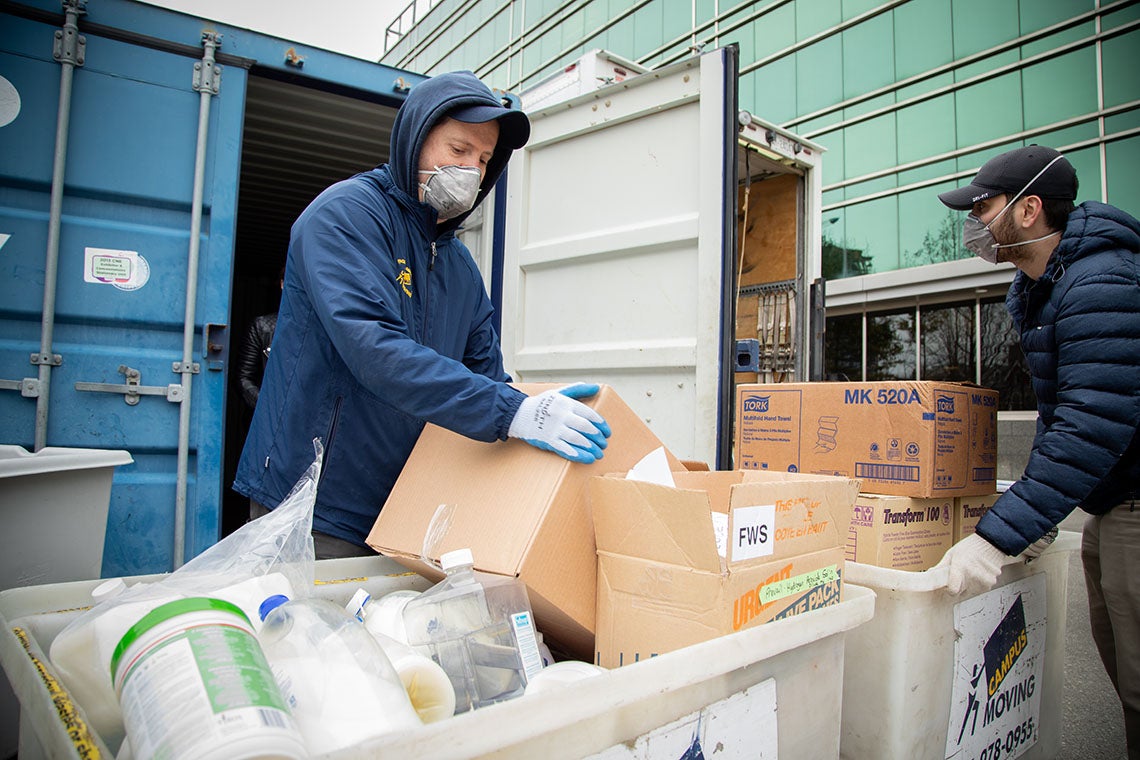 Supplies collected by U of T are delivered to Mount Sinai Hospital on Friday (photo by Johnny Guatto)
U of T is helping the students transfer half of the supplies they have collected to the Toronto Academic Health Science Network. Including the students' contribution, U of T has collected more than 312,000 pairs of gloves, about 9,800 surgical and other types of masks and nearly 8,000 N95 respirators. The university is using guidelines developed by the Joint Centre for Bioethics to ensure the supplies are being shared equitably.
In addition to the gear collected from labs and departments across the three campuses, U of T has co-ordinated the donation of even more supplies to hospitals – including thousands more masks – from Shanghai Jiao Tong University and the Huazhong University of Science and Technology, among others. 
"It's important for our donors, our volunteers and us that the equipment gets to where it needs to be ASAP," Manokaran said. "COVID's evolving day by day. There may be people going without equipment today or tomorrow. We don't want to sit on this equipment for a week."
In addition to their collection drive, the students started a GoFundMe campaign to buy personal protective equipment for health-care workers and have so far raised over $5,000.
Wynn and Manokaran said they have set aside the other half of their inventory for staff in long-term care and assisted living facilities, where the virus has shown the potential to spread rapidly among vulnerable residents. More than 40 deaths in nursing and retirement homes in Ontario have been linked to COVID-19, CBC reported last week.
Countries around the world are looking to acquire personal protective equipment as they grapple with the pandemic. The federal government announced this week that it would spend $2 billion on protective gear.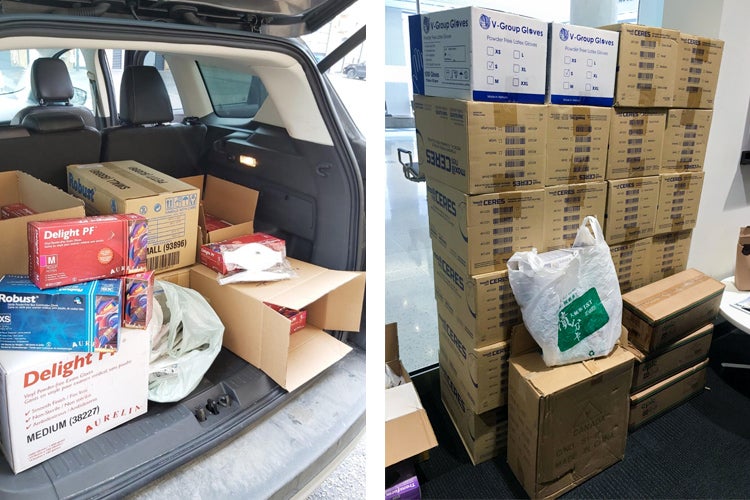 Half of the inventory collected by the students will go to staff in long-term care and assisted living facilities, organizers say (photos courtesy of ppeforhcpsto.ca)
Anna Kulikov, senior manager, business improvement and strategic initiatives at U of T, says the safety gear collected by the students is in high demand among the university's hospital partners.
"It's incredible how the community is coming together," she says. "What I've seen is a number of people from different perspectives getting very excited to lend their support," from the physics department, which contributed boxes of medical-grade gloves, to campus movers who are transporting the supplies to hospitals. 
While the need for PPE in Canada and around the world to combat COVID-19 is vast, the students say every little bit counts. Says Manokaran: "If we can get one mask to one doctor or one nurse for one shift, that's huge." 
UTC