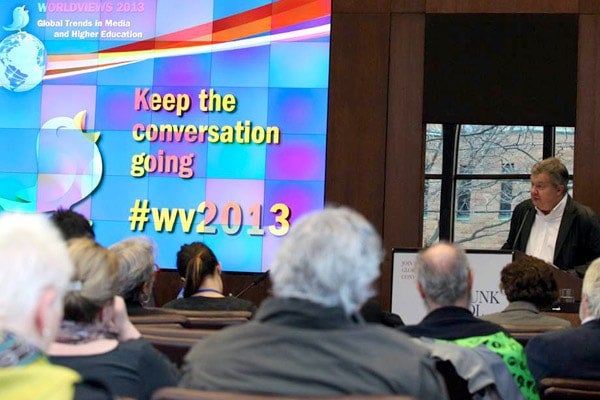 Media and higher education: a "complex relationship"
Worldviews event offers preview of June conference
International experts and leaders in higher education and journalism gathered at the University of Toronto's Munk School of Global Affairs this week to debate higher education's complex, symbiotic relationship with media.
The result: a lively discussion of reporters' focus on job-based education and warnings from a former head of CBC News and advisor to Al-Jazeera News that cutbacks are leaving newsrooms scrambling to cover complex issues.
Described by organizers as a "pre-conference", the event provided a glimpse of what to expect when U of T hosts the Worldviews conference later this spring. That conference, which runs from June 19-21, will feature panels and interactive discussions on such topics as: shifts in journalism and higher education; the internationalization of universities and colleges; the digital world and higher education; academic freedom and national security.
"The intention is to extend the conversation about the barriers to communication between academia and the media and to look at possibilities for the future," said Constance Adamson, president of the Ontario Confederation of University Faculty Associations.
"Worldviews has been a wonderful experiment," said Professor Glen Jones of the Ontario Institute for Studies in Education at U of T. "It asks, 'What is the very complex relationship between media and higher education?' because they really both need each other.
"We increasingly rely on the media to tell our stories when they're taking place in higher education; the media increasingly relies on higher education to provide the expertise and background knowledge in order to write the story they have to write and turn around in four to six hours-- but the complexities of that relationship are dramatic."
The April 16 pre-conference event featured a keynote address by Ryerson University's Tony Burman, the CBC's former executive director and editor-in-chief of News and Al-Jazeera's strategic advisor for the Americas. Burman noted the effect of current cutbacks resulting in "a news industry that is undermanned and unprepared to cover stories, dig deeper into emerging ones, or to question information put into its hands."
He said cutbacks also affect the nature of story selection, citing an article from the Columbia Journalism Review saying eight out of 10 journalists reported stories seen as "important but dull" are often avoided in favour of more eye-catching stories.
Burman closed by offering a hopeful example of media and higher educational institutions thriving together in the midst of the "Arab Spring," as both institutions worked to ensure the political transition happened in a fair, open and accountable way.
"I found that partnership inspiring, and a lesson, perhaps," he said.
A lively panel discussion followed, highlighting frustrations about media's coverage of the increasingly job-preparation-based "pragmatic agenda" of higher education.
Moderated by Rick Salutin (journalist, novelist, critic and lecturer in Canadian studies), the panel included Janice Gross Stein (director of the Munk Centre for Global Affairs), Clifford Orwin (professor of political science, classics and Jewish studies at U of T), Scott Jaschik (editor of Inside Higher Education) and Melonie Fullick (PhD candidate in postsecondary education policy at York University).
"What are my frustrations and criticisms regarding media's coverage of the pragmatic agenda in higher education? Mostly that they're so uncritical of it," said Orwin.
Stein argued there was an "unjustified sense of grievance" in the way universities view their media coverage. When colleagues approach her with media problems, Stein said she often suggests:  "Maybe the problem's with what you're doing, not with the media."
The push for this "pragmatic agenda" in higher education may be coming from politicians, rather than the media or educational institutions themselves, Jascik said. But he added media may be culpable for not pushing the debate forward when covering educational policy makers.
"Is the press asking appropriate questions about them, or just printing their allegations?" Jascik said. "I think it's legitimate to ask if the press is subjecting these claims to scrutiny."