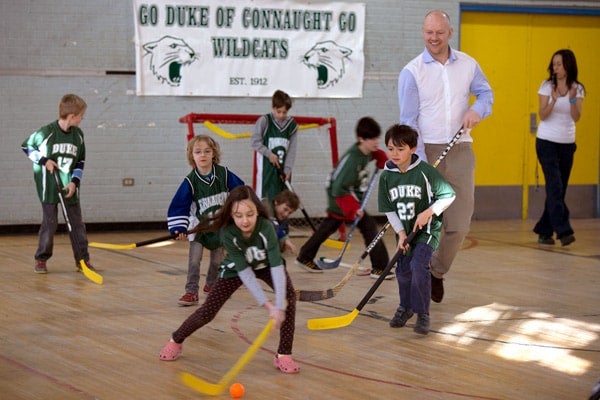 Mats Sundin surprises local elementary school kids with a visit
Hockey star helps U of T raise awareness of childhood obesity
Hockey legend Mats Sundin surprised students at a Toronto elementary school this week, serving them a wholesome breakfast and playing ball hockey.
The visit to the Duke of Connaught Junior and Senior Public School was part of a campaign to help raise awareness about childhood obesity, a problem Sundin is fighting by working with the University of Toronto's Fraser Mustard Institute for Human Development.
Along with spending time with the kids, Sundin answered health and fitness questions sent to the Faculty of Medicine and U of T News via Twitter and Facebook. His answers can be found here.
The Institute has identified childhood obesity as one of its major priorities, and U of T researchers are tackling the issue from a number of angles such as investigating its roots in genetics, nutrition, fitness and environment. Sundin – who donated $330,000 to create scholarships in human development between U of T and Karolinska Institutet in Sweden – is a major supporter.
"As a father, it's important for me to ensure that all kids have a healthy successful life free from the chronic challenges of obesity. I support The Fraser Mustard Institute for Human Development because it is taking a unique approach to this epidemic," says Sundin.
Obesity in childhood has been linked to lifelong physical and mental health challenges, ranging from diabetes to heart disease and psychological issues. U of T's researchers are focusing on the first 2,000 days of a child's life to determine the root causes of obesity.
"The research we are conducting will help us better understand the origins of childhood obesity, giving us the fundamental tools we need to stop it in its tracks," says Professor Stephen Lye, Executive Director of the Institute and Professor in the Departments of Obstetrics and Gynaecology and Physiology.
Although retired now, Sundin says keeping fit is a lifelong priority.
"I think exercising from a young age taught me a lifestyle and I keep doing it. I exercise, stay fit and make sure I get good nutrition," Sundin say. " It's not at the highest level like in the NHL, but three to four times a week I do a workout and make sure I eat properly.
"I run, ride a bike and try to do things that I enjoy. I cross-country ski and I play hockey still a little bit at charity events over the year. I'm actually going to prepare because the Maple Leafs and Detroit Red Wings have an alumni winter classic coming up so the veteran guys have a big game on December 31."
As a child, says Sundin, he was part of an active family; he and his siblings played hockey, soccer, tennis and golf and his family enjoyed camping and fishing. His daughter, now seven months old, will also enjoy an active lifestyle, he adds.
"She looks like she will be tall – maybe six feet - so I've got to get a tennis racquet in her hand," he says. "She's only seven months now, so I'm going to wait a couple more months before I  buy her first tennis racquet. Start them young! 
"I'm just kidding, we will let her do whatever she wants, but we will encourage her to be active. I think it's very important for a healthy life to get her in different activities. Whether its sports or dance, we will encourage her to try different things."
Healthy habits will fuel that active lifestyle, he adds.
"It sounds like a cliché, but breakfast is the most important meal of the day to start your metabolism.  It's like a car – you have to fill up the tank before you start working.  [I'll encourage my daughter to eat] lots of fruit and lots of vegetables and stay away from processed food. Try to get lots of sleep – you realize how good sleeping habits are important for a healthy life.
"It's not complicated – simple things keep us healthy."
(Watch a video of Sundin's visit to the school.)