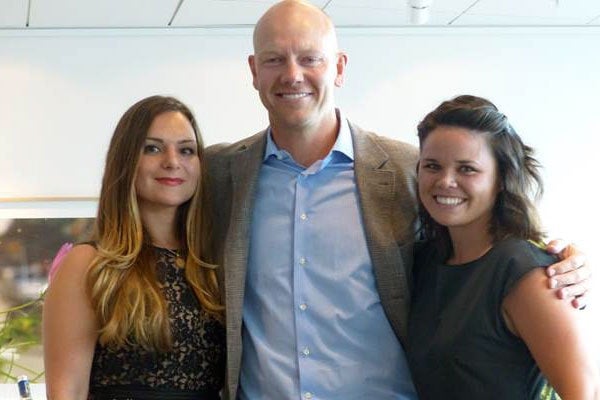 Mats Sundin Fellows: an update on the young researchers helping to advance fetal health
Exploring the first seven days of human development, studying a parasite that can pass through the placenta
Thanks to former Toronto Maple Leafs Captain Mats Sundin, two young researchers are helping to advance fetal health in important new ways. 
It's a unique exchange between the University of Toronto and Sweden's Karolinska Institute made possible by the 2013 Mats Sundin Fellowship in Developmental Health. Jessica Weidner is travelling between Stockholm and Scarborough in her quest to understand how the Toxoplasma gondii, known as the kitty litter parasite, is able to pass through the placenta and infect an unborn child. And U of T's Sophie Petropoulos is stationed at two of Karolinska's labs, where she is working at the single cell level to help understand the mysteries of the first seven days of human development.
"I have access to state-of-the-art technology which is enabling me to determine important mechanisms that regulate human development," says Petropoulos, who is seven months into her two-year Swedish stint. "My experience at KI has been nothing short of incredible and I'm extremely grateful for this opportunity."  
In her study of Toxoplasma gondii, Weidner travels frequently from Sweden to the U of T Scarborough lab of Professor Rene Harrison, whose team has extensive expertise in advanced microscopy techniques that shed light on how Toxoplasma affects immune cells. The parasite is particularly common to cats, and can cause serious harm to fetuses and infants. 
"In research, you often find yourself so focused on a particular protein, or immersed in one technique," Weidner says. "This collaboration has helped breathe new life into my project."
Her next step: to begin studying exactly how the parasite crosses into the placenta.
The fellowships are the result of efforts by the former National Hockey League and Team Sweden superstar, working with other donors. They provide advanced postdoctoral training in human development for up to two years. 
Petropoulos, who is co-supervised by Rickard Sandberg and Fredrik Lanner of the Karolinska Institute, has determined the gene expression of the human embryo at a single-cell level during the first seven days, which is fundamentally important in understanding human development and improving stem cell research. She is also exploring non-genetic effects on the human embryo and has evidence that a type of stress hormone could be altering the embryo's gene expression at this incredibly early stage. 
The results, she says, could have implications for future IVF treatments and for ensuring optimal fetal health outcomes.