Massey College chapel designated as Canada's first Anishinaabek Chapel Royal
Inspired by a Truth and Reconciliation call to action
St. Catherine's Chapel in Massey College at the University of Toronto has been designated as the third Chapel Royal in Canada by Queen Elizabeth II.
Historically, Chapel Royal was a term given to a group of religious leaders who followed the monarch to attend to any spiritual needs. By the 1500s the chapels were given physical spaces.
The request for designation, made by Massey College and supported by the Mississaugas of the New Credit First Nation, was forwarded to Buckingham Palace last year through the office of the Governor General of Canada. It was inspired in part by the calls to action from the Truth and Reconciliation Commission.
"We hope that this royal gesture will cement Massey College as a respectful partner and collaborator with Chief Laforme of the Mississaugas," Hugh Segal, master of Massey College, told a press conference timed to coincide with National Aboriginal Day and Canada 150.
Segal was joined by Chief Stacey Laforme of the Mississaugas of the New Credit First Nation to discuss plans for the Chapel Royal.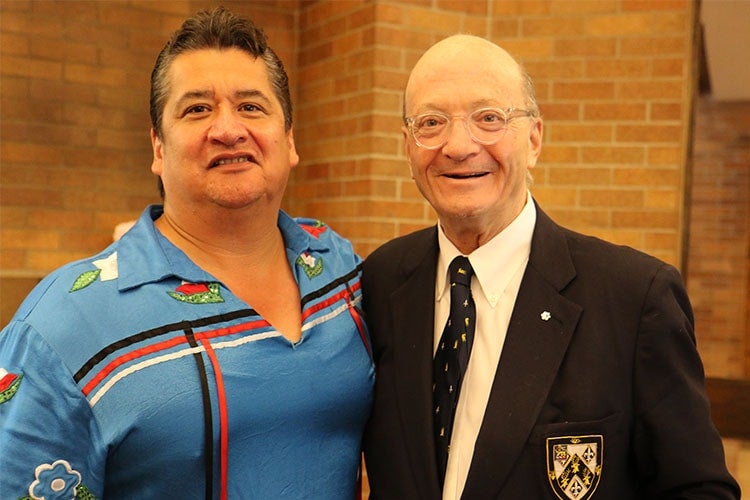 Chief Stacey Laforme (left) and Hugh Segal announced a new partnership on Tuesday between Massey College, the Mississauagas of the New Credit First Nation and the Crown (photo by Hannah James)
Segal said the Chapel Royal will be the first interdenominational, interfaith chapel in Canada. It has been given the name, Gi-Chi-Twaa Gimaa Kwe, Mississauga Anishinaabek Aname Gamik, meaning "The Queen's Anishinaabek sacred place".
Chief Laforme said that partnering with Massey College – which sits on treaty lands – is reflective of an important nation to nation relationship with the Crown and that any relationship requires a solid foundation to move forward. "We can do a lot more to work together for reconciliation," said Laforme.
A larger celebration for the Chapel Royal is planned for the fall.
UTC