Making music with code, exploring solar-powered cars – U of T hosts STEM event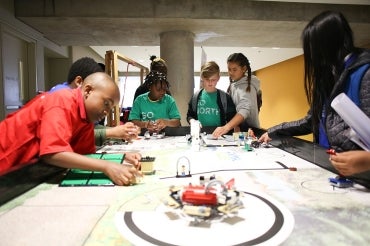 U of T's Faculty of Applied Science & Engineering hosted more than 1,200 Ontario students in Grades 4 to 8 on Friday for Go North, a day of hands-on activities, demonstrations and workshops designed to ignite curiosity about the vast potential of science, technology, engineering and math (STEM).
Students from 56 classes across the GTA came together to make music with code, develop video games, look under the hood of a solar-powered car and participate in workshops on robotics, structures and 3D-printing.
Created in partnership with Google Canada and Actua, a national STEM charity, Go North is designed to encourage students to become the inventors, innovators and makers of tomorrow by playing and experimenting with technologies today. 
They also heard from inspiring speakers about the exciting career paths made possible by studies in STEM, and participated in a live science demonstration from Science Max host Phil McCordic.
Participants shared their experiences on social media throughout the day using the hashtag #GoNorthU. Here's what they had to say:
UTC