Magazine uses fiction to explore the toll taken by climate change – and our response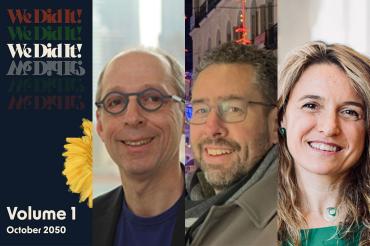 A new publication launched by the Environmental Governance Lab (EGL) in the University of Toronto's Faculty of Arts & Science is using speculative fiction to examine the toll climate change may take on our planet in the years ahead.
Set in an imagined Canada of 2050, the stories, poems, interviews and even advertisements in EGL's magazine We Did It!? explore aspects of life in a world that has managed to achieve its net-zero carbon emissions goals – but has yet to fully realize a fair and equitable low-carbon society.
For example, emissions in the magazine's fictional Canada of the future have been reduced by 80 per cent following public forays into biofuels and carbon capture. The country is also less meat-dependent and less focused on consumption, with a circular economy centred on the reuse of existing materials.
However, supply-chain disruptions from wars, floods and heatwaves have led to periods of rampant inflation.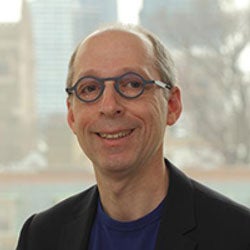 "The magazine is taking place in the future, and is informed by all the social, political and technological processes that were required to get there," says Steven Bernstein, Distinguished Professor of Global Environmental and Sustainability Governance at U of T and the co-director of the EGL.
"It shows that this will not be a straightforward process – and that even if our climate goals are met, they won't necessarily be met in a way that we envisage now."
Bernstein, who is also the chair of department of political science at U of T Mississauga, is a co-editor of We Did It!?, along with EGL co-directors Matthew Hoffmann, a professor of political science at U of T Scarborough, and Teresa Kramarz, assistant professor at the School of the Environment in the Faculty of Arts & Science. Together, the trio oversaw a large team of writers, researchers and designers involved in the magazine's production.
The project was inspired in part by the Canadian Net-Zero Emissions Accountability Act that enshrined the federal government's Net Zero by 2050 pledge into law, and also by a magazine published by Lund University in Sweden that reflected on what higher education might look like 20 years into the future.
The researchers say they strived to paint an even-handed portrait of the potential road ahead.
"Going between dystopia and utopia was definitely a goal from the outset," Hoffmann says.
"We want readers to be able to see themselves in these pathways to 2050. That means telling stories about political and personal struggles, while also telling stories about things going well. It's definitely a mix."
One decidedly dystopian story is "Thirsty," written by Kramarz, which depicts a lithium mine in the Argentinian desert that has displaced an Indigenous community – leaving its people fighting for water, food and electricity.
"In 'Thirsty,' I'm trying to call attention to the question of a just transition," Kramarz says. "There's no doubt we need to decarbonize, but it worries me that in doing that we aren't paying enough attention to people and places."
We Did It!? was crafted through an intensive workshop process, supported by the Alan Dean Family Symposium on Environmental Governance, where energy transition experts were brought in to provide writers with the accurate technical information they needed to develop and write their stories.
The EGL plans to work on more issues of We Did It!? and to devise other artistic, creative ways to engage citizens on the topic of climate change. In addition to the magazines, some ideas may include virtual reality or video games.
"There are all sorts of opportunities, as well as different kinds of media we may not have considered yet," Bernstein says.
We Did It!? conveys public policy information in a clear, accessible way by showing how major climate decisions affect ordinary people – and, in turn, how people can play their part as consumers and voters in shaping those decisions.
"With this publication, we want to contribute to the public conversation around what's going to have to happen in the next 25 years," Hoffmann says.
"It's not that there's too little talk about the climate, but I'd say we're not talking and thinking about the right things. We need to have a more expansive dialogue about what we want our society to be, and what large-scale choices we want to be making. We hope that storytelling like this is a good way to do that."
Arts & Science