Long-time university leader and advocate Richard Nunn receives honorary degree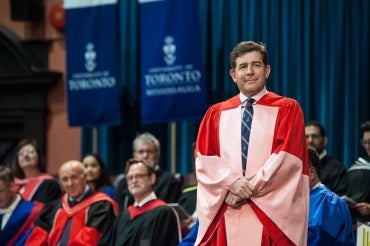 Richard Nunn's portrait hangs in the Governing Council chamber in Simcoe Hall alongside those of other leaders who have helped lay the groundwork for the University of Toronto's success. 
His leadership as chair of the council for two years was considered transformative, with Nunn taking on the responsibility of reshaping governance structures.    
For his outstanding service to the university, Nunn received an honorary doctor of laws, honoris causa, on Thursday.
"In an eventful and important period in the history of the university, Richard provided invaluable expertise and leadership in our governance," U of T President Meric Gertler said in 2014 about Nunn's tenure as Governing Council chair.
"He served with a brilliant combination of intelligence, principle, discipline, openness, and respect for others – and with a deft and delightful sense of humour."
Along with serving as chair of the Governing Council, Nunn was a co-opted member of the business board in 2011 and went on to become a lieutenant governor in council appointee to the Governing Council three years later.
He became vice-chair of the business board and eventually its chair. He served as vice-chair of Governing Council in 2010-2011 and was elected chair in 2011. In 2017, he resumed his service to the university by becoming chair of the board of the University of Toronto Asset Management Corp.
Nunn  is a senior client service partner at Deloitte Canada and an FCPA, the highest mark of distinction for professional accountants. He has a bachelor's degree from the Loughborough University, near Leicester, England, and he completed the Rotman – Institute of Corporate Directors program. 
In addition to his extensive service to U of T, he has an impressive track record of community volunteer service. He was chair of the Oakville Hospital Finance Committee, helping with a fundraising campaign to raise $60 million to buy life-saving equipment not covered by provincial funding. He was also active in fundraising for the United Way of Greater Toronto and the Canadian Breast Cancer Foundation's Run for the Cure. 
Nunn serves on the Halton Healthcare board and is currently chair and treasurer of the board's finance and audit committee. 
Nunn was also one of the founding members of a neighbourhood fitness group called the Gentlemen's Walking Club, said Phil Richard, the artist who painted Nunn's portrait that hangs at Simcoe Hall. 
"With the best of intentions, they initially mapped out a lengthy and strenuous circuit around the neighbourhood that would give them all a good workout," Richard said. "Eventually, however, this circuit evolved into a shorter walk to and from a particular destination. That destination was the local pub."
A message to U of T grads from Richard Nunn:
"You all have been blessed with many talents. True joy will come from sharing those talents with others."
UTC