Local artist forges a connection with pow wow mural at Hart House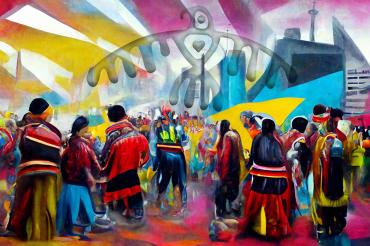 Visitors to the University of Toronto's Hart House will be treated to a visually stunning piece of art this fall: "Intertribal, 2022," a mixed media mural at the end of the eastern corridor on the lower level of the building.
The mural by Quinn Hopkins – his first major solo project – depicts a pow wow in Toronto and merges technology with art in a provocative and highly original way. Broadly speaking, his work, which has garnered national media attention, is multi-layered and political.
Hopkins says the mural tells a powerful story, depicting the Na-Me-Res Traditional Pow Wow at Toronto's Fort York as seen against the city's skyline. The piece includes a light feature, a light sculpture and an augmented reality component. 
"It's part of a pow wow, a celebration of life. It's a place to share culture, food, songs and dances," he says of the mural, noting that "Intertribal" is the name of a specific dance.
"It's an invitation to anyone at the pow wow to come into the circle and dance. I think that's a beautiful representation of community, unity and diversity."
The latest example of Hart House's commitment to expanding Indigenous education programming, the installation is in a student-focused location that provides ample opportunities for young people to engage with it.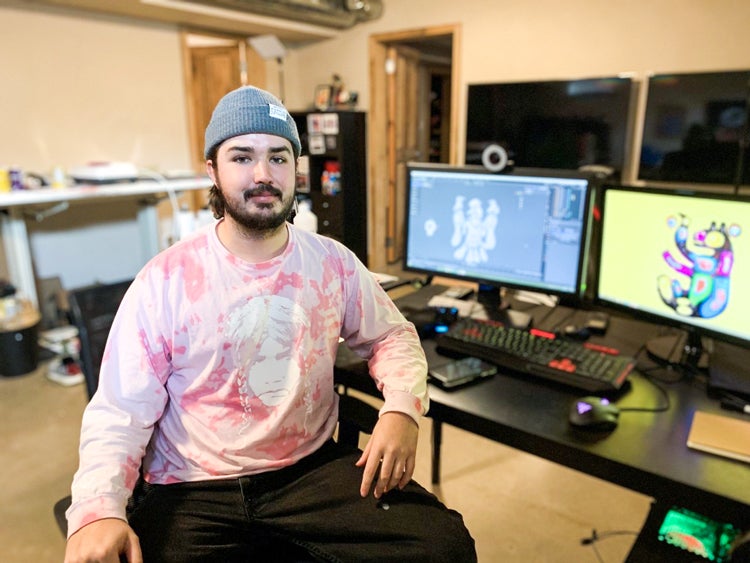 Hopkins says he takes inspiration from new, innovative technologies and, through his art, he connects this technology with the land and his roots.
Hopkins grew up seeing well-known Indigenous artists' work at his best friend's house. "I was fortunate to go to their home and see this massive collection," he says. "In their house, the artwork went from floor to ceiling, every wall was covered in beautiful Indigenous art. That was a huge, fundamental inspiration for me."
Hopkins says Indigenous educator and art dealer Conrad Bobiwash was a mentor to him, teaching him the first forms and central ideas of the Woodland painting style at a young age.
He takes inspiration from new, innovative technologies and, through his art, he connects this technology with the land and his roots as an Anishinaabe person. He also seeks to find new ways to visualize the spirit of the land and thereby reveal the many truths about humanity's relationship with the land. Never afraid to experiment with new tools and mediums, Hopkins uses state-of-the-art techniques such as 3D modeling, digital drawing, editing, creative coding and machine learning.   
'Intertribal' as an invitation
As for the mural at Hart House, he says he loves the mood it depicts.
"Everyone's always having a good time, smiling," he says of the pow wow. "You get the tiny tots dancing in their regalia, the elders walking around and nodding to the beat, Native and non-Native folks having a good time, feeling like they're part of it. It's an invitation to participate in something that you usually think is exclusive."
The eagle (Miigizi) has a powerful message, too. "In the seven grandfather teachings, the eagle is love (Zaagidiwin)," he says. "That's what I felt when I was thinking of the pow wow and Intertribal: love; community; and love of the place, Tkaronto, where we're standing and feeling represented. I love how the eagle is a sort of umbrella that holds everyone under one roof in that piece."
Inspiring people through art
Since the pandemic, Hopkins has been seeking to engage with audiences in new and profound ways. "It's hugely meaningful to me to inspire people and teach them new things," he says. 
Through "Intertribal," he sought "to remind viewers that Indigenous people are modern and cutting-edge innovators. We have a history of taking the newest tools and adapting them to our own purposes. We're not stuck in the past. We look seven generations into the future.
"Having my work in Hart House is looking at the next generation, those students, those warriors who are learning and propelling our communities and our society into the future. It's an honour to have them learn something new from this mural or just enjoy it; sit there, meditate or whatever people do when they look at art. Maybe it's a quick glance, but whatever it is, I hope it brightens their day or they feel something."
Hart House