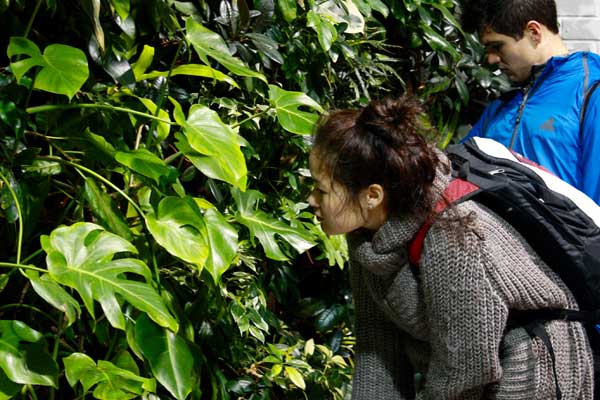 Living Architecture at U of T
Jess Dawe of the Sustainability Office takes a tour of the green walls and roofs at U of T's downtown campus
Living in a densely populated city like Toronto, it's hard to believe that hidden within the buildings and backyards there are green roofs, walls and outdoor spaces that not only improve the environment but mental and physical health too. 
The downtown campus at U of T is home to a number of these spaces, referred to by alumnus Jonathan Silver as 'living architecture.' On a crisp October evening, Silver, joined by the campus Sustainability Office, took 20 people on a 10-stop tour he created to explore these spaces. 
"People need to experience green roofs and walls first-hand to understand why they're good for our health, environment and communities,"  Silver said, adding that, as people are exposed to these benefits, he hopes they'll push for more living architecture in their city.
Living architecture offers a wide range of environmental and health benefits Silver said. Green roofs help with rainwater management by providing a permeable structure to absorb rain water, directing it away from overflowing sewers. They're also great for pollinators because they increase vegetative space in the city; an otherwise lifeless concrete footprint can become a hotspot for pollinators if the right flowers are planted.
Along with a green roof, a rain garden and a scenic trail, tour attendees were introduced to the living walls at the Exam Centre and the Multi-Faith Centre. Canadians are estimated to spend upwards of 90 per cent of their time indoors, and people on the tour were curious to hear what health benefits these walls provide. Both walls are biological systems whose main function is to improve air quality. They help filter out volatile organic compounds – chemicals found in homes and offices that can lead to short-term and long-term health problems.
Beyond improving air quality, living walls provide a restorative environment for dwellers. You'll experience this at the bamboo garden in the Donnelly Centre (above, right), or in the many green spaces in and around campus, like Queens Park Crescent and Philosopher's Walk.
Being near green and naturalized spaces is shown to enhance worker productivity, lower stress levels and contribute enhanced mental well-being. 
Veronica Badali, a fourth-year student, remarked while standing in front of the living wall at the Exam Centre, "incorporating green spaces like this into buildings creates a place where you can escape the stress and commotion on campus – especially in the colder months!  It's amazing that U of T pays attention to those details."
Curious to explore living architecture? Find a free map of green spaces in Toronto, including many at U of T. 
Jess Dawe is a writer with the Sustainability Office of the downtown Toronto campus at the University of Toronto.