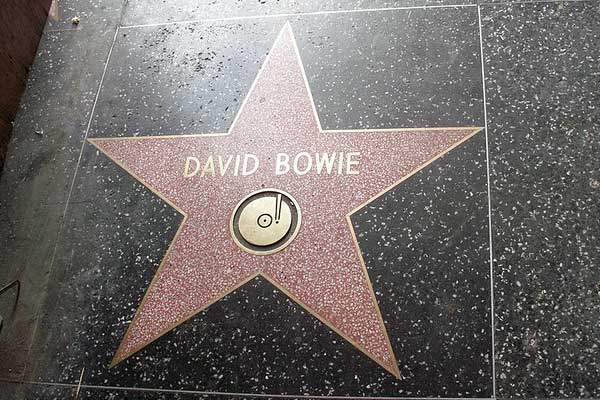 The life of David Bowie: U of T expert on his impact and significance
"He's not just a musician but a fantasy, a comic book, an actor, an artist, a fashion icon," says Farzaneh Hemmasi
As word of David Bowie's death from cancer spread around the world on Jan. 11, tributes poured in from musicians, actors, artists, politicians, human rights organizations and fans across generations. 
They shared photos, lyrics and memories of long-ago concerts. Some, like Yoko Ono, bypassed the 140-character limit of Twitter by creating images that included lengthy statements about how much Bowie and his work had meant to them personally. Others tweeted or posted just one word: Bowie.
From Canada's prime minister: "I'll never forget hearing Under Pressure for the first time - David Bowie was a fearless original with the power to charm. We'll miss him."
From Britain's prime minister: "I grew up listening to and watching the pop genius David Bowie. He was a master of re-invention, who kept getting it right. A huge loss." 
Major news agencies across the globe scrambled to publish obituaries for a man who had just released his latest album on Friday. Most shared curated tweets and Instagram posts as a way of demonstrating the massive cultural and musical impact of a career that spanned so many generations.
By midday you could find social media posts from Madonna, The Weekend, Iggy Pop, Kanye West, the Pixies, Paul McCartney, the Rolling Stones, Brian Eno, Idris Elba, Hugh Jackman, the Vatican, the Toronto Public Library and countless others, including astronaut Tim Peake who tweeted his sadness from space. On Facebook, comedian Eddie Izzard posted: "Please, could every radio station around the globe just play David Bowie music today - I think the world owes him that."
Foreign Policy shared a tweet from the German Foreign Office that thanked Bowie for his help in bringing down the Berlin Wall and included a link to Bowie performing Heroes. The magazine identified the song as one Bowie sang at a 1987 concert in West Berlin – to applause from East Berliners listening on the other side of the wall.
Why did Bowie have such a lasting impact on so many people?
Writer Jessica Lewis from U of T's Faculty of Music spoke with Farzaneh Hemmasi, assistant professor of ethnomusicology at the Faculty about Bowie's legacy.
What kind of impact did David Bowie have on popular music and popular culture?
 
The impact of David Bowie is immense. Before he had reached the pinnacle of his influence, he was billed as "The First Rock Star of the 1970s," a line his publicists apparently fed the media and that the media in turn repeated. His albums, movement between musical styles, outsized personae and outrageous costumes and on-stage antics all drew audiences to him. Bowie wrote many beloved songs in a variety of styles, but he was also a pioneer in merging of rock show as theater. He also laid the map for the chameleon-like transformation of stars in his roles of Ziggy Stardust, Aladdin Sane and the Thin White Duke. Bowie's fluid sexual and gender identity were likewise crucial to his influence: his androgyny, admissions of bisexuality, and status as a self-described "closet heterosexual" in a period when very few musicians were "out" were both controversial and inspirational. Part of Bowie's creativity also lay in his masterful selection and recombination of elements from different musical styles, artistic periods and popular culture, the hallmarks of a postmodern artist.
 
It's fitting that Bowie himself has inspired so many subsequent artists. For people of a younger generation, they will not necessarily know him first hand but will feel his influence through the existence of shape-shifting celebrities such as Madonna and Lady Gaga who have made a career out of the spectacle of personal transformation. David Bowie's extensive corpus also provided samples – short snippets of preexisting songs recombined into sound effects or repeating musical grooves – in a number of hit songs in the 1990s and 2000s. The two most commonly known are probably Bowie's "Under Pressure," which provided the basic groove for Vanilla Ice's "Ice Ice Baby" and the 1997 Puff Daddy (now P. Diddy) track "Been Around the World" which sampled the Bowie hit "Let's Dance." (You can learn more about the wide range of songs and artists that drew on Bowie from the website WhoSampled.com.) Those who didn't grow up with Bowie may very well have encountered his songs first as these samples, as I did.
 
Is Bowie taught at the Faculty of Music? 
In fact, I just discussed David Bowie in the first meeting of my undergraduate seminar on voice, identity, and celebrity. His passing occasioned his mention, but he was already slated as a topic of discussion in the class because of his pioneering role in crafting a certain kind of shape-shifting celebrity. In future weeks we'll discuss how Bowie's sounded voice remained fairly consistent throughout his many persona and stylistic changes, which makes him an interesting example of the common idea of the voice as a stable aspect of an individual's identity.
 
Why do you think Bowie has become such an idol?
He's not just a musician but a fantasy, a comic book, an actor, an artist, a fashion icon. His constant reinvention and stylistic experimentation means there's something for everyone (or at least a lot of people) in his work.
 
Do you see him leaving a lasting legacy?
There's no question that Bowie will leave a lasting legacy. Many people know Ziggy Stardust by sight even if they don't know any of the music associated with that most influential persona. The move to canonize him preceded his death: books about his music, life, and style abound and will no doubt follow his passing. The museum exhibit "David Bowie Is" – which started at Victoria and Albert Museum, was at the AGO in the fall of 2013, and is still touring the world – treated him not just as a musician but an artist, style-maker, pop cultural and icon. (Read a Q & A with Professor Ken McLeod about the exhibit)
 
Do you have any personal Bowie memories or comments?
My first memory of David Bowie was seeing him in the fantasy film Labyrinth as a kid in 1986. It was only later when I got into playing pop music myself and was looking to the antecedents that inspired my friends' and my bands' styles that I began to delve into his many albums, watching his performances, and staring at his album covers. It was when we were considering an (unrealized) cover of his song "Oh You Pretty Things" and I actually worked on singing along with him, putting his words to my own voice, that I got a sense of the genius of the songwriting, the melodies, his use of his voice, and the production that made him sound so fantastic.