Awa Hanane Diagne, one of four Loran Scholars who is attending U of T this year, founded The Woke Folk, a non-profit organization that funds educational opportunities for girls in developing countries (photo by Johnny Guatto)
Awa Hanane Diagne, Cai Mitchell, Kaiden Thompson and Margaux Roncière may have just begun their studies at the University of Toronto, but they are already well on their to becoming leaders in the community.
The four U of T undergraduate students are among 36 recipients of the Loran Award in Canada this year. The award, valued at $100,000 over the course of four years, recognizes students who, in addition to academic achievement, have demonstrated their character and made positive changes in their communities. 
Offered to students in their final year of high school, Loran Scholars must maintain a minimum cumulative grade point average of 85 per cent. However, what makes this award unique is its emphasis on character and the belief that "integrity, courage, grit and personal autonomy are better indicators of overall potential than standard academic measures."
Diagne, Mitchell, Thompson and Ronciere faced stiff competition for the Loran Award, having been selected from a pool of more than 5,000 students.
---
Awa Hanane Diagne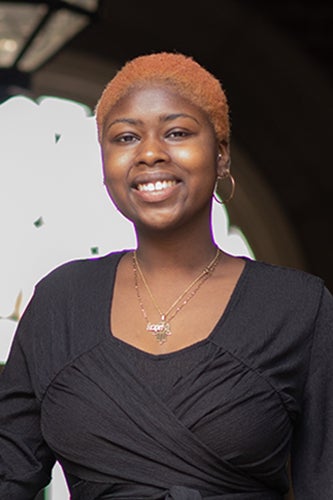 Diagne is the founder of The Woke Folk, a non-profit organization that funds educational opportunities for girls in developing countries. With a passion for social justice and humanitarian initiatives aimed at empowering women, she is studying bioethics and women and gender studies at U of T and hopes to one day pursue a career in law or public policy.
"I have a keen interest in the questions that arise from the important role that medical and technological tools play in society, and I want to observe how, among others, gender, race, class, nationality and disability factor into these questions," Diagne says.
Diagne, a University College student who is from Montreal, says she was drawn to U of T's sense of community and the opportunity to live in a culturally diverse city where the possibilities feel infinite.
"From the diverse choice of programs that allows students to hone in on their interests to the amazing extracurricular opportunities, U of T is a space where I feel I really will grow as an individual – all while being able to interact with people who have different backgrounds and interests," she says.
Diagne says she also enjoys writing and journalism. She is currently a junior editor for Hardwire: The Undergraduate Journal of Sexual Diversity Studies. She also continues to lead The Woke Folk.
"I hope to expand other projects I am involved in – namely my work with The Woke Folk and another amazing organization called Medical Herstory – through the connections I will make on campus," Diagne says.
Margaux Roncière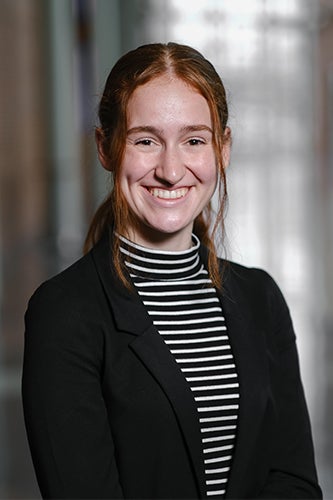 Roncière published a book in high school about an international co-operation project that aimed to develop female leadership in Senegal. She also worked on humanitarian projects in Benin and Nepal.
Now at U of T, Roncière wants to continue pursuing innovative solutions to humanitarian crises and is now in the TrackOne engineering program in the Faculty of Applied Science & Engineering.
She says she was drawn to U of T's engineering program because its "outstanding reputation demonstrates its quality of education and its commitment to innovate."
"I'm particularly interested in sustainability and social impact, and I believe technology can be a great lever for that," says Roncière, who is from Dorval, Que.
Roncière was a member of her school's United Nations club and several student committees. As a first-year U of T student, she is pursuing projects that focus on tackling global development and social and systemic change.
"I joined the Engineers without Borders chapter on Indigenous Reconciliation," Roncière says.
"In the future, I'd also like to get more involved in policy and mental health advocacy, especially within the engineering faculty."
Cai Mitchell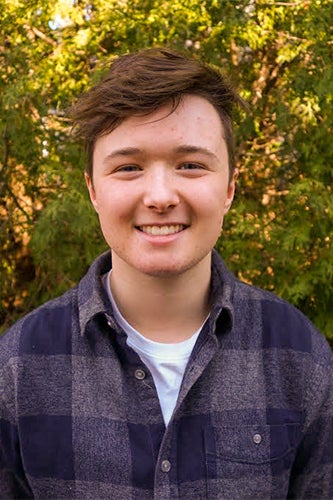 Mitchell founded a Gender and Sexuality Alliance in high school. He is also the co-founder and editor-in-chief of a student academic journal at his CEGEP.
At U of T, Mitchell is continuing to be an advocate for transgender students and is pursuing his passion for social justice as a member of Victoria College's equity commission. He is also looking into joining in-person LGBTQ-oriented and environmental sustainability initiatives on campus once it is safe to do so.
A former head delegate for the Model UN, where he organized an introductory conference for younger students, Mitchell plans on pursuing a double major in a subject closely related to politics or philosophy such as ethics, society and law, bioethics or sociology. After graduation, he plans to attend law school and work with underprivileged communities.
"In the future, I'd like to go to law school and use those credentials to practise a career where I am helping disenfranchised populations and protecting environmental diversity, whether that's something like legal aid, environmental law or public policy," says Mitchell. who is from Hudson, Que.
He adds that he was drawn to U of T by its extensive humanities department, which offers a variety of interdisciplinary majors to choose from.
"I wanted to be able to study my passions in an academically rigorous environment – and I knew that as a large and reputable university, there would be opportunities for research and really accomplished professors," he says.
Kaiden Thompson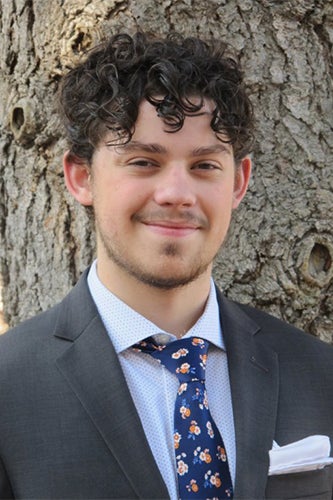 Thompson demonstrated his leadership abilities in high school by co-founding and leading a Gender and Sexualities Alliance that allowed students to meet in a safe space to support each other and work to end discrimination related to sexual orientation and gender identity. He was also the drama club's stage manager, the editor of the yearbook and an executive on student council.
Thompson, a Victoria College student from Indian Head, Sask., plans to join U of T clubs related to environmental sustainability and social justice, and to participate at the Centre for Community Partnerships.
He says was drawn to U of T's specialist programs in life sciences and the extensive number of research opportunities available in the Toronto region.
"I love the city and the wide range of extracurriculars available at U of T, so I thought this would be the best place to pursue my degree while gaining valuable research experience and also working on my passions outside of school," he says.
As a first-year life sciences student, Thompson will be applying to the molecular genetics and microbiology program. He hopes to pursue research in the future.
"I think the near future will give rise to advancements in my program that I'd like to be a part of to improve society and our understanding of life sciences," he says. "I'm currently looking into the possibility of grad school and doing academic research or starting a career in industry like environmental policy, agriculture or biotechnology."