Labs open at Medical Sciences Building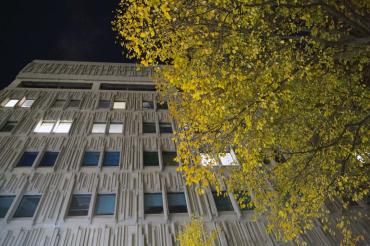 All labs at the University of Toronto's Medical Sciences Building are now open, following a report by environmental experts that found two labs that had been closed are safe.
An independent environmental engineering firm analyzed air tests and the safety measures taken by the university following the discovery of asbestos fibres in construction dust. These latest results follow an earlier report that found MSB safe for general occupancy based on air samples taken throughout the building. 
More than 400 air samples have been taken at MSB since early March and results continue to show the building is safe. No dust containing asbestos fibres has been found in classrooms or public areas.
The two labs were closed as a precaution while the university investigated how asbestos fibres in construction dust made its way to five research labs in the MSB. The university also has improved safeguards to prevent a recurrence as work continues to upgrade labs in the building. 
The provincial Ministry of Labour has visited MSB three times since the fibres were found and has not issued any orders or given direction for the university to take further actions other than those already in place. 
 "We know the past few weeks have been disruptive and upsetting for those involved," said Vice-President of University Operations Scott Mabury, also a professor of environmental chemistry. 
"This should not have happened. We are reopening these labs based on expert advice that it is safe to do so," he said. 
The clearance reports, along with several preventive measures now in place to limit the spread of all construction dust and to increase oversight, have laid the groundwork for the next phase of construction, Mabury said.
Now that the labs are safe to reopen, senior leaders in the Faculty of Medicine will continue to work with those who were directly affected by the closures.
"The health and safety of our faculty, staff and students is always our top priority," Faculty of Medicine Dean Trevor Young said. "We also realize how dedicated our researchers and grad students are to their work and that they need to know their labs are safe."
A major renovation of labs at MSB – part of U of T's $190 million LIFT project to improve labs across all three campuses – began in November 2016.  In advance of major renovations, it is standard practice at U of T to remove any materials that contain asbestos, which was in common use when MSB was built in the 1960s. That work is done in an enclosed site and is strictly regulated.
The university conducted a thorough review to trace the source of the three localized incidents where asbestos fibres were found in dust in research labs. In two cases the seal on the plastic enclosures required when asbestos-containing materials are removed failed. The contractor involved has been replaced. To prevent a recurrence, the university is increasing site inspections and will conduct random tests to ensure that enclosures are properly sealed so that no dust can get out.
Work also is being done to seal walls and doors to limit the spread of all construction dust at MSB.
A third incident was traced to a hole drilled in a wall that was not related to the construction work. As a result, the university has put in place new rules for drilling or demolishing walls in MSB.
As work to upgrade the labs continues, the Faculty of Medicine will provide weekly updates on all construction activity.  
UTC