Kylie Masse takes gold, sets new world record at world swimming championships
The first female Canadian swimmer to win a world title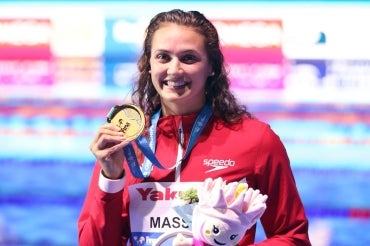 Kylie Masse, the star of U of T's Varsity Blues women's swimming team, set a new world record and took the gold in the 100-metre backstroke at the swimming world championships in Budapest on Tuesday.
She finished with a time of 58.10 seconds and became the first-ever female Canadian swimmer to win a world title, CBC reported. With this win, Masse broke the longest-standing record in women's swimming set by Great Britain's Gemma Spofforth in July 2009, and became the first Canadian to win a world title since Brent Hayden claimed gold in the men's 100 freestyle in 2007. 
"I don't' think it's really sunk in yet," said Masse after the race. "I touched the wall and I looked back and I had to make sure I was looking at the right lane and right time, I was so excited.
"After the Olympics, I realized that I belong in the final and I belong on the podium. That all comes with confidence and this entire year I felt better about my racing, which helps leading up to a championship."
On CBC's The National, host Paul Hunter said Masse was now "known to the entire sports world," after what he described as a "jaw-dropping effort" – and sports commentator Scott Russell called Masse's record a victory for the Canadian university sports system.
"She's an academic, award-winning athlete and she combines her studies along with athletics and she does it at a Canadian university," he said. "That looks really good on this country and on Kylie Masse's future going forward."
Head coach of the Varsity Blues swimming program and former Olympian Byron MacDonald said he was very proud of Masse.
"The magnitude of what Kylie has been able to accomplish in a relative short period of time is amazing. She just broke the oldest female world record on the books. She is the world champion," he said. 
"Kylie is the perfect example of a student athlete excelling in the classroom and her sport. An incredibly humble young woman, she is going to find it harder and harder to stay under the radar with performances like this." 
Masse said MacDonald and coach Linda Kiefer told her to enjoy the experience now that the hard work of training was over.
"Most importantly, from both of them, they just said have fun," she told the National Post. "All the training that I've done is behind me, this is the fun part and this is the best part, just racing. Having fun, I think that's the most important as well."
MEDAL ALERT | Kylie Masse sets a new world record in the 100m backstroke, winning gold at #FINABudapest2017 https://t.co/23V6h5Xe2S pic.twitter.com/vimQHSItO0

— CBC Olympics (@CBCOlympics) July 25, 2017
The 21-year-old from LaSalle, Ont., shared the story of how she came to U of T in a first-person article for CBC ahead of her record-breaking swim. Now in her fourth year of undergraduate studies at the Faculty of Kinesiology & Physical Education, she came to U of T ranked 201st in the world in the 100-metre backstroke. 
"Little did I know that this decision would change the direction of my story," she writes.
"My coaches Byron MacDonald and Linda Kiefer set out a plan. I went to a high-altitude training camp, planned my meets, school, swimming, dry land and physio appointments, all with the end goal of making the Olympic team…I had done it. I had made the Olympic team, but I hadn't done it alone. Coaches, teammates, support personnel at the University, professors, classmates, friends and family, all contributed to where I was that day. I will always be grateful for all the support."
News about Masse's win reached U of T just as the Minister of Tourism, Culture and Sport, Eleanor McMahon, was making an announcement at U of T's Varsity Stadium about Advancing Opportunities for Women and Girls in Sport: Ontario's Action Plan.
"How apropos, how timely it is to demonstrate that investment of resources through this insightful government announcement can lead to inspiring performances and role models, such as Kylie Masse, who will be recognized around the world," said Professor Ira Jacobs, dean of the Faculty of Kinesiology & Physical Education.
Masse has made one of the fastest ascents in the world of swimming, winning the bronze medal in the 100-metre back race at the 2016 Olympic Games in Rio de Janeiro only a couple of years after being ranked 200th in high school. She's the first Varsity Blues swimmer to claim an Olympic medal while enrolled as a student at U of T. 
MacDonald thanked U of T for the support they provided Kylie that helped get her to this point.
"We have a good stable of sports professionals, from Alanna Veerman, a full time strength coach, Jason Meehan as physiotherapist, her academic advisers and teammates at the university," he said. "Kylie is the epitome of the student athlete at U of T."
UTC