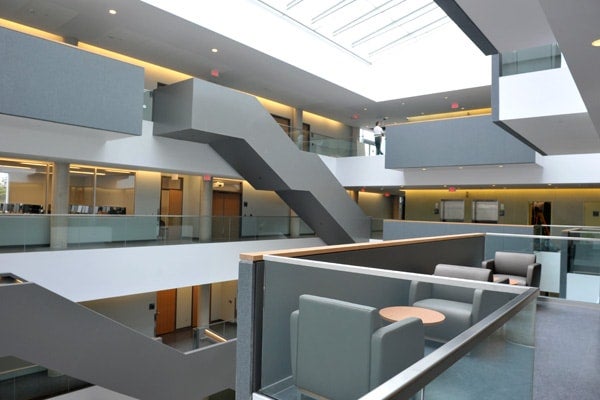 KIP delivers positive spaces on U of T campuses
Three buildings benefit from federal--provincial funding program
They're attractive unidentical triplets and the University of Toronto is as proud of them as any parent would be.
Three buildings built or renovated with Knowledge Infrastructure Program (KIP) funds are opening at U of T this year, and they're not only creating a buzz, they're meeting some important needs. The instructional centres at U of T Mississauga and U of T Scarborough provide  classroom and office space, and the newly named Lassonde Mining Building offers engineering research and instructional space in the Goldcorp. Innovation Centre on the St. George campus. (Enjoy photos of all three buildings.)
KIP funding comes from the federal and provincial governments and targets capital projects that will serve as centres for economic innovation. U of T received $151 million in KIP funding in 2009 to make these buildings a reality.
UTM's Instructional Centre, a 13,000 square metre building, opened this August and positions the campus for future enrolment growth. The $70-million, three-storey facility includes state-of-the-art classrooms ranging in size from 30 seats to 500, dedicated study space and a computer lab that is open around the clock. There are 27 classrooms equipped with the latest technology and flexible, e-connected spaces.
The centre is designed to LEED Silver standards and includes numerous sustainable components, such as a large array of photovoltaic panels, a green roof, a geothermal heating and cooling system located beneath the campus football field, and energy- and water-efficient lighting and fixtures
"U of T Mississauga has doubled its enrolment over the past decade, so this new facility helps us accommodate current students and sets the stage for future growth," said Professor Deep Saini, vice-president and principal. "It also provides the tools and new forms of learning and communication our young people need in today's world. We are committed to providing opportunities for our students to excel and become the leaders of tomorrow."
The U of T Scarborough community is equally excited about the instructional centre that opened on the UTSC campus earlier this year.
At 165,000 square feet, the $78-million centre is the largest building to be constructed since 1966 and increases academic space on campus by 25 per cent. The centre offers more student study rooms, lecture halls and classrooms equipped with state-of-the-art digital technology; a high-tech trading floor with double-monitor workstations and an LCD stock ticker; and a microprocessor lab. Also LEED Silver–certified, the building features green roofs and solar panels on the rooftop.
KIP funding also provided $11 million towards construction of a new mining institute atop the 100-year-old Mining Building on the St. George campus. The Lassonde Mining Building will be home to the new Goldcorp Mining Innovation Suite, which officially opens Nov. 28, and houses the Lassonde Institute of Mining.
"We are grateful to Dr. Pierre Lassonde, Goldcorp Inc. and the provincial and federal governments for their visionary contributions, which will enhance our ability to educate the next generation of mining engineering leaders and further strengthen our world-renowned research programs," said Professor Cristina Amon, dean of the Faculty of Applied Science and Engineering. "The Lassonde Institute of Mining will become the leading centre for research and education, strengthened by our location in Toronto, which is the business centre for Canada's mining industry. This new space will enable our scholars to address today's most intractable mining challenges through technical innovation and ensure the mining industry in Canada remains a global leader."
Like the KIP projects on the UTM and UTSC campuses, the site is designed with sustainability and cutting-edge research in mind.
It will house:
o A laboratory for visualization and data analysis that will include computers and software to facilitate research and collaborative projects with industry;
o An interdisciplinary design studio for 100 undergraduate and graduate students;
o A seminar room;
o Studio space for multi-disciplinary project-based research and learning; and
o A full range of green building features, including roof-top photovoltaic cells, energy-efficient lighting, water conservation, gray water capture and recycling measures.
"The University of Toronto differs from other institutions in the scale of its operations and the depth and breadth of our research excellence," U of T President David Naylor said when the funding was initially announced. "Both the University of Toronto Scarborough and University of Toronto Mississauga essentially function as regional universities and hubs for the development of the Eastern and Western GTA.
"This tremendous investment by the two levels of government speaks to the unique position of the University of Toronto regionally, provincially and nationally."