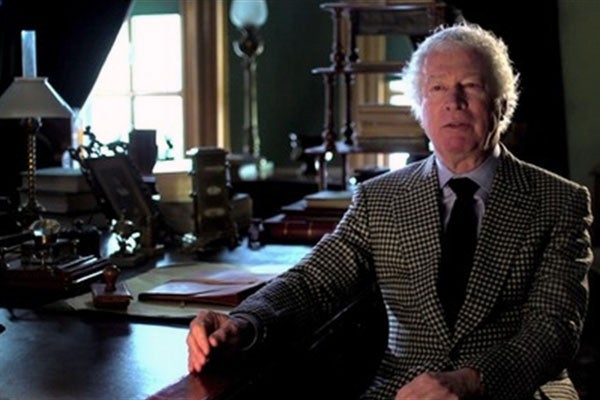 Ken Taylor: diplomatic hero, champion of education
Acclaimed all over the world, "the thing that brought him back to Toronto and to Canada constantly was U of T and Vic," says David Wright
Ken Taylor, diplomatic celebrity, was known across Canada and around the world. Less familiar is Ken Taylor, champion of higher education and former chancellor of Victoria University in the University of Toronto.
Yet, as the world celebrates the life of Ken Taylor and his role in helping rescue American diplomats in Iran in 1979-80, former colleagues and students recall his accomplishments at U of T.
"He loved education," says David Wright, a former diplomat himself who was recruited by Taylor to become the first Kenneth and Patricia Taylor Distinguished Professor in Foreign Affairs at Vic. "I was very proud to be associated with Ken as a friend and colleague, and to shift gears from a diplomatic foreign policy life to one where I was passing on experiences to the next generation. And after 13 years, I'm still here."
Taylor graduated from Victoria College in 1957. He served as chancellor of Victoria University from 1998 to 2004 and was awarded an honorary degree from U of T in 2007.
"After the events in Tehran, he was acclaimed all over the world but especially in the United States," Wright recalls. "But he always kept up his ties with the university and even though he lived in New York, the thing that brought him back to Toronto and to Canada constantly was U of T and Vic."
Wright says Vic benefited through Taylor's renown, but also through his active involvement with Vic students, faculty and programs. Taylor was instrumental in helping get the Vic One program created, for example, Wright says.
"When the Vic One program was first conceived, there was a lot of resistance from the rest of the University of Toronto," Wright recalls. "It wasn't your sort of traditional academic program and academics tend to be a little bit conservative and institutional and they resisted, but [Victoria University Past President] Paul Gooch and Ken persevered and created the thing. Now it's become the model that all other colleges copy. It's been such a huge success and that is partly because of Ken's profile and his strong support for that program when it was first conceived."
Wright says Taylor's legacy will live on, "not just because of the remarkable events in Iran in 1979-1980, but in the way in which he lived his life, and his caring and his dedication to the idea of university education."
Even after he stepped down as chancellor, Taylor would frequently come back to the campus, Wright recalls; to speak to students in the Vic One program, for example. "The students loved it," Wright says. The sentiment is echoed by filmmaker and U of T alumnus Drew Taylor, who directed Our Man in Tehran, the acclaimed film about Taylor's role during the Iran hostage crisis.
Like the students in the Vic One program, Drew Taylor was born after the events of 1979-80. But Ken Taylor "gave us a sense of what it was like to be over there. The story became more real when he spoke about it."
The filmmaker says the former ambassador "was an amazing guy.  He was very generous with his time and energy and very humble. He'd rather talk about others than about himself."
Canadians owe Ken Taylor an enormous debt, Drew Taylor says. "We are very lucky as Canadians to have had a man of his nature over there. If I can backpack through Europe and feel proud to tell people I'm Canadian, it's thanks to people like Ken Taylor."
---
The funeral for Ken Taylor will be held on Tuesday, October 27, 2015 at 2 p.m. at Timothy Eaton Memorial Church (230 St. Clair Avenue West, Toronto). If desired, donations in Kenneth Taylor's name to the Kenneth and Patricia Taylor Distinguished Professor in Foreign Affairs, c/o Larry Davies, Victoria University, 73 Queen's Park Crescent, Toronto, ON M5S 1K7 would be appreciated.