'Keep improving my game': Twin sisters set to soar with U of T Varsity Blues basketball squad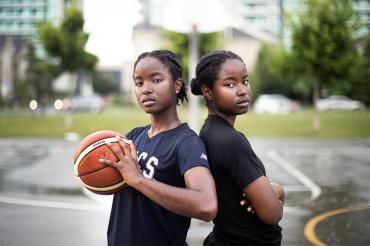 On a rainy afternoon on an outdoor basketball court in midtown Toronto, Nakeisha Ekwandja is taking the ball to the hoop, competing one-on-one against her twin sister. She sidesteps Mikhaela Ekwandja's tight defence – this time – and drains the basket, causing the chain netting to jingle.
Working together, the Ekwandja sisters have risen above the crowd. They are accomplished high school basketball players who were scouted by schools in both Canada and the United States before ultimately deciding to come to U of T. Mikhaela will begin her studies at the Faculty of Kinesiology & Physical Education next month while Nakeisha will be at Woodsworth College and studying at Rotman Commerce – both will play basketball for the Varsity Blues squad.
Despite the attention they received, the sisters say U of T was always a top choice.
"I just remember walking by the university [during high school], and almost at least once a week – just looking at the stadium, the big T with the maple leaf, and being like 'I want to be there one day,'" says Mikhaela, wearing a black sports tee, navy shorts and black high tops.
"I know the reputation that the university has – the high standards for students to achieve. It would be such an honour to say 'I graduated from the University of Toronto.'"
Physical players with smooth-looking jumpers, the pair of five-foot-nine power forwards helped St. Joseph College School – not considered a basketball powerhouse – win four city championships. The St. Joseph's Bears also won a 2017 provincial championship, the first time the all-girls' high school has won the title. As co-captains in their senior year, the twins shared most valuable player honours.
The pair look back fondly at their high school career, noting how they pushed past expectations to achieve success.
"I think we surprised some people," says Nakeisha, dressed almost identically to her sister save for a pair of bright yellow socks.
"Since we weren't that big basketball presence yet, we did find some challenges. We would play a few exhibition games against some schools that were really known for their basketball [and lose]. It was a process, I'd say: first, establishing that we're starting to make a team here; throughout the four years, that's when we started to climb that mountain."
The sisters' relationship with U of T began years ago when they were just 11 years old and had been playing basketball for about a year. They attended a practice session, held by U of T basketball guru Michèle Bélanger, that was part of the Varsity Blues' summer academy.
The meeting made an impression.
"To see the way that she sees basketball, and the way she coaches, was a coaching style I loved so much," recalls Mikhaela.
"I feel like it's a style that, as I get older, was something I was searching for again."
"I've had many coaches in my life, all great coaches, but I felt [coach Bélanger] had something new that she could teach me as well," agrees Nakeisha, applauding Bélanger's strong communication skills and patience. "I just want to keep improving my game, keep reinventing myself in basketball, and I feel like she can really help me with that."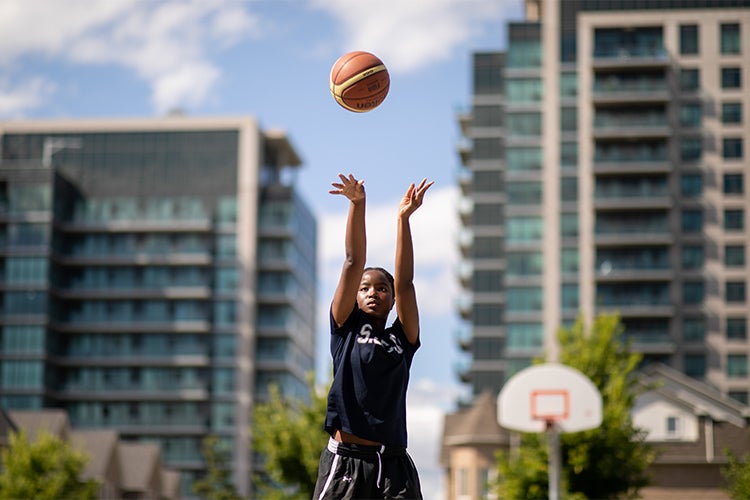 "I just want to keep improving my game, keep reinventing myself in basketball, and I feel like she can really help me with that," says Nakeisha Ekwandja of U of T basketball coach Michèle Bélanger (photo by Nick Iwanyshyn)
Bélanger, for her part, recalls watching the sisters play at the club level with the Brampton Warriors, which competes with some of the best teams in Ontario. She was impressed by their basketball IQ and balanced demeanour on the court.
"They are hard workers and never ever back down from challenges," says Bélanger, who is entering her 40th season as the women's basketball coach. "They want and love to push themselves to be the best that they could be in all they do.
"[They're] great young women who will have great successes in all facets of life."
When it came to finding a university, the Ekwandja sisters say they were looking to find a balance between a good education and a great basketball environment. And Bélanger, who has coached Team Canada at all levels of international competition, says the Varsity Blues program was the "perfect fit."
"We pitch the same thing to all [our athletes]: our strong academic institution and great programs; our great staff; our athlete services; our care for each individual," she says.
"I look forward to seeing their development on and off the court."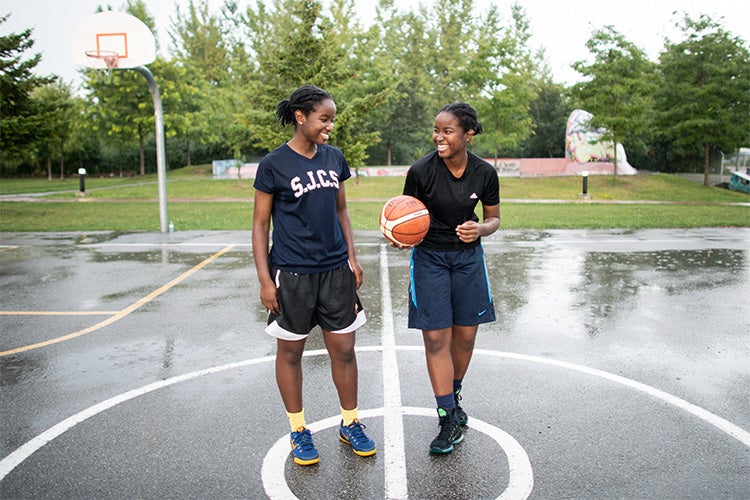 "What really helped was that we got into basketball together; we had the same goals going in," says Nakeisha about her twin sister Mikhaela (photo by Nick Iwanyshyn)
That development is already well under way. The sisters have started training with the team. Off the court, they say their Blues' teammates are a supportive community, helping to prepare them for the months ahead.
"We've been told by coaches, our teammates, that it's hard first year. We've done the whole basketball-high-school thing, but university is a different level of managing our schoolwork and basketball," says Mikhaela while her sister nods in agreement.
"Success for myself includes getting through first year. Once it's out of the way, they say the next three years are so much easier. It's not letting any of the late night studying, the early morning practices get to me."
Fortunately, the twins also have each other to lean on – a relationship they credit for helping them get to where they are today.
"What really helped was that we got into basketball together; we had the same goals going in," says Nakeisha. "At an early age, not being the most skilled players out there, we decided that we have to try and get better."
The strategy, which includes playing one-on-one ball against each other, appears to have worked. Yet, as competitive as the two sisters are, neither claims to be the better player.  
 "We play the same way, but there are different skills that we have – I think my ball handling is a little stronger than hers, but she's a lot better in the post," Mikhaela volunteers.
"We're pretty equal – let's keep it at that."
UTC